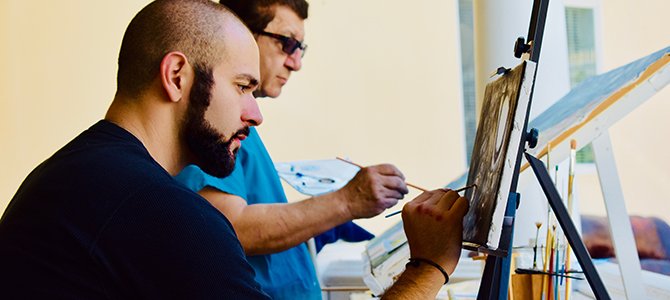 Match Day Profile: Haig Aintablian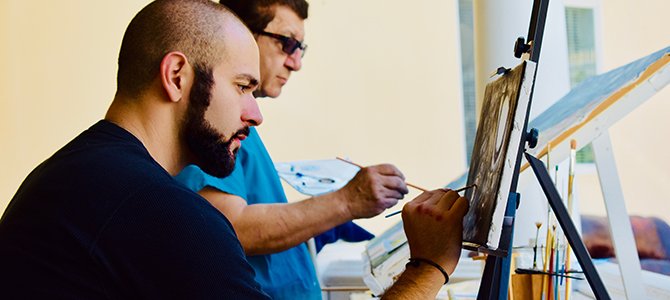 Medical Student Combines Passion of Astronomy and Medicine for Future Career in Aerospace
For four years, students at the University of Arizona College of Medicine – Phoenix have worked toward Match Day — the day students learn where they will spend the next several years as resident-physicians, and a major step toward building their career in medicine. Match results are released nationally at Match Day ceremonies coordinated to occur at the exact same time across the country. Members of the Class of 2018 will receive letters showing where they will go for their residency training at 9:00 a.m. Friday, March 16. The UA College of Medicine – Phoenix has profiled a handful of students in advance of Match Day 2018.
Meet Haig Aintablian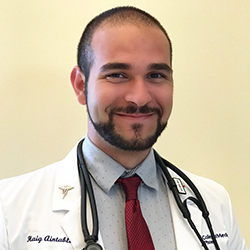 Haig Aintablian wants to pursue a career as a flight surgeon, which combines his two passions of medicine and astronomy. He graduated from Crescenta Valley High School in California at the young age of 15, went to Glendale Community College in California, then attended the University of Southern California where he obtained a bachelor's degree in biological sciences. He also received a master's degree in molecular genetics and biochemistry from USC, in association with CalTech and NASA's Jet Propulsion Laboratory, where he studied the evolution of small biological molecules in space and in nutrient-poor regions on earth.
His Path to Medical School
Medicine runs in his family. Aintablian's father is a pediatrician, and his mother is a pediatric nurse. However, it wasn't until he started doing research that he realized he wanted to translate what he found on the bench-top into a means that could help people. "It was always in the back of my mind that this is a really captivating field with the perfect mix of science and humanity," he said. "I wanted to take what I was studying to the bedside to give to patients. Medicine was by far the best field for me."
Aintablian would like to thank his family, especially his parents, for the sacrifices that got him to where he is today, and to God for leading him to this point and beyond.
Choosing a Specialty
Aintablian is interested in astronomy and the aerospace realm of medicine. He wants to match into emergency medicine and then continue his training in aerospace as a flight surgeon. An aerospace flight surgeon takes care of astronauts, helps in the planning of space missions, does research on the human body in space and makes sure those in space are healthy.
"It is one of the most interesting ways to become an astronaut," Aintablian said. "My curiosity lies in how the human body works in space. It is not so much wanting to go up to space, but more of expanding what we can learn from the human body in this new frontier. We know fairly well how the human body works on earth, but when it comes to near zero-gravity, it's a completely new realm. This is where medicine meets its new limit. Something we haven't torn down yet. There are walls we have yet to overcome, and I feel like it's an awesome field to make discoveries."
Why He Chose the College of Medicine – Phoenix
Aintablian was accepted into a few big-name institutions for medical school. "When I first came to the UA it was my first medical school interview," he said. "I came here and was shocked at how incredible the UA was. It was truly student-driven and had a huge family vibe to it. This is what sold me. I felt that warm feeling from the beginning, all the way to my acceptance and even to today."  
Extracurricular Activities
"I love policy and administration," Aintablian said. "When I first started medical school, I started getting interested in why our health care system is broken and what we can do to fix it."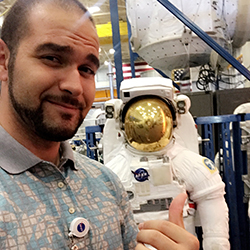 He joined the American Academy of Emergency Medicine and worked his way up over the last two years to become a vice chair for its advocacy committee, and now he's on the board of directors for its residency association. He also co-founded The Differential newsletter, has been a class representative for two years and is a member of several committees, including the clerkship committee.
Aintablian had the opportunity to do research at NASA's Johnson Space Center and with their flight surgeons to study pathologies that occur in space. There is one condition called Spaceflight Associated Neuro-ocular Syndrome (SANS), where the back of the eyes of an astronaut starts to flatten. It's an important topic in the aerospace medical community, as it can impact astronaut vision over a few months, which can be detrimental to long-term deep-space flights like the upcoming Mars missions. According to Aintablian, the condition occurs only in space or low-gravity conditions and is just one of the many fascinating pathologies that need more study. At NASA, Aintablian did research to see if there was an anatomical contributor to SANS and is presenting his findings at a few national meetings.
Favorite Medical School Memory
One of his favorite memories from medical school was being paired with one of his best friends, Sami Kabbara, on almost all his rotations. "It was so much fun learning the intricacies of each specialty together, from psychiatry to obstetrics and gynecology, alongside your best friend," he said.
Advice to Incoming or Current Medical Students
Aintablian advises those entering medical school and those already in medical school to tap into their passion.
"At the end of the day, the reason that we are here is because we worked hard through all our lives to get to this point," he said. "Now is where you truly soak up what you love and allow yourself to be totally immersed in your passion. It is your passion that pushes you when you think you've lost all your energy, and it's what keeps you enjoying this fascinating field for the rest of your life."   
Media Contact:
Teresa Joseph
Phone: 602-827-2657
About the College
Founded in 2007, the University of Arizona College of Medicine – Phoenix inspires and trains exemplary physicians, scientists and leaders to optimize health and health care in Arizona and beyond. By cultivating collaborative research locally and globally, the college accelerates discovery in a number of critical areas — including cancer, stroke, traumatic brain injury and cardiovascular disease. Championed as a student-centric campus, the college has graduated 500 physicians, all of whom received exceptional training from nine clinical partners and more than 2,000 diverse faculty members. As the anchor to the Phoenix Biomedical Campus, which is projected to have an economic impact of $3.1 billion by 2025, the college prides itself on engaging with the community, fostering education, inclusion, access and advocacy.