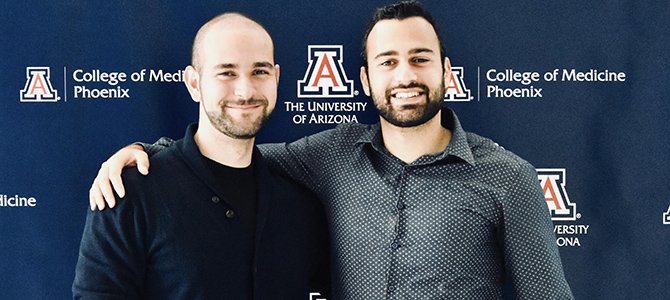 Match Day Profile: Sami Kabbara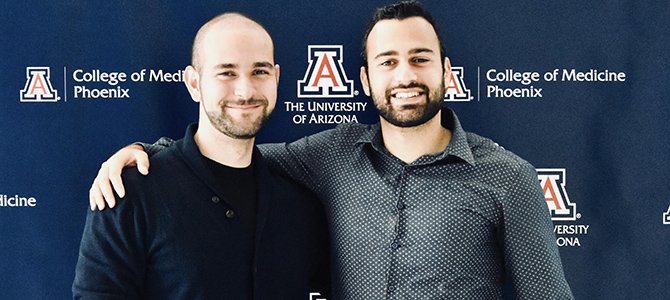 Fourth-Year Student Found Early Inspiration in the Dedication Doctors Showed to Providing Care to Those in Need
For four years, students at the University of Arizona College of Medicine – Phoenix have worked toward Match Day — the day students learn where they will spend the next several years as resident-physicians, and a major step toward building their career in medicine. Match results are released nationally at Match Day ceremonies coordinated to occur at the exact same time across the country. Members of the Class of 2018 will receive letters showing where they will go for their residency training at 9:00 a.m. Friday, March 16. The UA College of Medicine – Phoenix has profiled a handful of students in advance of Match Day 2018.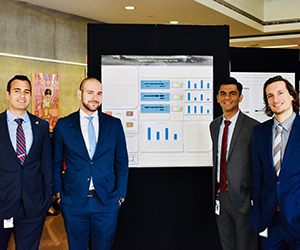 Meet Sami Kabbara
Sami Kabbara was born in Los Angeles, California, but spent much of his early life in Lebanon. After high school, he returned to the United States and attended the University of California, Irvine, where he graduated with a bachelor's degree in neurobiology.
His Path to Medical School
His path to medical school began at a very young age. "Being exposed to health care disparities and the impact of limited access to medical care on individuals and families made me see physicians as heroes who risked their lives to save others," he said. That inspiration, coupled with his enjoyment of science and physiology, made the pursuit of medicine an easy decision.
Choosing a Specialty
Kabbara has already matched into ophthalmology at Tulane University. His curiosity about the eye is both scientific and experiential. He's always been fascinated by the anatomy and physiology of the eye, and at a young age, he was prescribed glasses, which affected his performance in sports.
Having experienced issues with his own sight, his desire to learn more about the organ's function was only heightened as he began working with patients plagued by visual impairment. Their troubles furthered his understanding of how limiting poor visual health can be.
He also credits the fantastic mentorship he received while at the college, "Dr. (Mandi) Conway and Dr. (Gholam) Peyman introduced me to the clinical side of ophthalmology, which cemented my passion for it." This passion eventually led to a research internship at the University of California, San Diego, as well as a research rotation at the University of Utah.
Each of these, especially when taken as a whole, helped Kabbara realize that ophthalmology was right for him.
Why He Chose the College of Medicine – Phoenix
Kabbara was drawn to the UA College of Medicine – Phoenix because of its student-centric approach. "On my interview day, I remember how friendly everyone was and how close students were to each other. It felt like a family," he said.
Being part of such a tightknit community was essential to him. It was something he knew could help him deal with the many rigors and stresses of medical school.
Extracurricular Activities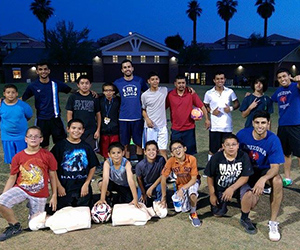 Kabbara has always enjoyed soccer. Whether it was playing pickup games with classmates at a local park or jumping in a game with residents from a local county hospital, he always found a way to find the field. He and some classmates even formed their own team, competing in a local league and winning the City of Tempe championship.
Favorite Medical School Memory
Though there were many, Kabbara cited his third-year clerkships as something that stuck out. During that time, the memories he made with the patients he served were unforgettable, he said, making the countless hours in the hospital and lack of sleep well worth it.
It was during those long days and even longer nights that he and a classmate were able to help diagnose a toddler with salicylate toxicity, a common — yet harmful — form of poisoning in children and adolescents.
Advice to Incoming or Current Medical Students
Foremost, just enjoy it. "It can seem daunting at first, but you will be amazed at how much you will grow and mature during it," he said.
He also noted the importance of identifying mentors. Their experience and expertise can prove invaluable as a student navigates the arduous four years.
Ask questions. "Being a medical student is unique in that everybody knows you are present to learn," so don't be shy.
Lastly, remember to have an equitable work/life balance. Find what works best for you and be sure to make time for it.
Article By: Tom Kelly
Media Contact:
Marian Frank
Phone: 602-827-2022
About the College
Founded in 2007, the University of Arizona College of Medicine – Phoenix inspires and trains exemplary physicians, scientists and leaders to optimize health and health care in Arizona and beyond. By cultivating collaborative research locally and globally, the college accelerates discovery in a number of critical areas — including cancer, stroke, traumatic brain injury and cardiovascular disease. Championed as a student-centric campus, the college has graduated 669 physicians, all of whom received exceptional training from nine clinical partners and more than 2,600 diverse faculty members. As the anchor to the Phoenix Bioscience Core, which is projected to have an economic impact of $3.1 billion by 2025, the college prides itself on engaging with the community, fostering education, inclusion, access and advocacy.