Match Day Student Profile: Luce Kassi
Medical Student Hopes to Impact the Lives of Women
For four years, students at the University of Arizona College of Medicine – Phoenix have worked toward Match Day — the day students learn where they will spend the next several years as resident-physicians and a major step toward building their career in medicine. Match results are released nationally at Match Day ceremonies coordinated to occur at the exact same time across the country. Members of the Class of 2019 will receive letters showing where they will go for their residency training at 9:00 a.m. Friday, March 15. The UA College of Medicine – Phoenix is profiling several students in advance of Match Day 2019.
Meet Luce Kassi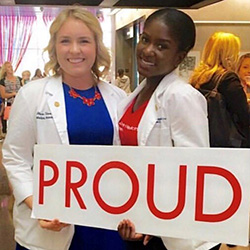 Luce Kassi (right) was born in the Ivory Coast and lived in multiple countries before her family settled in Phoenix. "My life journey shaped me into the medical student that I am today, and I am excited to use those experiences to one day become the best physician I can possibly be."
Kassi graduated from Saint Mary's High School in Phoenix and continued her education at Arizona State University in 2015, where she studied microbiology (BS) and global health (BA).
She became attracted to a career in medicine because of her interests in global health and microbiology. Her background and childhood experiences also made her consider a field where she would be able to make a significant impact on women's lives.
Choosing a Specialty
Kassi came into medical school with a sole purpose: to become an obstetrician-gynecologist. Her first exposure to this specialty was with a general OB/GYN. "She gave me the wonderful opportunity to shadow her when I was still in college. I quickly knew that the flexibility and variety of obstetrics and gynecology was the perfect fit for me."
Why sHe Chose the College of Medicine – Phoenix
As an alumna of Arizona State University and with her family in Phoenix, it made sense for Kassi to attend the College of Medicine – Phoenix. She said she made her decision on interview day when she learned about the robust clinical curriculum. She wanted to attend a medical school where she could take care of patients from day one, through various clinical opportunities such as Clinical Community Experience (CCE), Capstones or at the Wesley Community and Health Center.
Favorite Medical School Memory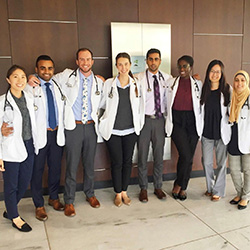 "I have so many wonderful medical school memories and I am beyond thankful for my classmates for making this question so hard to answer," she said. Apart from spending time with classmates, she has been looking forward to the Match Day celebration on March 15.
Advice to Medical Students
"Despite the challenges, long hours and hard studying, you will have the opportunities to meet incredible people, grow from your mistakes and evolve into positive and very resilient human beings. This journey might be long, but so far, it has been the most rewarding experience of my life. Buckle up and enjoy the ride!"
About the College
Founded in 2007, the University of Arizona College of Medicine – Phoenix inspires and trains exemplary physicians, scientists and leaders to optimize health and health care in Arizona and beyond. By cultivating collaborative research locally and globally, the college accelerates discovery in a number of critical areas — including cancer, stroke, traumatic brain injury and cardiovascular disease. Championed as a student-centric campus, the college has graduated 593 physicians, all of whom received exceptional training from nine clinical partners and more than 2,400 diverse faculty members. As the anchor to the Phoenix Biomedical Campus, which is projected to have an economic impact of $3.1 billion by 2025, the college prides itself on engaging with the community, fostering education, inclusion, access and advocacy.