Match Day Student Profile: Roshan Panchanathan
Medical Student Combines Passion for Medicine and Technology.
For four years, students at the University of Arizona College of Medicine – Phoenix have worked toward Match Day — the day students learn where they will spend the next several years as resident-physicians and a major step toward building their career in medicine. Match results are released nationally at Match Day ceremonies coordinated to occur at the exact same time across the country. Members of the Class of 2019 will receive letters showing where they will go for their residency training at 9:00 a.m. Friday, March 15. The UA College of Medicine – Phoenix is profiling several students in advance of Match Day 2019.
Meet Roshan Panchanathan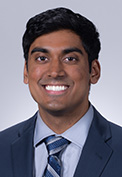 Roshan Panchanathan wants to pursue a career that combines his passion for medicine and technology. While attending the University of California, Berkeley, for his undergraduate studies in bioengineering, Panchanathan discovered he was interested in creating cutting-edge medical devices.
Path Toward Medicine
Panchanathan's interest in medicine came from his desire to create technologies to improve patients' lives. "I had an internship during the summer between my sophomore and junior years in the Simulation Lab at Banner University Medical Center," he said. "I found myself attracted to the application of medical devices in patient care, rather than simply designing and developing them, which shifted me towards a career in medicine."
Choosing a Specialty
Throughout medical school, Panchanathan said he enjoyed all of his rotations, but found he was most interested in procedures. "Because of my background, I was most attracted to specialties that were technologically advanced," he said. "After exploring a few surgical subspecialties, I came across Interventional Radiology and was really excited by the innovation in the field and its scope moving forward. I hope to be involved in medical device development during my career and find Interventional Radiology as a great fit."
Extracurricular Activities
Panchanathan was co-chair of the Business in Medicine and Simulation and Advanced Medical Technologies interest groups on campus. During medical school, he enjoyed de-stressing from classes and rotations by playing basketball with his classmates.
Most may not know this, but in undergrad, Panchanathan was in an acapella group called UC Berkeley Dil Se, and had the opportunity to act and sing in a music video.
Why He Chose the College of Medicine – Phoenix
Panchanathan's sister, Amritha, graduated from the College of Medicine – Phoenix two years ago with the Class of 2017. "I remember when I was accepted, she told me about the benefits of the school," he said. "These included being a part of a small class where you know all your classmates, being the first full-time school in Phoenix with the ability to rotate at multiple different clinical sites and having a really supportive faculty and administration. Medical school is a largely self-driven process, but having these three aspects really excited me."
Favorite Medical School Memory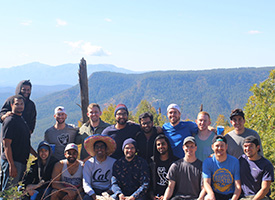 "My favorite memories are the regular camping trips that a bunch of us from the class took whenever we all had breaks," he said. "It was a great way to turn off from school mode and really get to know each other from early on in medical school. Getting to hang out with classmates every day in Intro to Medicine was a close second."
Advice to Medical Students
He recommends finding a balance with school and relationships. "Take efforts to maintain relationships with friends and family," he said. "There will be times when it is easy to shut out every other aspect of your life, but spending time with my girlfriend, Suhasini, and my family, and also keeping in touch with high school and college friends have helped me throughout the process."
Panchanathan also recommends finding good mentors early in medical school who have your best interest in mind, whether it be an attending, resident or even a research advisor you can turn to for guidance. Finally, he says to keep an open mind to all specialties when going into third-year rotations, as he switched numerous times before finally choosing Interventional Radiology.
About the College
Founded in 2007, the University of Arizona College of Medicine – Phoenix inspires and trains exemplary physicians, scientists and leaders to optimize health and health care in Arizona and beyond. By cultivating collaborative research locally and globally, the college accelerates discovery in a number of critical areas — including cancer, stroke, traumatic brain injury and cardiovascular disease. Championed as a student-centric campus, the college has graduated 593 physicians, all of whom received exceptional training from nine clinical partners and more than 2,400 diverse faculty members. As the anchor to the Phoenix Biomedical Campus, which is projected to have an economic impact of $3.1 billion by 2025, the college prides itself on engaging with the community, fostering education, inclusion, access and advocacy.