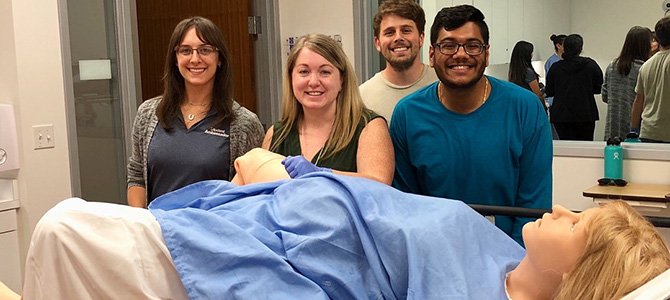 Med Students Help Organize Primary Care Week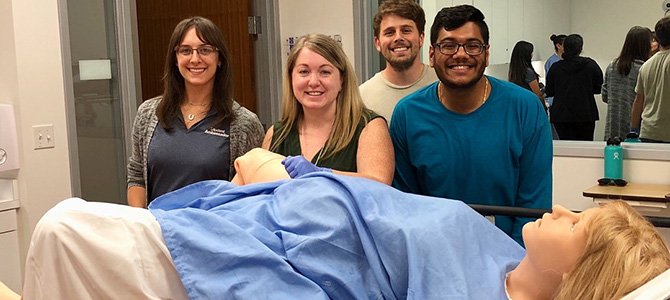 Campus Participates in National Event to Help Spark Interest in Primary Care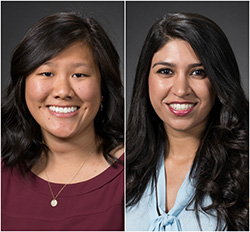 For second-year medical students Jaimei Zhang and Sarah Javaherifar, primary care is a passion, so as co-leaders of the college's Family Medicine Interest Group, they were thrilled to play a pivotal role in organizing the University of Arizona College of Medicine – Phoenix's annual Primary Care Week.
Its outreach is significant because in Arizona there is a severe lack of physicians, particularly in primary care fields. The shortage is more than simply inconvenient. Research has shown that people in low-income and rural areas suffer real harm.
Jonathan Cartsonis, MD, director of the college's Rural Health Professions Program and a practicing family physician, said that over the past decade, the focus of health care reform has been to improve the patient care experience, improve the health of populations and reduce the per capita cost of health care.
"None of these aims is achievable unless we train more family physicians, general internists and general pediatricians," he said.
And as Katie Brite, MD — a clinical assistant professor at the college and director of the Family, Community and Preventive Medicine Clerkship — described, "We have such a shortage of primary care; we need everyone. Everyone brings something to the table. Everybody can learn from each other. They have different skills and different knowledge bases."
Dr. Brite, along with fellow faculty member Stephanie Briney, MD, hosted a presentation and discussion during the week on Community Health Centers and Federally Qualified Health Centers (FQHCs), which aim to improve access to health care for all people, regardless of insurance status.
It is a topic close to each of their hearts. Dr. Brite previously served as the Chief Medical Officer of the Wesley Community and Health Center and has worked there since it began as an FQHC. Wesley is a part of the college's Community Health Initiative – Phoenix, a program where students demonstrate their commitment to serving the greater Phoenix area and improving the health of the community.
The center is a valuable way to demonstrate the important role primary care physicians hold in the spectrum of a patient's care. For Zhang, who has volunteered at Wesley since she began medical school, that connection started as an undergraduate.
"One of my undergraduate mentors was a family physician at a community health center similar to Wesley, and I was able to see how much a family physician is able to do for his or her patients, especially in an underserved community," she said.
"Volunteering at Wesley has felt like a continuation of my shadowing experience in undergrad. For all of us students, Wesley CHIP nights are not only a great learning experience, but also a rewarding way to serve the Phoenix community."
For Javaherifar, the ability to play a critical role in a patient's health outcomes drove her interest, as well.
These themes permeated many of the week's offerings. Students were able to explore the varying career possibilities as a primary care provider and learn the intricacies of family medicine — the procedures, the settings, the possibilities and potential — as well as what it means to be a family physician from a doctor who has lived the journey.
That was Zhang and Javaherifar's hope. Through Primary Care Week, they wanted to show their fellow students that primary care is so critical because of the continuity of care it builds for patients. They each have not only an admiration for the work that primary care physicians do, but an appreciation for the roles those physicians play in their patient's lives.
Dr. Cartsonis echoed those sentiments.
"We look at patients in context of family and community, and we don't discriminate — often treating multiple generations of the same family, regardless of gender, gender identification, age, diagnosis or any other identifier," he said. "Treating communities this way yields powerful insights, improving diagnostic and therapeutic effectiveness."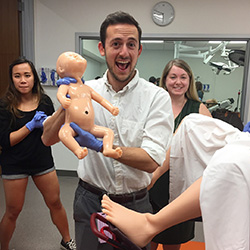 Zhang and Javaherifar also wanted to disprove the myth that these fields are not hands-on. One way they did that was by incorporating a full spectrum family medicine simulation night into the week's activities.
Though simulation is a part of the college's curriculum from the first year on, they used the night as an opportunity to introduce students to simulations they had not yet encountered. These included IUD placement, knee aspirations, vaginal deliveries with the Sim birthing mannequin and circumcisions. Various family medicine faculty and residents led each session.
In the end, is difficult to ascertain the immediate effect this one week can have — a shortage of physicians in Arizona will be ongoing for many years to come. Despite that, both Zhang and Javaherifar were pleased with the amount of interest the week generated from the students who attended, as well as the faculty who volunteered.
"We were so happy to see great student turnout at our events throughout the week. We could not have done it without our faculty mentor Dr. Sarah Coles or the many family medicine faculty, residents and community physicians who gave up their time to share their passion for primary care with our students," Zhang said.
Primary Care Week is a national event, generally held by medical schools across the country in the fall.
Article by: Tom Kelly
About the College
Founded in 2007, the University of Arizona College of Medicine – Phoenix inspires and trains exemplary physicians, scientists and leaders to optimize health and health care in Arizona and beyond. By cultivating collaborative research locally and globally, the college accelerates discovery in a number of critical areas — including cancer, stroke, traumatic brain injury and cardiovascular disease. Championed as a student-centric campus, the college has graduated 669 physicians, all of whom received exceptional training from nine clinical partners and more than 2,600 diverse faculty members. As the anchor to the Phoenix Bioscience Core, which is projected to have an economic impact of $3.1 billion by 2025, the college prides itself on engaging with the community, fostering education, inclusion, access and advocacy.