Medical School Adds Escape Room to Curriculum
The Interprofessional Health Program Creates Unique Learning Opportunity for Students
A new program is testing University of Arizona College of Medicine – Phoenix students' ability to work with interprofessional teams on a tight deadline. Third-year medical students recently teamed up with physical therapy, occupational therapy and physician assistant students from Northern Arizona University to solve cases that involve rare diseases and bioterrorism.
Lee Anne Denny, MD, director of Interprofessional Education, said an escape room concept was designed for a code situation or serious patient scenario, where decisions have to be made quickly as a team.
The unconventional exercise is just one of the innovative curriculum approaches medical students at the downtown Phoenix campus experience.
Third-year medical students worked with students from Northern Arizona University to escape the room by solving tricky, complicated cases.
 "If you don't make sure everyone is on the same page and that everyone has the same information, then people can't do their jobs and it can put your patient's life at risk," Dr. Denny said.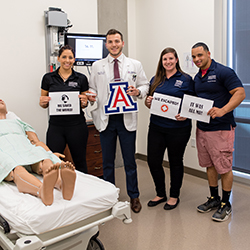 Eighty medical students and 160 NAU students participated in this year's escape room at the College's Center for Simulation and Innovation. Students attempted to escape the room in less than 30 minutes by solving a bioterrorism attack. The scenario featured a terrorist who accidently exposed himself to his chemical/biological agent. Students had to figure out which agent he was exposed to and decide how to treat him.
Dr. Denny said it was the first time an escape room concept had been integrated into the college's interprofessional curriculum. The new concept builds on the Community Health Mentor Program, which trains medical students in their clinical years to function collaboratively in health care teams. Together with other health professionals, they learn with and from patient mentors.
The idea for the escape room began with a conversation between Dr. Denny and Miriam Sell, MD, former director of the Community Clinical Experience at the college. They wanted to create a module that would make interprofessional education fun and engaging.
"The purpose of the escape room was to create a situation with external pressure that helps us observe how these students work in teams," Dr. Denny said. "Pressure to perform can cause teams to behave differently and sometimes unhelpful behaviors can emerge. This provides an opportunity to reflect on teamwork skills in a safe setting."
This year, second-year medical student Tyler Pascavis created the scenarios for the escape room as part of his Personalized Active Learning block along with Claire Pascavis, program coordinator for the Interprofessional Education program. They used the escape room plan designed by Dr. Denny and Sell.
"The experience of working on the curriculum is a unique opportunity, especially as it is part of the interprofessional curriculum," said Tyler, who is married to Claire. "It was a great opportunity to learn more about the different aspects of each profession present, which allowed me to tailor specific puzzles towards the different specialties. I learned the importance and value each profession brings to the table."Center for Simulation and Innovation.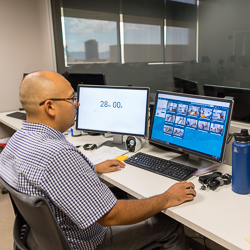 They ran 42 escape rooms in the
"As an event coordinator, it's the best feeling during the midst of an event, to see your participants as they are enjoying it," Claire said. "It always reminds me that all of your time and energy is worthwhile. This is a fun event to plan and coordinate, as you know you are having a direct impact on our interprofessional student teams who have been working together since April."
In addition to Dr. Denny and the Pascavises, the team also worked with the college's Center for Simulation and Innovation team led by Samantha Mendez, clinical simulation nurse; Caitlin Lythgoe, program coordinator, and Jordan Coulston, MD, co-director of simulation curriculum. Cindy Anderson, director of operations for the center; Teresa Wu, MD, simulation curriculum director, and Lizy Windsor, clinical simulation nurse, also mobilized resources to make the program a success.
 "We could not have done this without the support of our Simulation Center team," Claire said. "They were monumental to the event's success."
About the College
Founded in 2007, the University of Arizona College of Medicine – Phoenix inspires and trains exemplary physicians, scientists and leaders to optimize health and health care in Arizona and beyond. By cultivating collaborative research locally and globally, the college accelerates discovery in a number of critical areas — including cancer, stroke, traumatic brain injury and cardiovascular disease. Championed as a student-centric campus, the college has graduated 745 physicians, all of whom received exceptional training from nine clinical partners and more than 2,700 diverse faculty members. As the anchor to the Phoenix Bioscience Core, which is projected to have an economic impact of $3.1 billion by 2025, the college prides itself on engaging with the community, fostering education, inclusion, access and advocacy.