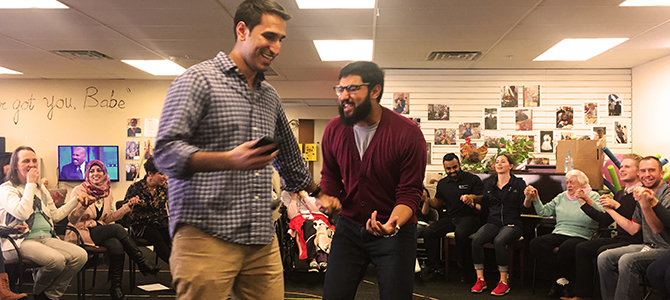 Medicine, Arts Combined to Teach Empathy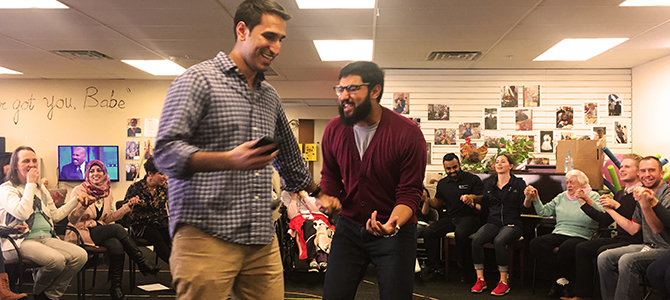 New Program Uses Creative Expression to Improve Care of Patients with Dementia
Nurturing empathy in first- and second-year medical students is a cornerstone of the college's Creativity in Elder Care program, which was modeled after work being done by Gary Glazner, founder and project director of the Alzheimer's Poetry Project.
Cynthia Standley, PhD, director of the College's Art in Medicine program, met Glazner last spring when he came to speak at the Barrow Alzheimer's Institute. Dr. Standley was inspired by Glazner's work with Alzheimer's patients, and the two quickly connected to create a program that would train medical students in the use of creative expression to improve care in patients with dementia.
The program received funding from the BHHS Legacy Foundation, whose mission is to help community organizations improve the health and quality of life of citizens in need.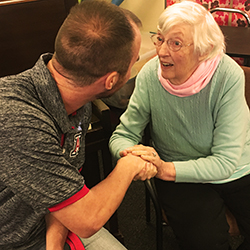 The program at the College of Medicine gave students a two-hour introductory session on the use of poetry, followed by four, one-hour monthly sessions on music, visual arts, storytelling and dance. Students then visited the SunTree Adult Day Center in Phoenix to practice what they had learned.
Van Nguyen, program director at SunTree Adult Day Center, said the adults at the center were thrilled when they learned medical students would be coming to visit. "The most rewarding part of the day program experience is waiting for the human connection between students and elders to naturally occur," Van said. "We were hopeful that our School for Seniors program would establish a common denominator of learning for both the medical students and our elder students."
School for Seniors provides educational classes to stimulate participants' long-term memory and to build new ones. "It was impressive when one medical student approached this experience by teaching elder students the words 'water,' 'cow,' and 'I love you' in sign language," Nguyen continued. "I think the students were surprised that our elders with chronic illnesses were capable and wanting to learn new things."
Tanner Heckle, now a third-year medical student, said the Creativity in Elder Care program meant a lot to him. "My family operates residential care facilities for the elderly," he said. "I grew up caring for the geriatric community. I have a passion for learning about the aging process and the aging brain. At the same time, I love exploring the arts, particularly song and dance."
Heckle recalled that on the day the students visited SunTree, each was assigned a particular task. Heckle was assigned to lead the group in song. He chose the song "When the Saints Go Marching In," because it allowed him to incorporate call-and-response, as well as dancing.
"I had different dance moves to each line of the song," he said. "We sang the song three times, each time becoming progressively louder until our whisper morphed into a scream. My goal was to make everyone smile, even if I had to make a fool of myself, and I think it worked."
Nguyen agreed that the experiences at SunTree were memorable. "I remember one poetry exercise led by two medical students — there was continuous laughter from the group. You could tell everyone was engaging with one another and each person was attentive, expressive and sharing an emotional connection."
Zoha Ahmed, a first-year student who participated in the program, said she felt grateful to be part of the Creativity in Elder Care program. "We learned about how engaging arts — such as dance, poetry, storytelling and visual arts — can enhance the quality of life of elder people, especially those living with dementia. Applying those concepts at various volunteer events has been so rewarding."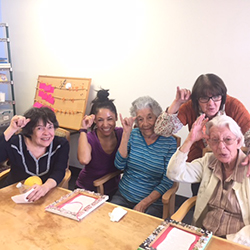 "Seeing the difference just one session can make in their lives is incredible," she said.
Dr. Standley said the program has succeeded beyond expectations. "You can see in their bodies and facial expressions that they are engaged," she said of the elders. "This program gets students to use the right side of their brains and is a break from scientific studies. It gives them a chance to engage with the community."
Dr. Standley said anyone interested in participating in the program should contact her. She also thanked Robert Kravetz, MD, for being instrumental in connecting her with the Legacy Foundation.
About the College
Founded in 2007, the University of Arizona College of Medicine – Phoenix inspires and trains exemplary physicians, scientists and leaders to optimize health and health care in Arizona and beyond. By cultivating collaborative research locally and globally, the college accelerates discovery in a number of critical areas — including cancer, stroke, traumatic brain injury and cardiovascular disease. Championed as a student-centric campus, the college has graduated more than 800 physicians, all of whom received exceptional training from nine clinical partners and more than 2,700 diverse faculty members. As the anchor to the Phoenix Bioscience Core, which is projected to have an economic impact of $3.1 billion by 2025, the college prides itself on engaging with the community, fostering education, inclusion, access and advocacy.