Monthly Wellness Market Debuts Oct. 9
UA College of Medicine – Phoenix Hosts Market That Will Pair Healthy Food for Sale with Wellness Screenings and Education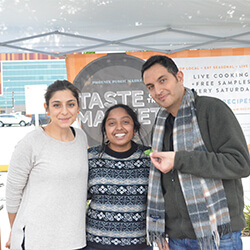 A new twist on the farmers market concept is coming to downtown Phoenix Oct. 9, as the University of Arizona College of Medicine – Phoenix hosts its first monthly wellness market on the biomedical campus.
A partnership between Wesley Community Health Centers, Star Impacts LLC and the college's Wellness Program, the Downtown Phoenix Wellness Market will offer produce for sale from four local farms as well as other products including vegan tamales, salsa, steamed buns, olive oil, loose leaf tea, honey, hot sauce, gluten-free pastries and coffee.
"The Downtown Phoenix Wellness Market takes the simple idea of purchasing food and showing people how to use it as medicine," said Daniel Drane, EdD, director of wellness at the college. "The market is an educational hub that will bring together people, food and free education."
Farshad Fani Marvasti, MD, MPH, (Dr. Shad) oversees the college's nutrition curriculum and is developing the wellness program for the market.  "The idea of food as medicine is an ancient concept that is now being validated by modern science, in fact, the number one risk factor for disease and death are dietary risk factors, ranking above smoking, excess weight and lack of physical activity," said Dr. Shad who is redesigning medical education to teach students how to give food prescriptions as a standard part of medical care for all patients. 
Dr. Shad, who also serves as Chief Medical Officer at Wesley will bring clinical staff and medical students from the college's Culinary Medicine Interest Group to educate market attendees on the health benefits of the foods sold and perform wellness screening exams such as blood pressure or blood sugar checks and other health services. 
Jason Kwan, PharmD, a 2016 graduate of the University of Arizona College of Pharmacy in Tucson, created the wellness market concept by contracting with vendors and establishing a partnership with the UA College of Medicine – Phoenix. The idea is to increase access to nutritious food and teach people how to eat healthy.
"We hope to instill behavior change by offering fresh produce and blending that with health education," Dr. Kwan said. For example, people want to know what they should eat to reduce their risk of cancer. "We'll show them the products to buy, then they can talk to a health professional about why eating that food can prevent diabetes or cancer."
Wellness markets are scheduled for the second Tuesday of the month, beginning Oct. 9 through May 14, 2019, from 10 a.m. to 1:30 p.m. on the lawn outside the college's Health Science Education Building, 435 N. Fifth St., Phoenix. The market is open to the public.
Drane hopes to attract not only students, faculty and researchers from the Phoenix Biomedical Campus, but workers from nearby downtown office buildings who can walk to the market at Fifth and Van Buren streets and learn how to improve their health.
Guests to the wellness market will find an assortment of experiences. They can browse an assortment of food and beverage vendors, stop by the Wesley Wellness booth for information and blood pressure checks or visit booths run by the college's medical students that focus on a monthly health topic. October's theme is breast cancer awareness. Future months will offer activities such as outdoor pilates and other exercise sessions.
Beginning in November, Dr. Shad and his students will be providing mini-Ted Talks and workshops to explore the connections between food and health, understand the concepts of Integrative Medicine, and provide practical tips to prevent disease and achieve optimal health through healthy lifestyle changes. 
About the College
Founded in 2007, the University of Arizona College of Medicine – Phoenix inspires and trains exemplary physicians, scientists and leaders to optimize health and health care in Arizona and beyond. By cultivating collaborative research locally and globally, the college accelerates discovery in a number of critical areas — including cancer, stroke, traumatic brain injury and cardiovascular disease. Championed as a student-centric campus, the college has graduated 669 physicians, all of whom received exceptional training from nine clinical partners and more than 2,600 diverse faculty members. As the anchor to the Phoenix Bioscience Core, which is projected to have an economic impact of $3.1 billion by 2025, the college prides itself on engaging with the community, fostering education, inclusion, access and advocacy.