New Study Indicates Discouraging Trend
UA Researchers Discover Increasing Proportion of All Out-of-Hospital Cardiac Arrests Related to Drug Overdose
An increasing proportion of all cardiac arrests occurring outside of the hospital are related to drug overdoses, according to a new study conducted by two University of Arizona College of Medicine – Phoenix students.
Fourth-year medical student Gabriella Smith and second-year medical student Sam Beger co-authored a manuscript that revealed about 15 people suffer sudden cardiac arrest every day in Arizona and two of those are related to opioid overdose. This was the first statewide study to show trends in overdose-related out of hospital-cardiac-arrests.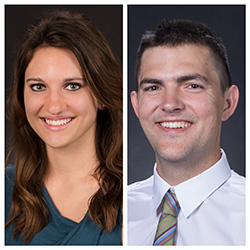 Smith and Beger worked on the study since spring of 2017 with Ben Bobrow, MD, associate director of the Arizona Emergency Medicine Research Center – Phoenix and professor in emergency medicine at the UA College of Medicine – Tucson. Their research was published on-line this week in the journal Resuscitation.
"While much great work has been done across Arizona to combat the opioid problem, overall things have not significantly improved," Dr. Bobrow said. "The opioid public health problem is not a one and done issue and now there is evidence that opioids are responsible for cardiac arrest, often tragically in very young people. The problem of opioid addiction is a generational problem and requires continuous surveillance, data collection, and strategic implementation of interventions to reduce opioid related deaths."
As of Dec. 6, 2018, the Arizona Department of Health Services reported more than 16,800 suspected opioid overdoses and 2,500 opioid deaths. In recent news, the CDC released new data suggesting that drug overdose deaths in the US were so high in 2017 that it contributed to a drop in overall life expectancy.
"I worked in the emergency department for three years before medical school, where I saw a lot of young individuals coming in who were victims of overdose," Beger said. "This issue is extremely important and is a national crisis. Working with the Arizona Emergency Medicine Research Center, we are using the results of our study to work on interventions to reverse these concerning regional trends."
Although the opioid overdose mortality has increased in the US over the years, the recent regional trends in the proportion of treated overdose-related out-of-hospital cardiac arrests compared to out-of-hospital cardiac arrests of presumed cardiac etiology are largely unknown.
The group analyzed data from 2010 to 2015 from an out-of-hospital cardiac arrest registry gathered by the Arizona Department of Health Service, and looked at hospital data to determine the most likely cause of cardiac arrest — whether it was due to a primary cardiac problem like a heart attack or another problem like drug overdose.
They believe this research warrants increases and continuous public health focus and resources directed to continuous cardiac arrest and opioid surveillance; prevention and effective treatment strategies such as increased public awareness and recognition of opioid overdose; and proficiency in bystander CPR, along with widespread access to the opioid reversal agent naloxone.
"This research was important to us because of its enormous impact on the community and our patients. The opioid epidemic is an issue not only seen in Arizona, but across the nation," Smith said. "Research like this will make us better clinicians and lead to better outcomes for our patients. Really, that's why we are all here — to improve patient care and save lives."
About the College
Founded in 2007, the University of Arizona College of Medicine – Phoenix inspires and trains exemplary physicians, scientists and leaders to optimize health and health care in Arizona and beyond. By cultivating collaborative research locally and globally, the college accelerates discovery in a number of critical areas — including cancer, stroke, traumatic brain injury and cardiovascular disease. Championed as a student-centric campus, the college has graduated 669 physicians, all of whom received exceptional training from nine clinical partners and more than 2,600 diverse faculty members. As the anchor to the Phoenix Bioscience Core, which is projected to have an economic impact of $3.1 billion by 2025, the college prides itself on engaging with the community, fostering education, inclusion, access and advocacy.