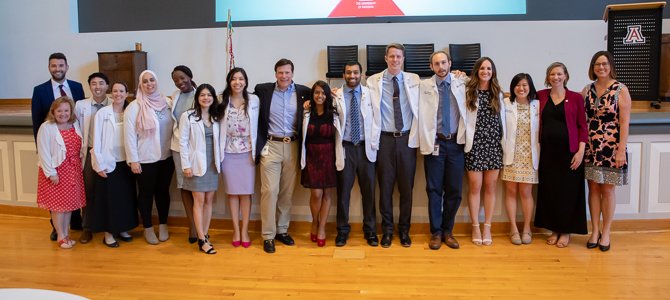 Newest Members Inducted into Gold Humanism Honor Society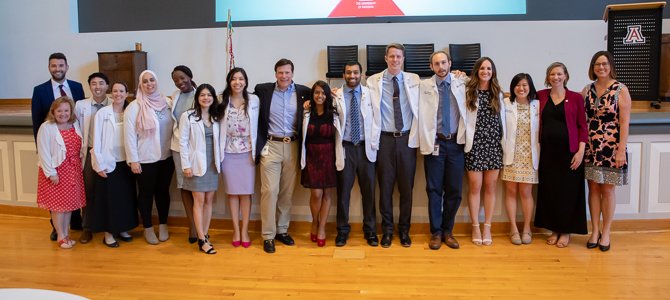 UA Students and Faculty Selected by Peers to be Inducted into Gold Humanism Honor Society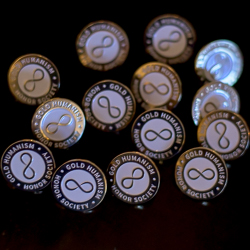 The Gold Humanism Honor Society (GHHS) recognizes extraordinary individuals in the medical field who serve as role models, mentors and leaders to their fellow students and to the community. These students embody the characteristics of professionalism, leadership, compassion and humanism.
Twelve third-year medical students at the University of Arizona College of Medicine – Phoenix were inducted into the GHHS Phoenix chapter on May 1.
These exemplary students are:
Chris Bean.
Bethany Bennett.
Shivani Misra.
Tyler Hoelscher.
Bhavesh Shukla.
Zana Alattar.
Agnes Ewongwo.
Fatima Esquivel.
Jaimei Zhang.
Jessica Reyes.
Juliana Peterson.
George Nguyen.
In addition, the students selected two faculty inductees into the College of Medicine – Phoenix Gold Humanism Honor Society this year. These two faculty inductees exemplify the same humanistic qualities listed above and have served as role models for the students in this regard.
Mark Fischione, MD.
Stephanie Briney, DO.
"We are here to honor some absolutely stellar examples of the people that embody the characteristics of what we want in our doctors," Steven Lieberman, MD, senior associate dean of Undergraduate Medical Education at the college said. "As patients, we want our doctors to be great in the sense that they are caring, compassionate and just wonderful human beings. This is what the Gold Humanism Honor Society represents."
Ryan Romo, MD, who was inducted into the society with the Class of 2019, helped introduce the essence of the ceremony with the rest of last year's inductees.
"The original meaning of our work is service," Dr. Romo said. "Service is not a relationship between an expert and a problem, it is a human relationship — the work of a heart and soul. Restoring the sense of service to the practice of medicine will lead us to reexamine the process of becoming physicians."
Marícela Moffitt, MD, MPH, director of Doctoring Curriculum at the college, served as the keynote speaker. Dr. Moffitt has been a practicing physician for more than 27 years with 19 years in the Valley. She teaches every medical student at the college through the doctoring course.
"It is a true honor to speak to you today," Dr. Moffitt said. "I'm looking at all of my students in the audience. This award is so well deserved by you. Your classmates are honoring you, and I want to honor you as well."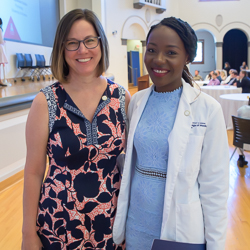 Agnes Ewongwo was introduced by her fellow classmate Zana Alattar who described Ewongwo in three words: strength, advocate and compassion.
"I'm still speechless that I was chosen for this honor by my classmates," Ewongwo said. "This is a good reminder of what type of doctor I want to be and the kind of care I want to provide to others. I'm honored, dedicated and excited for the future and the work that is ahead."
Mark Fischione, MD, was introduced by Nathan Goff, MD, from the Class of 2019. Dr. Goff said that Dr. Fischione had incredible energy and enthusiasm in his lectures.
"This is such a great honor because this is coming from the students," Dr. Fischione said. "I always saw myself teaching. I'm a forensic pathologist, and I said that after I hang up my scalpel, I wanted to end my career teaching; and that's exactly what I'm doing."
Prior to leaving the stage, each student received their GHHS pin and added a knot to their distinctive class ribbon attached to the Staff of Asclepius. The staff — created by Howard Silverman, MD, MS, to commemorate the chapter's inaugural class — is a well-known symbol of healing. It honors Asclepius, the son of Apollo and a practitioner of medicine. Each knot that is added lengthens the respective chains, stretching the bond between the members of the society and symbolizing power, strength and compassion.
The College of Medicine – Phoenix GHHS chapter was established in 2010 and each year, the top 10-15 percent of the third-year medical students are identified by their peers as exemplars of humanism in medicine.
The Gold Humanism Honor Society members have a responsibility to model, support and advocate for compassionate, patient-centered care throughout their careers. The creation of a GHHS chapter signifies to the medical community that an institution places high value on the interpersonal skills and attitudes that are essential for the highest level of patient care.
About the College
Founded in 2007, the University of Arizona College of Medicine – Phoenix inspires and trains exemplary physicians, scientists and leaders to optimize health and health care in Arizona and beyond. By cultivating collaborative research locally and globally, the college accelerates discovery in a number of critical areas — including cancer, stroke, traumatic brain injury and cardiovascular disease. Championed as a student-centric campus, the college has graduated 669 physicians, all of whom received exceptional training from nine clinical partners and more than 2,600 diverse faculty members. As the anchor to the Phoenix Bioscience Core, which is projected to have an economic impact of $3.1 billion by 2025, the college prides itself on engaging with the community, fostering education, inclusion, access and advocacy.