Physician Analyzes Life Expectancy Inequality
As Health Disparities Widen for Life Expectancy, Research Shows Link in Racial Inequality
Although human health has improved over the last couple centuries, disparities remain a persistent problem.
Murtaza Akhter, MD, an assistant professor in the Department of Emergency Medicine at the University of Arizona College of Medicine – Phoenix, published a research letter in the Journal of the American Medical Association (JAMA) Internal Medicine that analyzed the relationship between life expectancy inequality and income inequality, as well as between life expectancy inequality and racial inequality.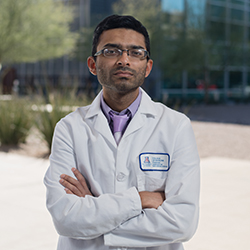 Dr. Akhter's findings revealed that it is not simply behavioral and metabolic risk factors that play a role in longevity, but that they, along with socioeconomic and racial factors, are integrally connected to each other in mediating health outcomes.
For example, those with higher income are much more likely to quit smoking than those with lower income.
"It's another reminder that you can't just throw money at health care institutions and assume that will fix everything," Dr. Akhter said. "Health care inequalities are due to a multitude of factors. It's not politically correct to say that we're racist, but we are — and there are a ton of data that show we are. If the goal is to fix health care inequalities, one has to not just look at 'easy' targets like smoking and diet, but also racist housing policies, inequalities in wealth amongst peoples, job outlooks — as well as within ourselves."
Dr. Akhter said he decided to research the topic after listening to a story on NPR while driving home from work one day. A health care economist discussed the increasing disparities in health care between counties. He said he thought to himself, "This is fake news."
"Not that I didn't believe the data, but rather, I figured the increasing disparities in longevity could likely be explained by the increasing disparities in income," Dr. Akhter said. "Turned out that rather than income inequality, it was racial inequality that rose over time, and at almost exactly the same rate as that of life expectancy inequality. By the way, I would like to point out that wealth disparities are much more predictive of how a person will fare — in health, or in prosperity — than are income disparities."
Wealth disparity is not Dr. Akhter's main research focus. Since he majored in economics at the University of Chicago, one would naturally assume he would pursue research in health care economics. However, his true passion is in basic medical science.
He has a lab at the UA College of Medicine – Phoenix in the Translational Neurotrauma Department directed by Jonathan Lifshitz, PhD, where research is in traumatic brain injury and intracerebral hemorrhage. Dr. Akhter also performs clinical research in sepsis and pulmonary embolism, in particular, the diagnostic workup and the burden of computed tomography. He also is an attending physician at Maricopa Integrated Health System.
Dr. Akhter said he plans to continue focusing on basic neuroscience. "This is where we need the most research — in truly debilitating disease," he said. "We need great basic science research to be translated into therapies for patients."
About the College
Founded in 2007, the University of Arizona College of Medicine – Phoenix inspires and trains exemplary physicians, scientists and leaders to optimize health and health care in Arizona and beyond. By cultivating collaborative research locally and globally, the college accelerates discovery in a number of critical areas — including cancer, stroke, traumatic brain injury and cardiovascular disease. Championed as a student-centric campus, the college has graduated 665 physicians, all of whom received exceptional training from nine clinical partners and more than 2,500 diverse faculty members. As the anchor to the Phoenix Bioscience Core, which is projected to have an economic impact of $3.1 billion by 2025, the college prides itself on engaging with the community, fostering education, inclusion, access and advocacy.