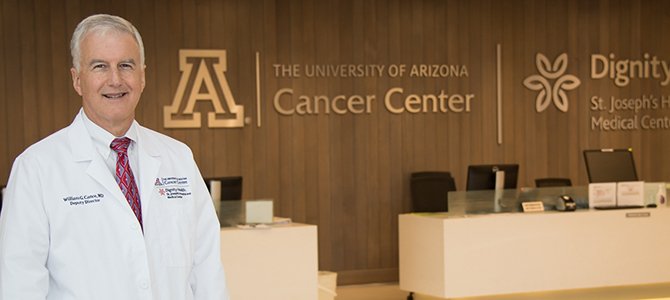 Prominent Oncology Surgeon Joins Cancer Center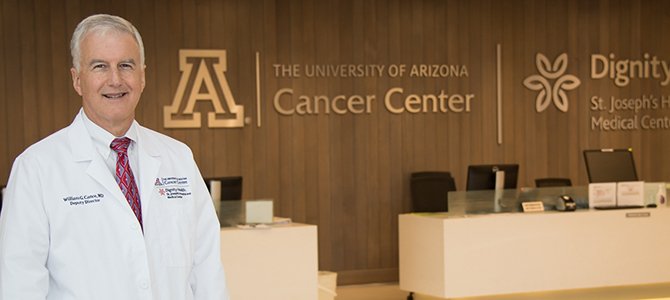 William Cance, MD, will Play a Vital Role as Deputy Director at UA Cancer Center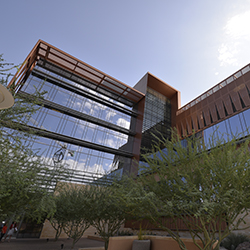 As part of the ongoing efforts in Phoenix to create a world class cancer center in one of the largest metropolitan areas in the country, renowned oncology surgeon and physician-scientist William Cance, MD, has joined the University of Arizona Cancer Center as deputy director, with the vision of creating a patient-centered cancer center across two campuses that personalizes and individualizes cancer care.
As deputy director, Dr. Cance will work to enhance clinical research, foster translational research and stimulate protocol development. He will develop disease-focused clinical groups on the Phoenix campus, as well as integrate with the Tucson campus to help create one Cancer Center with two sites.
"We intend to expand on the areas of precision prevention where preventive approaches are personalized to an individual's genotype; early detection, which is already being done well at the Norton Thoracic Institute at Dignity/St. Joseph's that has a premier early detection program for lung cancer and esophageal cancer; and our already outstanding clinical care," Dr. Cance said.
Dr. Cance began his new role at the UA Cancer Center at Dignity Health St. Joseph's Hospital and Medical Center in October 2016.
"I'm really looking forward to integrating with the College of Medicine," he said. "This partnership is forward-thinking because you have a successful private nonprofit that is part of the fifth-largest health system in the country teamed with the only comprehensive cancer center whose home base is Arizona."
Recently the National Cancer Institute (NIH) renewed the UA Cancer Center's status as a Comprehensive Cancer Center and awarded a five-year, $17.6 million Cancer Center Support Grant. The UA Cancer Center is one of only 45 NCI-designated Comprehensive Cancer Centers in the nation — and the only one with headquarters in Arizona.
"The hallmark of the NCI-designated Comprehensive Cancer Center is highly specialized patient-centric care with providers who are very focused on a single disease site," Dr. Cance said. "We plan to bring this care to Phoenix through education, research and integration with interdisciplinary oncology partners."
About Dr. Cance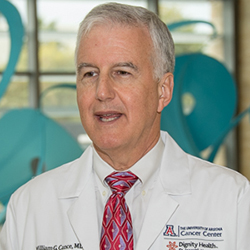 Dr. Cance knew he wanted to be a surgeon in the fourth grade, when he read a book on a lay description of an appendectomy. He secured a mentorship in high school with renowned immunologist and surgical oncologist Warren Cole, MD, who had a focus in cancer. But it wasn't until his freshman year of college, as a pre-med student, that he discovered his calling when a friend in his dorm, John, asked Dr. Cance to look at a lump on the sole of his foot. John was later diagnosed with fibrosarcoma and took a semester off college for treatment. He returned the following semester, but the cancer had spread throughout his body and he passed away shortly after.
"I can still see that golf ball-sized lump on his foot today," Dr. Cance said. "There was no rhyme or reason for this. I kept thinking 'Why him and not me?' Why did he have to come face-to-face with death at an early age and I didn't? It just indiscriminately took him out."
As a surgical oncologist, Dr. Cance will continue to specialize in treating patients with complex gastrointestinal and endocrine cancers, as well as continue his research in the area of focal adhesion kinase (FAK).
With over 30 years of experience, Dr. Cance is known as a leader in cancer care. He has been consistently recognized as one of America's top doctors and, more specifically, as a top doctor for cancer. He has served on the Board of Scientific Councilors of the National Cancer Institute and is a past-president of the Society of Surgical Oncology. Previously, Dr. Cance led Surgical Oncology at the Roswell Park Cancer Institute in Buffalo, New York.
Dr. Cance's research focuses on proteins called tyrosine kinases that are intimately involved in cancer growth and spread. Many of today's cancer treatments target these enzymes. As an example, his research is centered around focal adhesion kinase, also known as FAK, a critically important protein for cancer survival and progression. In 1993, Dr. Cance was the first researcher to clone human FAK and demonstrate its overexpression in invasive and metastatic cancers. Subsequently, his research has focused on defining the role of FAK in cancer and developing therapeutics that target the protein. Dr. Cance is actively involved in collaborative efforts with UA and industry to develop novel cancer drugs that disrupt FAK activity.
Dr. Cance received his medical degree from Duke University School of Medicine and completed his residency at Barnes Hospital Washington University School of Medicine in St. Louis, where he was chief resident in the Department of Surgery. He has completed two fellowships, one at Memorial Sloan-Kettering Cancer Center in New York in surgical oncology and the other at Washington University School of Medicine in the departments of Surgery and Microbiology and Immunology.
"I want to be able to say I helped develop therapies that could have made a difference for John," Dr. Cance said. "I want to see novel prevention and therapeutic strategies make a dramatic impact for our patients. I want to help our team make this partnership between Dignity St. Joseph's Hospital and the UA Cancer Center work effectively as a model for enhancing both the scientific and clinical care of the cancer patient, and I'd like to leave a legacy of people who can continue this mission and keep working on the ever-changing aspects of cancer care. If I could help do those three things, I'd be happy."
Topics
About the College
Founded in 2007, the University of Arizona College of Medicine – Phoenix inspires and trains exemplary physicians, scientists and leaders to optimize health and health care in Arizona and beyond. By cultivating collaborative research locally and globally, the college accelerates discovery in a number of critical areas — including cancer, stroke, traumatic brain injury and cardiovascular disease. Championed as a student-centric campus, the college has graduated 593 physicians, all of whom received exceptional training from nine clinical partners and more than 2,400 diverse faculty members. As the anchor to the Phoenix Biomedical Campus, which is projected to have an economic impact of $3.1 billion by 2025, the college prides itself on engaging with the community, fostering education, inclusion, access and advocacy.