Q and A with Renowned Cancer Surgeon
Sir Murray Brennan, MD, presents 'Evolution of Cancer Care' at General Surgery Grand Rounds
Renowned oncologist Sir Murray Brennan, MD, visited with faculty members, residents and medical students at the University of Arizona College of Medicine – Phoenix on April 17. Dr. Brennan presented a lecture on the Evolution of Cancer Care at General Surgery Grand Rounds, where every surgical department was represented in the Valley.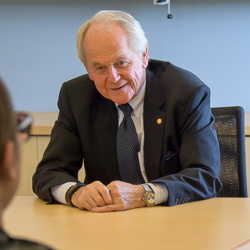 Dr. Brennan is an internationally recognized cancer surgeon and leader in cancer research. He has been a faculty member at Memorial Sloan Kettering Cancer Center since 1981 and was chair of Surgery from 1985-2006. Currently, Dr. Brennan is the vice president for international programs and director of the Bobst International Center at Memorial Sloan Kettering. He has co-authored more than 1,100 scientific papers and three books on soft tissue sarcoma. In January 2015, he was appointed by Her Majesty The Queen as Knight Grand Companion of the New Zealand Order of Merit.
William Cance, MD, deputy director of the UA Cancer Center at Dignity Health St. Joseph's Hospital and Medical Center, led a Q&A interview with Dr. Brennan. Dr. Cance met Dr. Brennan in 1984 as a second-year resident and trained with him as a surgical oncology fellow at Memorial Sloan Kettering. As a mentee, Dr. Cance says he learned from Dr. Brennan's breadth of knowledge, technical skill and teaching style, which were unparalleled.
What is your background?
"The story began with my father wanting me to be an engineer. I started out at the university as an engineer until I realized part way through the first year that I was going to go to medical school. I wasted the first year at the university doing pure math and science, which turned out to be very fortuitous because during medical school, I was then able to finish a degree in mathematics. My interests in mathematics and statistics turned out to apply to clinical problems. The rest is history."
Who is your mentor?
"A mentor is supposed to be someone who guides you from adolescence to adulthood. When I first moved to Boston, it was a man named Dr. Francis Moore, chairman of surgery for Harvard Medical School. He was a very influential person and a mentor in many ways."
As you evolved as a leader, what are some keys in your leadership?
"Over the years, I've learned that you can't take yourself too seriously. The one thing I, nor you, had anything to do with is where we showed up. We didn't pick our parents or the place we were born — it was all accidents. You could have been born in Ethiopia and dead in six days. To think you are entitled to take yourself too seriously is a mistake. What you do with your life is important, but to pretend that somehow you are better than anyone else just because of that accident is crazy. That is very important to me."
What advice would you give to current medical students?
"My job is not to tell you what to do, it's to help you identify what you want to do and help you get there. It's actually quite difficult. Most people don't know what they need. The mere exercise of trying is incredibly important. If I sit down and ask you, 'What do you want to do when you grow up?' You are probably going to struggle. But until you start thinking about it, you can't grow up.
If I was to give advice, it'd be to do your absolute best today. Immerse yourself in what you are doing today, and tomorrow will take care of itself. Don't be an observant of life, be a participant. Don't go through medical school waiting for some divine inspiration that tells you, you want to be a dermatologist.
The other analogy is, we all know what makes us unhappy. It's very easy. Guy cuts you off on the road, that makes you unhappy. What makes you happy is actually quite difficult. What makes me happy is at three years old I was eating an ice cream. At 23 years old the ice cream is gone. People somehow think you get anointed with happiness. You don't. You have to look for it, you have to find it, and you have to practice it.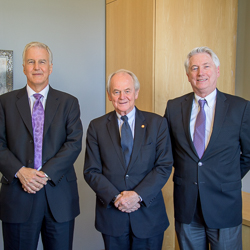 What makes you happy? It's a full-time job to figure it out. I'm still trying to fully figure it out."
What does the future hold for you?
"Being healthy. You can't do anything if you aren't healthy. I don't worry about trying to get somewhere. I really do believe the statement that your life is a journey, not a destination."
What is a valuable lesson you've learned over the years?
"The future is young people. What I do is irrelevant, but the people I influence matters. It's important, and I really believe it. I practice that. I want you to succeed."
What's a highlight of your career?
"Every day is a highlight. You wake up in the morning and it's a highlight. I've been extraordinarily fortunate to have a gazillion highlights like a birth of a child, or another one. The opportunity to come back and see someone I haven't seen for a long time. That is a gift."
The way you position yourself with patients is one of those things that I takeaway and all my trainees and nurses know that. What advice would you give students on patient interactions?
"How few people get the privilege to take care of another person? There is not even a lot of society who has that option. Why wouldn't I take it seriously? Have I ever cried? Of course I have. Crying is just another emotion. I was taught as a little boy, little boys don't cry. Well, that's absurd; of course they do. If it's another emotion, why is crying any different than love?
Think about why you went to medical school. Almost uniformly, doctors went because they wanted to take care of people. They didn't go to medical school to become a famous urologists or win a Nobel Prize. I don't want them to lose that. It's okay if they win the Nobel Prize; it's okay if they become a famous urologist, but don't stop caring."
What pitfalls should medical students look out for?
"If you do something for the wrong reasons, it always comes back to hurt you. If you make a decision during medical school to become an ophthalmologist because you have loans to pay off and it pays well, that will most likely fail. Try very hard to not do things for the wrong reasons. They always come back to haunt you.
Also, don't promise what you can't deliver. This is the worst thing that the medical profession does."
Topics
About the College
Founded in 2007, the University of Arizona College of Medicine – Phoenix inspires and trains exemplary physicians, scientists and leaders to optimize health and health care in Arizona and beyond. By cultivating collaborative research locally and globally, the college accelerates discovery in a number of critical areas — including cancer, stroke, traumatic brain injury and cardiovascular disease. Championed as a student-centric campus, the college has graduated 593 physicians, all of whom received exceptional training from nine clinical partners and more than 2,400 diverse faculty members. As the anchor to the Phoenix Biomedical Campus, which is projected to have an economic impact of $3.1 billion by 2025, the college prides itself on engaging with the community, fostering education, inclusion, access and advocacy.