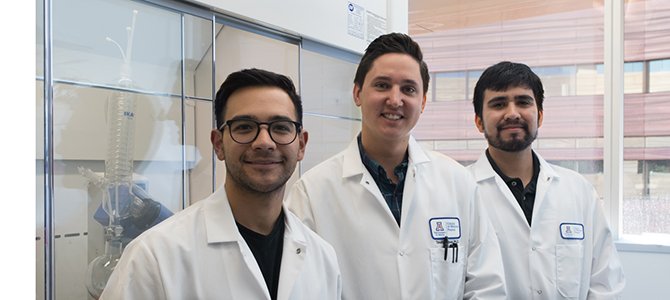 Researcher Seeks to Improve Treatment Options for Cancer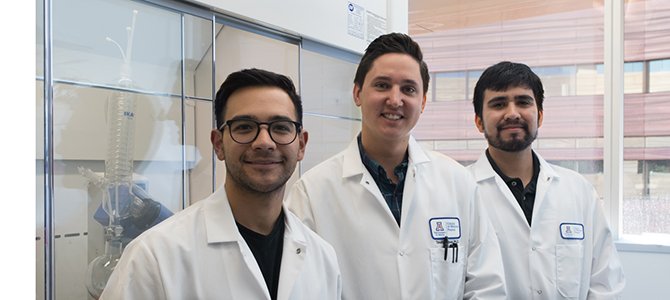 As Director of Drug Discovery, Tim Marlowe's Goal is to Develop New Drugs that Target an Important Protein Present in Most Cancers
At just 28 years old, Tim Marlowe, PhD, has had a short but accomplished career. As director of drug discovery in the research laboratory of surgical oncologist William Cance, MD, his goal is to develop drugs that target focal adhesion kinase, also known as FAK, a critically important protein for cancer survival and progression.
And while his professional path has been brief, he knows that the road to drug discovery is long and complicated, with lots of twists and turns.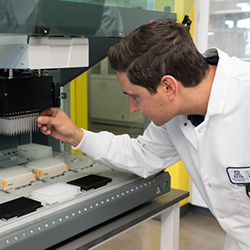 As Dr. Marlow explains, it starts with a library of unknown experimental compounds. If the researchers are lucky, they find a molecule with some activity through the use of a computer or lab technique. Then they validate it for its activity and properties. Next, they go to the chemistry board and design ways to make the drug better by designing analogs. They go through a constant cycle of medicinal chemistry, where they synthesize analogs and return to the lab to improve the drug. Once they have a compound that shows activity at a good concentration, they do a pre-clinical study with the compound to ensure it is targeting a tumor in an animal model.
He is driven to find new cancer treatments, he said, because everyone has a story about how cancer has touched a family member or friend.
"It's one of those terrible obstacles in the world that we need to fix because countless people from every family are losing their lives to cancer," Dr. Marlowe said.
Dr. Marlowe studied pharmacology as an undergraduate at the University at Buffalo. His introduction to drug discovery occurred during an internship at the University of North Carolina at Chapel Hill, where he studied computational drug discovery and learned to create drug screening assays.
"I was always interested in how pharmaceutical compounds — those small, tiny pills that people take orally — can have such a drastic effect on a patient's life and disease treatment. It was just fascinating to me," Dr. Marlowe said.
He finished his PhD at the age of 26 with a joint degree from the University at Buffalo and Roswell Park Cancer Institute.
"People always ask me 'You're so young; how did you get here?' " Dr. Marlowe said. "I tell them that it was a lot of hard work, late hours, working beyond what was required of me and working toward the goal, which is to develop drugs for cancer. I was working to make a difference. It's also meeting the right people, like Dr. Cance, who really help foster you as a scientist and help jumpstart your career."
Dr. Marlowe met Dr. Cance at Roswell Park, where the two started a drug discovery lab.
"I first met Tim when he showed up in my office and his opening line was that he wanted to join our lab efforts to find drugs that target focal adhesion kinase," Dr. Cance said. "He not only had the passion, but also the drive for drug discovery. He proved to be the smartest and most intuitive graduate student I had seen."
Dr. Marlowe worked as a postdoctoral fellow, specializing in kinase inhibitors at Dr. Cance's lab until 2016, when Dr. Cance was offered a position at the University of Arizona College of Medicine – Phoenix as deputy director of the UA Cancer Center Phoenix.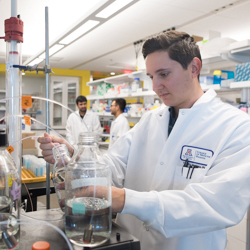 "We have a great opportunity here at the College of Medicine – Phoenix, because this is a chance to build drug discovery from the ground up," Dr. Marlowe said. "In the past six months or so, we've been building the infrastructure, writing grants, recruiting new scientists and getting state-of-the-art equipment to be on the leading edge of science."
One of the lab's biggest accomplishments at Roswell was identifying a critical resistance pathway to previous drugs that target FAK. This led them to a new area of research where they've begun focusing on alternative regions of FAK, an area no one else in the world is targeting.
"Ideally, we need a drug for every target in cancer," Dr. Marlowe said. "Cancer cells really do utilize every pathway, and they will escape every sort of treatment you throw at them. Our goal is to switch cancer to a stable disease like high blood pressure rather than a deadly disease."
Media Contact:
Teresa Joseph
Phone: 602-827-2657
About the College
Founded in 2007, the University of Arizona College of Medicine – Phoenix inspires and trains exemplary physicians, scientists and leaders to optimize health and health care in Arizona and beyond. By cultivating collaborative research locally and globally, the college accelerates discovery in a number of critical areas — including cancer, stroke, traumatic brain injury and cardiovascular disease. Championed as a student-centric campus, the college has graduated 593 physicians, all of whom received exceptional training from nine clinical partners and more than 2,400 diverse faculty members. As the anchor to the Phoenix Biomedical Campus, which is projected to have an economic impact of $3.1 billion by 2025, the college prides itself on engaging with the community, fostering education, inclusion, access and advocacy.