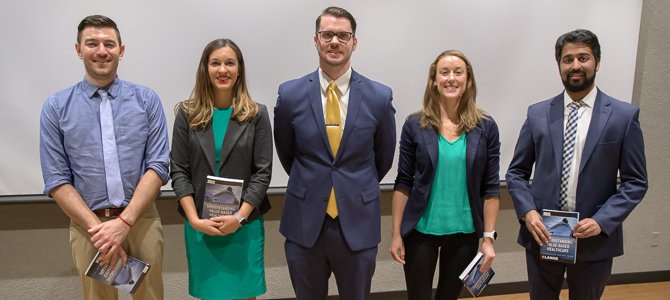 Residents and Fellows Present Innovative Solutions to Improve Patient Care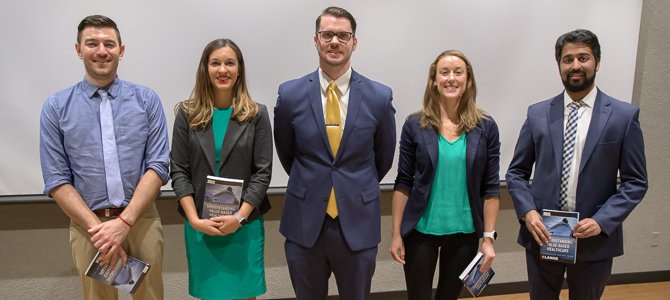 High Value Care Semi-Finalists Present Research at Staff Quality and Safety Day
Four residents and fellows from the University of Arizona College of Medicine – Phoenix presented innovative solutions to enhance the safety and quality of care for their patients at the sixth annual House Staff Quality and Safety Day.
More than 130 residents and fellows attended sessions to learn about the inventive, cost-effective and research-backed projects being implemented by their colleagues. The event took place at Banner – University Medical Center Phoenix on May 14.
"These projects are the culmination of a lot of hard work and effort into thoughtful ideas about how to improve the value of care that we give to our patients," said Emily Mallin, MD, co-chair of the event.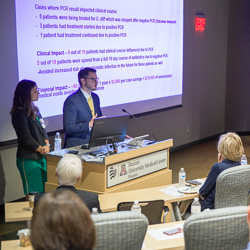 Internal Medicine residents Daniel Hannon, DO, and Kelly Zucker, DO, were awarded best presentation and project for "Clostridium difficile: Improving Hospital Management."
The competition was graded by eight judges from Banner and the College of Medicine – Phoenix. Banner medical staff donated prizes of $2,500 each to three semi-finalists from the High Value Care Contest, who then have half a year to implement their project. A fourth "wild card" semi-finalist was chosen from the posters presentations. Drs. Hannon and Zucker received an additional $2,500 for winning.
The High Value Care competition was started six years ago by Steven Brown, MD, and Cheryl O'Malley, MD. This year's chairs were Dr. O'Malley, Richard Gerkin, MD, and Dr. Mallin. During the past six years, they have had more than 154 High Value Idea submissions, 20 winning oral presentations, 83 percent of the projects have been implemented and more than $100,000 has been invested into the program.
Judges for the High Value Care oral presentation included Guy Reed, MD, Michael Fallon, MD, Jeremy Goodman, MD, Alan Leibowitz, MD, Steven Lieberman, MD, Matthew McEchron, PhD, Steve Narang, MD, Kathy Walker and Cameron Dick, MD. 
This year's finalists were:
Callie Davies, MD, Sports Medicine Fellow
Dr. Davies created a standardized checklist of procedures for physicians to use through a cellphone app. It was designed to be a quick reference and review. Studies show that checklists can reduce costs and improve patient outcomes. Dr. Davies implemented this into the Sports Medicine Fellowship to provide fellows with a checklist, and it provides recommendations for best practices for procedures along with photos.
Daniel Hannon, DO, and Kelly Zucker, DO, Internal Medicine residents  
Clostridium difficile, also known as CDI, is identified as a serious re-emerging pathogen in North America and the leading cause of infectious diarrhea acquired in the hospital. Each patient's CDI-associated disease is estimated to cost $3,600. Annually, health care costs for CDI may exceed $1 billion in the U.S. Drs. Hannon and Zucker evaluated he current management practices and use of the GDH (Glutamate dehydrogenase) antigen toxin test, which is used to screen for CDI. A GDH test can provide a negative, positive and an inconclusive result. The residents' work focused on the inconclusive result, which is often still treated with CDI antibiotics. Unnecessary antibiotic use has numerous adverse effects including drug resistance, risk with use, cost for patient and a higher risk for future infections. Drs. Hannon and Zucker recommended an additional test for the inconclusive results known as PCR, which would help identify patients who are positive for CDI or might have an inactive toxin gene containing a strain of CD.
Jordan Merz, MD, Internal Medicine and Pediatrics Resident
Penicillin allergies are the most common drug allergy nationwide. However, research has shown that a bulk of patients who report a penicillin allergy are actually penicillin tolerant. Therefore, most people with penicillin reported allergies can actually receive penicillin. Studies show that these allergies, whether they are genuine or not, are associated with poorer health outcomes such as hospital readmission, morbidity and surgical site infections on both adults and children. These can cost patients anywhere from $1,100 to $4,100 for each stay. Dr. Merz is attempting to change this by educating hospital staff on penicillin allergies, asking patients follow-up questions about their allergies and symptoms, using clinical decision support tools to better guide physicians on this topic and understanding what constitutes penicillin intolerance.
Faruq Pradhan, MD, Gastroenterology Fellow
Dr. Pradhan is researching patients with cirrhosis and looking into the frailty of the current population. A frailty test would help physicians assess the risks of a liver transplant and create interventions for those who were at higher risk. Patients who are frail have a higher risk of readmissions, longer stays and higher morbidity. Dr. Pradhan wanted to better understand this population and improve the quality of care by implementing an objective series of criteria to evaluate frailty.
Funding was provided by the Banner – University Medical Center Phoenix medical staff, travel funds by the Department of Medical Education and for the interdisciplinary teams by Banner – University Medical Center Phoenix Administration.
About the College
Founded in 2007, the University of Arizona College of Medicine – Phoenix inspires and trains exemplary physicians, scientists and leaders to optimize health and health care in Arizona and beyond. By cultivating collaborative research locally and globally, the college accelerates discovery in a number of critical areas — including cancer, stroke, traumatic brain injury and cardiovascular disease. Championed as a student-centric campus, the college has graduated 500 physicians, all of whom received exceptional training from nine clinical partners and more than 2,000 diverse faculty members. As the anchor to the Phoenix Biomedical Campus, which is projected to have an economic impact of $3.1 billion by 2025, the college prides itself on engaging with the community, fostering education, inclusion, access and advocacy.