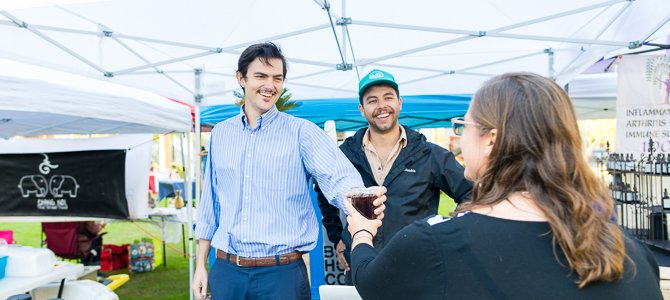 Student Balances School and Business Ownership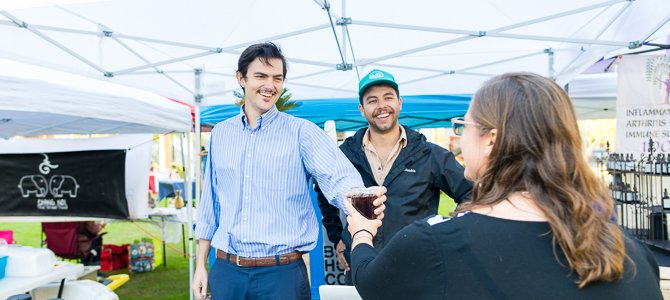 Second-Year Medical Student Sam Beger Co-Owns Blue House Coffee
It's no secret that the high demands of medical school can be challenging, but for Sam Beger, a medical student at the University of Arizona College of Medicine – Phoenix, the rigorous curriculum isn't the only thing on his schedule.
In addition to being a second-year medical student, Beger is co-owner of Blue House Coffee, a company he started with friends in 2012.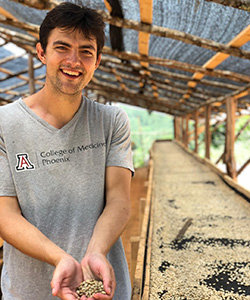 "Coffee is more than a drink. It fuels social interconnection and brightens morning rituals," Beger said. "For me, the coffee business is a vehicle to improve my community and connect with others, both next door and around the world. Medicine is just a different avenue to have a significant impact on the individuals around me. The relationship between my love of coffee and my passion for medicine is mutually beneficial, and both help me attain my goal of positively impacting my community."
Beger started Blue House with his roommate, Nicholas DiPastena, while an undergraduate at Arizona State University.
"We would spend a lot of time roasting coffee together in the backyard of our house just south of the ASU campus," Beger said. "With a pre-medical background, I thought it was awesome to see how the temperature and solubility of different compounds in the coffee played out in the flavor of a cup."
Beger always thought that a coffee cart serving quality, quick iced coffee would be a great business at ASU. At the time, there were very few similar places in Tempe. By getting a small loan and retrofitting an old cargo bicycle, Beger and DiPastena opened Blue House Coffee on the corner of University Drive and College Avenue in Tempe. It was a small, one-cart operation with several employees that was open five days a week.
"As a company, we were an early adopter of cold-brew coffee. Using nitrogen pressurization and a toddy method, we were the first coffee company in Arizona to serve cold-brew coffee on tap via kegs," Beger said. "This is now pretty mainstream. Our cold-brew is still a signature of ours, and we roast coffees specifically for this method of brewing. We like to think of cold-brew as 'Arizona's Coffee Beverage'."
Blue House is known for sourcing and roasting its own coffees. They source directly from farmers and have traveled to their coffee's origins in Haiti, Uganda, Columbia, Costa Rica, and the Dominican Republic.
After graduating from ASU, the Blue House team had full-time jobs that made it hard to keep up operations. They decided to take the cart and their coffee business to the Old Town Scottsdale Farmers Market. Shortly after, Blue House was awarded an Edson Entrepreneurial grant from ASU to establish relationships with coffee farmers and create more mobile coffee carts. Since then, they have purchased a bigger roaster and expanded their presence to three farmers markets: Old Town Scottsdale Farmers Market, Phoenix Public Market and the Uptown Farmers Market.
Although it's now rare to see Beger at the markets due to the demands of medical school, he has a "wonderful" group of co-owners and co-workers who help ease the burden. The  group includes DiPastena, Ian Beger, Sean Magruder, Megan Husted, Spencer Simmons, Jordan Firman and Zach Zeigler.
"I know, and the company knows, that school comes first," Beger said. "That said, coffee and the whole company serve as a wellness function for me, allowing me to take a break from my studies and regroup by roasting a new batch of Costa Rican coffee."
Beger has found a way to merge his two passions of medicine and coffee. After seeing patients on a trip to the Dominican Republic as part of the College of Medicine's Global Health program, Beger and his fellow classmates spent a few days in the mountains visiting coffee farms. Blue House participates in the Wellness Market on the Phoenix Biomedical Campus that takes place the second Tuesday of every month. He also has used his coffee as a method to raise awareness and donations for charity foundations like MinuteForALL, a foundation started by fellow second-year student and friend, Ben Conner.
"I see a lot of connection in the future between coffee and health," Beger said. "In both realms, I regularly utilize hard work, creativity and communication skills to fix problems, innovate and connect with people. And I have found that my work in one field has been enhanced by the other. As a small business owner and coffee lover, my stronger background in science enables me to be more creative with how we are creating our products. In medicine, I feel like I can better start and hold conversations with patients, as I've spent the last few years practicing my communication skills at the markets meeting our customers."
Topics
About the College
Founded in 2007, the University of Arizona College of Medicine – Phoenix inspires and trains exemplary physicians, scientists and leaders to optimize health and health care in Arizona and beyond. By cultivating collaborative research locally and globally, the college accelerates discovery in a number of critical areas — including cancer, stroke, traumatic brain injury and cardiovascular disease. Championed as a student-centric campus, the college has graduated 500 physicians, all of whom received exceptional training from nine clinical partners and more than 2,000 diverse faculty members. As the anchor to the Phoenix Biomedical Campus, which is projected to have an economic impact of $3.1 billion by 2025, the college prides itself on engaging with the community, fostering education, inclusion, access and advocacy.