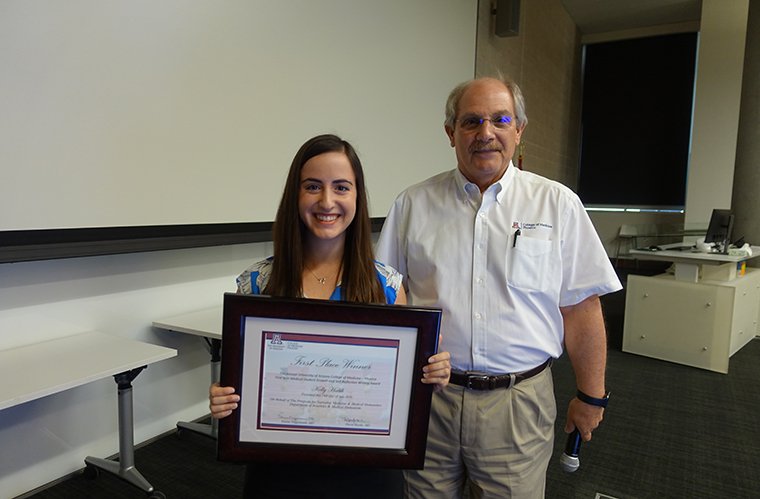 Student Reflection on First Year of Medical School Wins Writing Award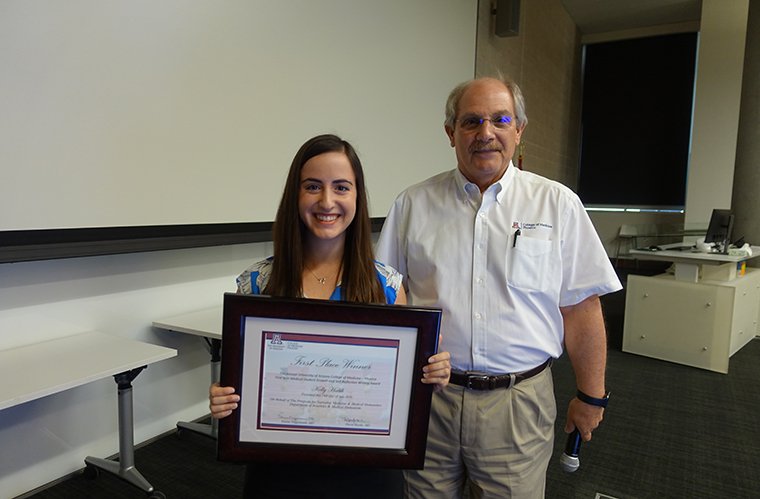 Student Shares Experiences on Medical School Challenges and Patient Encounters
Kelly Habib, a second-year medical student at the University of Arizona College of Medicine – Phoenix, received the Student Growth and Self-Reflection Writing Award in the annual Narrative Medicine Program competition. 
Habib's essay described the emotional whirlwind of a first-year medical student from patient encounters, coursework, to gaining the confidence to conquer her fears.
"I am extremely honored and appreciative to win this award," Habib said. "I want to thank all the faculty who took the time to read it. It was a great way to start off my second year of medical school." 
Habib said she has always loved writing and was an English minor as an undergraduate. When she heard about the writing contest, she thought it was the perfect way to reflect on her first year of medical school and capture the roller coaster of emotions and her personal growth.
"I hope that the incoming class realizes how quickly the year goes by," Habib said. "I feel like I was just in their shoes during the Introduction to Medicine block. I want to emphasize to the first years that it is completely normal to doubt yourself and feel overwhelmed. Everyone during their first year of medical school feels that way at some point."
Her advice to members of the Class of 2023: "You were chosen out of thousands of applicants to be at the College of Medicine – Phoenix and you are completely qualified so you should trust yourself, seek out help when you need it and know that you will succeed."   
The writing competition is meant for students to share their medical school experience. Jennifer Hartmark-Hill, MD, director of Capstones and Community Faculty Development, leads the program with David Beyda, MD, chair and professor of the Department of Bioethics and Medical Humanism, and Elaine Niggemann, MD, director of the Hematology/Cardiovascular Block.
The writing award is given to a second-year student and presented during a first-year Introduction to Medicine session for the incoming class.
In her essay, Habib reflected on the first patient panel she encountered during the Introduction of Medicine block. The subject was breast cancer. Her mother passed away from breast cancer when she was 16 years old. 
"I couldn't believe that the first week of medical school featured a disease that largely shaped my motivation and reason for becoming a doctor," Habib wrote. "She (her mother) had breast cancer, but that was just a small part of who she was. The patients on the panel had breast cancer, but that was just a small part of their journeys as well. I wondered what each of those women felt when they first heard that they had cancer and if it had shaken their families' worlds like it did to mine. I wanted to say to them: 'I see you, I am here for you and I am listening.' " 
Habib said that during her mom's cancer diagnosis, she saw how the doctors who cared for her provided the best treatment while comforting her during a vulnerable and scary time in her life. 
"They never treated her as just another diagnosis," she said. "Instead, they provided compassionate care. I appreciated the holistic approach the doctors provided and I knew that I wanted to be that person who supported patients and their families during a difficult and overwhelming time in their lives." 
Habib recalled entering her first shadowing opportunity as a first-year medical student, following a family medicine doctor for a half day. The morning was spent seeing patients in need of diabetes or chronic pain management until a patient, who happened to be a third-year pharmacy student, came in needing a pap smear. The exam appeared to be normal until they saw a pink mass obstructing the view of the cervix.
Habib wrote, "This was supposed to be a routine exam. Even though this happened a year ago, I still remember this encounter. She was so young; she was a professional student like me. Honestly, it could have been me. I never ended up finding out what the results of the biopsy were. I pray that they were normal. I still think about that girl; I still feel the worry in her voice. I still dread the thought that something could be wrong, or that her health could be taken away from her in a second. 
"When I am tired of the constant studying, the lists of drugs I still need to memorize, the jealousy I experience of friends who are on lavish vacations while I am stuck at my desk, I think about her. Studying in medical school began to feel different than it did in undergrad. The lists of diseases that I cram in my head are connected to future patients. My own feelings of inadequacy are a driving force to keep going, pushing and striving for the best for my future patients." 
Habib said that as an MS2, she is looking forward to starting rotations and learning from patients in hospitals and clinics. 
About the College
Founded in 2007, the University of Arizona College of Medicine – Phoenix inspires and trains exemplary physicians, scientists and leaders to optimize health and health care in Arizona and beyond. By cultivating collaborative research locally and globally, the college accelerates discovery in a number of critical areas — including cancer, stroke, traumatic brain injury and cardiovascular disease. Championed as a student-centric campus, the college has graduated 593 physicians, all of whom received exceptional training from nine clinical partners and more than 2,400 diverse faculty members. As the anchor to the Phoenix Biomedical Campus, which is projected to have an economic impact of $3.1 billion by 2025, the college prides itself on engaging with the community, fostering education, inclusion, access and advocacy.