Students Provide Care to Rural Villages in Dominican Republic
Students and Volunteer Faculty Treated More than 300 Patients in One Week
Fifteen medical students and four faculty members at the University of Arizona College of Medicine – Phoenix traveled to the Dominican Republic in May to provide care to more than 300 patients with limited access to medical care.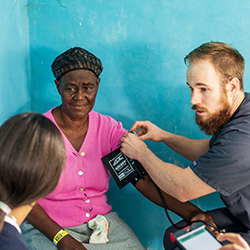 "As an ophthalmologist, I always say that 'vision is more than eyesight,'" said Robin Ross, MD, MPH, director of Global Outreach at the college. "Our ultimate vision is improved health care for all and in global health, it is often improving the health of the poorest in low-income countries." 
For the past six years, medical students at the college have traveled to the Dominican Republic twice each year with the goal of establishing a primary care clinic in several villages and creating relationships with the local health care system and doctors.
"The trips provide an opportunity for the medical students to be involved in a global health experience in the Third World," said Bud Londeree, MD, a clinical assistant professor at the College of Medicine – Phoenix. "The trips allow the students to utilize their newly acquired clinical exam skills and knowledge in a direct, hands-on fashion while evaluating patients in the Dominican Republic. It gives the students a chance to experience the gratification of helping the less fortunate and realizing how powerful giving help and hope is to others."
Dr. Londeree has volunteered on the Dominican Republic trips for five years. As a volunteer faculty member, he oversees, assists and teaches students. He sees patients along with students and helps guide them in evaluation, diagnosis and treatment.
"The global health missions are an extremely unique aspect of the medical student curriculum," said Neeraj Vij, a second-year student. "They provide high quality, acute clinical care for impoverished citizens and even provide the funding for follow-up care. Further, they serve as an excellent means for students to develop their passion for helping those who need it most, their cultural competence and help to educate students on the psycho-social aspects of health care. Most importantly, however, is the emphasis on exercising student's creativity and leadership."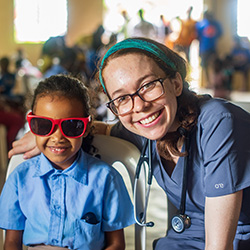 From May 26 through June 1, students traveled to four rural villages, or bateys, where they saw patients and ran the clinics. Students in triage took vitals, blood pressure, pulse, temperature, height and weight. Students also did complete physical exams, took patient histories, worked in the pharmacy where they dispensed medications and conducted home visits.
For This Year's Trip, Students Brought
Goal Zero and Solar Panels: As most of the clinics do not have electricity, the team used a Goal Zero/Yeti battery and solar panels to charge ophthalmology equipment, smartphones and tablets that were used as diagnostic tools.
Menstruation Project: Students brought 3,000 sanitary pads and dispensed them in brown recyclable paper packages to women. They advanced the process under second-year medical student Monica Sadhu, whose Scholarly Project is focused on learning about menstruation knowledge among women in the bateys through an IRB-approved survey.
Sunglasses: The team brought sunglasses provided by the UA Foundation. According to Dr. Ross, children are more sensitive to sun damage than adults, so it's important to educate kids early on about the sun's effect on the eyes, especially in a tropical climate.
Medical Supplies: The students held a fundraiser for the medical supplies. Each year, they raise about $2,000 for the purchase of drugs, which they use to dispense throughout the week. All the supplies are provided by donation or out of their own pockets.
Smartphone-Based Diagnostic Tools: New this year, students provided quick bedside tests through smartphone-based diagnostic tools. This included the use of point-of-care ultrasound, retinal camera, digital otoscope, mobile EKG and high-definition DermScope.
Visual Acuity Check and Simulation: According to Dr. Ross, recognizing vision as a vital sign and testing the vision of young students and presbyopia adults helps students realize the impact vision has on quality of life.
"Beginning in school, not seeing clearly leads to failing grades and low self-esteem to the point that some children were even timid to read the eye chart, as if it is another test they could fail," Dr. Ross said. "The smartphone Peek Acuity screener is unbiased and has a built-in simulation illustrating to the parent the chalk board through their child's eyes. Students did a great job of encouraging kids."
Global Vision 2020 provided the team with the USee device and the kit to "dial, snap, wear" glasses for children and young adults on site. The glasses cost about $3 USD per pair.
The Global Health Program partnered with various organizations to send the latest equipment and supplies to the Dominican Republic. These organizations included Allergan, Emagine Solutions Technology (Vista Scan), Vision Spring, Global Vision 2020, Global Retina Institute, Red Rover Ventures, Blue House Coffee and the UA Foundation.
If you are interested in donating and supporting medical students on future trips to the Dominican Republic, please visit the Foundation page and specify under comments that you'd like the proceeds to go to the Global Health Interest Group. 
About the College
Founded in 2007, the University of Arizona College of Medicine – Phoenix inspires and trains exemplary physicians, scientists and leaders to optimize health and health care in Arizona and beyond. By cultivating collaborative research locally and globally, the college accelerates discovery in a number of critical areas — including cancer, stroke, traumatic brain injury and cardiovascular disease. Championed as a student-centric campus, the college has graduated 745 physicians, all of whom received exceptional training from nine clinical partners and more than 2,700 diverse faculty members. As the anchor to the Phoenix Bioscience Core, which is projected to have an economic impact of $3.1 billion by 2025, the college prides itself on engaging with the community, fostering education, inclusion, access and advocacy.