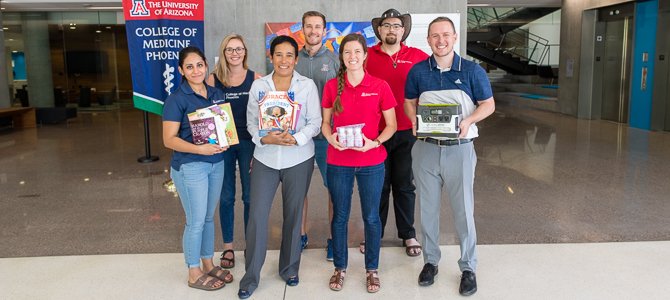 Students Travel to Dominican Republic to Treat Underserved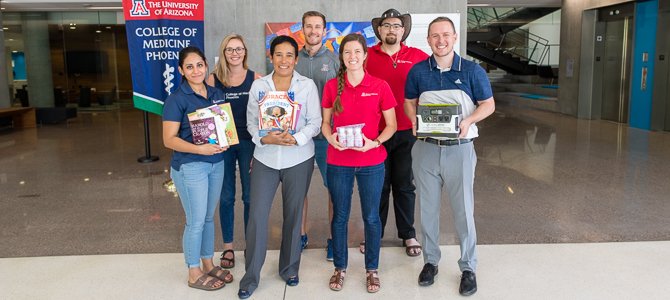 Global Health Students Seek Donors to Provide Care in Dominican Republic
Fourteen medical students and four faculty members from the University of Arizona College of Medicine – Phoenix traveled to the Dominican Republic on May 27. During their week-long trip, they provided health care to about 500 patients in rural communities.
"To me, this trip has the most impact out of anything we do," Robin Ross, MD, MPH, director of Global Health Outreach said. "You have 14 first-year students who are in the beginning of their medical career, and it's an opportunity to combine classic teaching didactics, but in a humanitarian and practical setting where people who really need care are going to get it. It's a time when their whole careers can be formulated. It forces them to begin thinking about utilizing limited healthcare resources and access to care"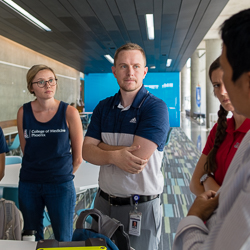 The trip is offered twice per year with the goal of establishing a primary care clinic in several villages and creating relationships with the local health care system and doctors.
"We see more than 100 patients per day while we are down there, and we are able to really impact their lives," first-year medical student and global health interest group leader Matt Mitchell said. "It's an amazing experience and an amazing thing to be a part of. This opportunity will provide a great motivation and focus for the rest of my medical education."
Medical students and faculty who travel to the Dominican Republic must pay for their own travel and for the medications and equipment they bring. The trip costs about $1,500 per student.
"Our long-term goal is that students embarking on Global Health aren't taking out student loans for this global humanitarian venture," Dr. Ross said. "When I did my first trip oversees, it left such a profound impact that I realized that the greatest impact and the greatest return on investment is investing in first-years and teaching them skills that they will carry with them for the rest of their careers."
Dr. Ross added that short term goals include expenses for drugs purchased from Blessing Pharmaceutical, baggage fees to travel with drugs, and housing at the orphanage the team stays at during their trip.
Other faculty members who went on this year's trip were Lisa McClellan, MD, Robert Londeree, MD, and Tamara Miller, MD.
"I like going on the student mission trips to the Dominican Republic because it incorporates teaching, volunteering, caring for patients who live in difficult circumstances and experiencing a different culture," Dr. McClellan said. "I'm passionate about all of these. I enjoy sharing those interests with future doctors."
During this year's trip, medical students brought:
Goal Zero Battery

Goal Zero and Ophthalmology: This is the first year that the group brought a Goal Zero/Yeti battery and solar panels, so students and faculty could charge ophthalmology equipment and six iPads for note taking in the field. Mandi Conway, MD, has been trying to integrate ophthalmology into the curriculum, but this is the first time it was introduced in the very first year of medical school for these students.
*Menstruation Project: Fourth-year medical student Gabby Smith started this project this year with the students going to the Dominican Republic. The group brought menstruation products and educated the local community about menstruation. "In a patient care setting, there is a big taboo in third-world countries where menstruation is not talked about," first-year medical student Mandy Kaur said. "A lot of girls are missing school because they don't have the products, and they don't have the education to know it's a normal biological response."

*This is a collaborative project between the GHIG

(Global Health Interest Group) and

AMWA

.

Children's Books: This trip, the group took hard cover children's books donated by Red Rover Ventures from First Books. There were about 135 new children's books that the student's delivered to the orphanage.
Medical Supplies: The students had about four duffel bags full of medications, sunglasses, reading glasses, toothbrushes, inhalers, bandages and more. All of this was provided by donation or out of their own pocket.
"It's a valuable experience for medical students in their first year." Kaur said. "To be able to go to a different country with a team of physicians and provide people with care is going to help us grow and learn a lot as medical students. This experience will help us become better physicians in the long run."
If you are Interested in donating and supporting medical students on future ventures to the Dominican Republic, please visit the group's crowdfunding page.
About the College
Founded in 2007, the University of Arizona College of Medicine – Phoenix inspires and trains exemplary physicians, scientists and leaders to optimize health and health care in Arizona and beyond. By cultivating collaborative research locally and globally, the college accelerates discovery in a number of critical areas — including cancer, stroke, traumatic brain injury and cardiovascular disease. Championed as a student-centric campus, the college has graduated 669 physicians, all of whom received exceptional training from nine clinical partners and more than 2,600 diverse faculty members. As the anchor to the Phoenix Bioscience Core, which is projected to have an economic impact of $3.1 billion by 2025, the college prides itself on engaging with the community, fostering education, inclusion, access and advocacy.