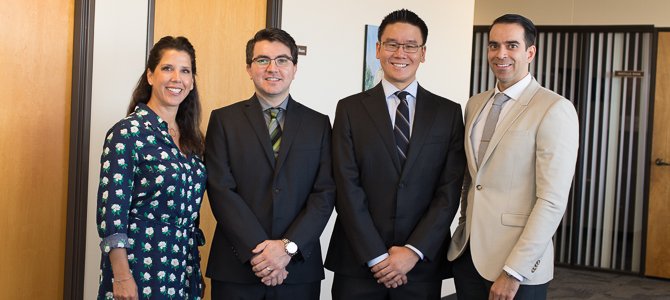 UA Fellows Improve Care for AHCCCS Patients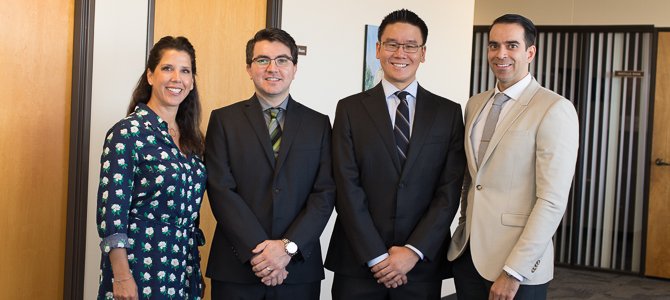 Informatics Fellows Improve the Quality, Safety and Efficiency of Care for Medicaid Patients
Arizona Medicaid patients and providers will benefit from a recent partnership and fellowship program instituted by the University of Arizona College of Medicine – Phoenix.
The Clinical Informatics Fellowship at the College of Medicine – Phoenix partnered with the Arizona Health Care Cost Containment System (AHCCCS) to improve data collection and reporting tools used in health care delivery for Medicaid patients.
On September 1, 2018, Peter Nguyen, MD, and Behnam Vahdati Nia, DO, two of the college's Clinical Informatics Fellows, completed a four-month quality improvement and data analytics rotation at AHCCCS.
"The cost of health care in America has been spiraling out of control," said Hamed Abbaszadegan, MD, MBA, program director of the Clinical Informatics Fellowship. "We are the solution to make the big change. By utilizing clinical informatics, not just in the hospitals and health systems, but on the payer's side, we will finally be able to deploy informatics solutions to bend the cost curve and continually improve health care quality without increasing cost."
AHCCCS, Arizona's Medicaid program, is the single largest insurer in the state, covering 1.9 million adults and children who live near or below the poverty level.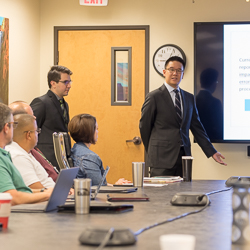 "This collaboration between AHCCCS and UA College of Medicine was mutually beneficial, not only to our two entities, but to Arizona's taxpayers and Medicaid members," said Sara Salek, MD, AHCCCS chief medical officer. "AHCCCS tapped the expertise of Drs. Nguyen and Vahdati, who brought fresh perspectives as to how to display existing data in increasingly transparent and consumable ways. The fellows worked first-hand with Medicaid's managed care plans to understand how informatics can better serve all the providers on the front-lines of health care delivery."
The fellows were involved in multiple projects during their four-month rotation that were designed to improve the delivery of care for patients and medical providers.
Their projects included:
Quality Rating System (QRS)
The initial ask from AHCCCS was to design a Quality Rating System (QRS) that would satisfy the federal government's mandate that each state measures the quality and performance of health care delivery by Medicaid participating health plans.
The Centers for Medicare and Medicaid Services have been trying to move state Medicaid agencies in this direction, with the belief that a quality rating system, such as using stars (for instance, ranking a Health Plan's performance from one to five stars), allows patients to more easily interpret health plan performances, and consequently, helps them to make informed decisions when selecting a health plan. As of 2018, only nine states have a Medicaid quality rating system.
Together with associate professor and data scientist Pamela Garcia-Filion, MPH, PhD, the clinical informatics fellows used a methodology to create a five-star rating system for AHCCCS.
"Publically insured patients should have the same access to high quality care as privately insured patients," Dr. Garcia-Filion said. "Currently, each Medicaid patient can choose from a list of health plans and no two health plans are alike. So how can a Medicaid patient choose the best option if they can't compare them? It's like asking a person to choose the best apple from an apple orchard that grows 10 different types of apples. Where do they start? How can they compare them? This quality rating system simplifies the process and gives each plan a rating on a scale of 1 to 5 stars."
In addition to creating a transparent and easy-to-understand system for consumers, the tool also will better define quality goals and aid in contracting with managed care plans.
"This puts pressure on the plans with low ratings to improve their quality of health care to attract more patients," Dr. Garcia-Filion said. "And in turn, the patients will finally be in the driver's seat and hopefully get closer to having equal access to higher quality health care just like a privately insured patient."
Early and Periodic Screening, Diagnostic and Treatment (EPSDT)
The fellows evaluated the Early and Periodic Screening, Diagnostic and Treatment (EPSDT) tracking process, which is crucial to ensuring that Medicaid patients under age 21 receive the preventative and treatment services they need in a timely fashion.
"The current process is very cumbersome for physicians and managed care health plans since much of it is done on paper and manually transcribed," Dr. Vahdati said. "This causes burden on providers and their clinics who could use their staff resources towards improving the care of their patients."
They interviewed key players and stakeholders at each level (providers, health plans, AHCCCS) to understand the current processes and discover workload, challenges and internal use of EPSDT tracking forms. The fellows hope this is the first step toward modernizing the EPSDT tracking by helping AHCCCS gain knowledge of the current state and recommend potential solutions to consider.
"This experience was definitely fantastic and a true privilege," Dr. Nguyen said. "The staff at AHCCCS were exceptionally welcoming, supportive and pleasant to us, which I found personally humbling, knowing that these were the same individuals that played significant decision-making roles for health care in the state of Arizona.
"Our experience working with AHCCCS gave us the opportunity to interact with several health plans throughout the state. All of this collectively provided a phenomenal exposure to the intricacies of real world health care practice. I learned and grew a lot as a Clinical Informatics Fellow in this short time span."
The college's Clinical Informatics Fellowship, which was the fifth accredited program in the country, is a new subspecialty designed to prepare physicians for a career in clinical informatics. It provides training to develop a cadre of clinical informaticians who are adept at integrating people, processes and platforms to improve the quality, safety and efficiency of health care. AHCCCS is one of the many partners the Clinical Informatics Program is partnering with to improve health care delivery in Arizona.
"Our didactics sessions combined with the hands-on experiences at AHCCCS was an extremely rewarding learning experience," Dr. Vahdati said. "We learned so much by interacting with the staff at AHCCCS, who were eager to meet and work with us. Everyone at AHCCCS is very humble and friendly. This was a grand opportunity for my co-fellow and I to challenge ourselves with live projects instead of simulated data sets. It was an honor to be a part of a team that helps care for the almost two million members of AHCCCS. I believe this collaboration between the UA and AHCCCS will provide long-term mutual benefits."
About the College
Founded in 2007, the University of Arizona College of Medicine – Phoenix inspires and trains exemplary physicians, scientists and leaders to optimize health and health care in Arizona and beyond. By cultivating collaborative research locally and globally, the college accelerates discovery in a number of critical areas — including cancer, stroke, traumatic brain injury and cardiovascular disease. Championed as a student-centric campus, the college has graduated 745 physicians, all of whom received exceptional training from nine clinical partners and more than 2,700 diverse faculty members. As the anchor to the Phoenix Bioscience Core, which is projected to have an economic impact of $3.1 billion by 2025, the college prides itself on engaging with the community, fostering education, inclusion, access and advocacy.