UA Receives National Science Foundation Grant
Medical School Awarded Funds to Establish an Industry-University Cooperative Research Center
The University of Arizona College of Medicine – Phoenix's Center for Applied Nanobioscience and Medicine has received a grant from the National Science Foundation (NSF) to plan an Industry-University Cooperative Research Center (IUCRC).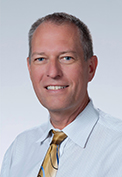 Under the direction of Frederic Zenhausern, PhD, MBA, director of the Center for Applied Nanobioscience and Medicine, the college will organize workshops and information sessions with the goal to attract industry interest for participation in a Center researching Networked Embedded, Smart and Trusted Things (NESTT). The vision of NESTT is to develop an equitable, safe and secure connected world by creating holistic Internet of Things (IoT) solutions and integrating technology with expertise in medicine, law, business and humanities.
"There is potential benefit in looking at the logistics for supply chain management in health care," Dr. Zenhausern said. "We have this science fiction view of what the future of smart health care could be and we want Phoenix to become a leader in developing these platforms."
The University of Arizona will work with Arizona State University, University of Southern California, University of Connecticut and Southern Illinois University to form a Cooperative Research Center.
"This is a competitive and prestigious grant to receive," Dr. Zenhausern said. "It's something that will have a huge impact for our medical school and it demonstrates that we are recognized as a translational research entity that can produce and deliver."
The IUCRC works in two phases. The lab and each of its academic partners received $15,000 for the first phase where they are expected to put together a team and engage with potential industry partners. In the second phase, each academic entity needs commitment of a minimum of 10 industry partners. They each will receive an additional $150,000 per year from the NSF, which will be matched by each industry partner.
"This grant shows that Phoenix can be very competitive," Dr. Zenhausern said. "We are getting grants and conducting research with all agencies including the NSF, National Institutes of Health  and the Department of Defense."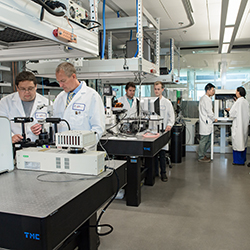 Typically, a partnership between industry and an academic entity will last about five years through the consortium. Dr. Zenhausern sees this grant as an opportunity for campus-wide collaboration with students, post-docs and researchers to address specific problems within the health care industry. A project example includes building a prototype for a new drone transportation system that could get data more quickly to a lab or even a mechanism that tracks surgical supplies all the way to the operating room. Although each academic entity is expected to find its own partners, the Cooperative Research Center will work together and allocate resources across the members to execute projects.
The objective of UA's project is to hold workshops with industry partners and NESTT partner universities. The workshops will outline a research agenda and identify industry support for an Research Center focused on providing IoT solutions specific to designing industry specifications and prototyping health logistics appliances, wearable sensor systems, ambient intelligence and artificial intelligence data algorithms that be integrated effectively into the regulatory framework and processes of the health care delivery system.
The UA NESTT site will investigate this digital transformation through the entire value chain, from discovery to bedside. Health platforms designed to address unmet needs and improve medical access to underserved large populations will provide useful solutions to the global health care challenges, Dr. Zenhausern said.
The agenda and documentation of activities for the NESTT IUCRC planning meetings will be made available on UA's website for the Center for Applied Nanobioscience and Medicine. It will be maintained until the establishment of NESTT, and then merged with the NESTT site.
About the College
Founded in 2007, the University of Arizona College of Medicine – Phoenix inspires and trains exemplary physicians, scientists and leaders to optimize health and health care in Arizona and beyond. By cultivating collaborative research locally and globally, the college accelerates discovery in a number of critical areas — including cancer, stroke, traumatic brain injury and cardiovascular disease. Championed as a student-centric campus, the college has graduated 593 physicians, all of whom received exceptional training from nine clinical partners and more than 2,400 diverse faculty members. As the anchor to the Phoenix Biomedical Campus, which is projected to have an economic impact of $3.1 billion by 2025, the college prides itself on engaging with the community, fostering education, inclusion, access and advocacy.