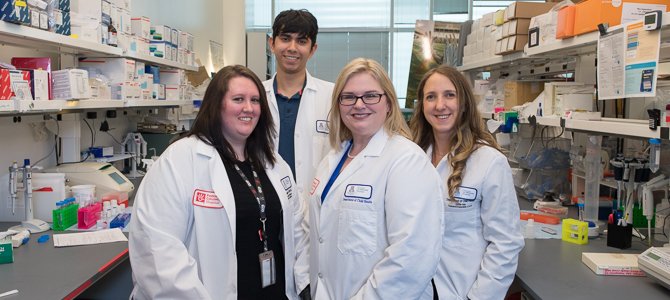 UA Researcher Receives $1.65M Grant for Innovative Technique to Assess Traumatic Brain Injury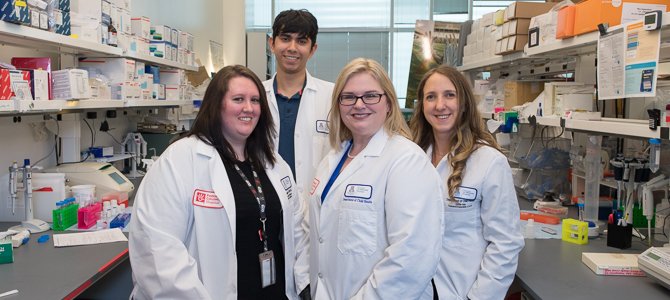 NIH Grant will Allow Theresa Currier Thomas, PhD, to Study Neurotransmissions in Real Time
A scientist at the University of Arizona College of Medicine – Phoenix has received a $1.65 million grant to find out how a traumatic brain injury (TBI) changes communication in the brain.
The project marks the first time an electrochemical assessment will be used to evaluate traumatic brain injury in real time.
Theresa Currier Thomas, PhD, a researcher in the Department of Child Health, will test initial and delayed changes in brain communication as a consequence of a brain injury by using microelectrodes that record neural signals. Dr. Thomas is also an assistant professor at Barrow Neurological Institute at Phoenix Children's Hospital and a research investigator at the Phoenix VA Health Care System.
"After a brain injury, the communication among neurotransmitters can change, causing abnormalities or differences in the processes," Dr. Thomas said. "Electrochemistry is a laboratory approach to measure how neurotransmissions change in real time."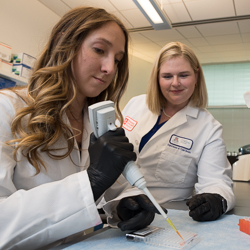 She said the change in circuitry within the brain after a TBI causes problems with cognition, sensory processing and/or mental health.
"Traumatic brain injury can be devastating because of the real risk it brings for permanent effects that can alter the course of a person's life," said UA President Robert C. Robbins. "The groundbreaking work that Dr. Thomas is doing to understand what's happening in the brain after a serious injury is crucial to developing more effective treatments. I look forward to following her progress and learning what she's able to discover."
As part of the grant, Dr. Thomas will study the long-term effects of rehabilitation after a brain injury, as well as the differences in how men's and women's brains recuperate after a TBI. Because TBI is reported more often in men than women, the majority of previous research has focused on males.
"We have overlooked how often traumatic brain injuries, including concussions, occur in both men and women," she said.
Each year, more than 2.5 million Americans survive a TBI. Of those survivors, 20 to 50 percent develop delayed or persistent traumatic brain injury-associated symptoms or aggravate pre-existing symptoms. These can include problems with cognition, sensory processing, communication and behavior, as well as mental health due to injury-related pathological processes that impair the activation and function of brain circuits. The multiplicity of symptoms impedes or can complicate return to routines, daily activities, personal relationships and employment.
"Treatment strategies for post-traumatic morbidity are limited and usually are treated based on the symptoms that manifest," Dr. Thomas said. "Alternative treatment approaches include rehabilitation therapy. Yet, since the underlying mechanisms that result in the delayed and persisting post-traumatic morbidity are not fully understood, it is difficult to have a standard treatment paradigm in place."
Because late-onset symptoms are unpredictable in TBI and can have detrimental influence on relationships, employment and quality of life, Dr. Thomas said she hopes that — through her research — diagnoses, treatment and patient education can be improved.
The five-year grant, No. R01NS100793, is from the National Institute of Neurological Disorders and Stroke.
About the College
Founded in 2007, the University of Arizona College of Medicine – Phoenix inspires and trains exemplary physicians, scientists and leaders to optimize health and health care in Arizona and beyond. By cultivating collaborative research locally and globally, the college accelerates discovery in a number of critical areas — including cancer, stroke, traumatic brain injury and cardiovascular disease. Championed as a student-centric campus, the college has graduated 665 physicians, all of whom received exceptional training from nine clinical partners and more than 2,500 diverse faculty members. As the anchor to the Phoenix Bioscience Core, which is projected to have an economic impact of $3.1 billion by 2025, the college prides itself on engaging with the community, fostering education, inclusion, access and advocacy.