When Risks Outweigh the Impact of Global Health Trips
Dr. David Beyda Shares His Experiences of Traveling Abroad at UA Seminar
David Beyda, MD, has witnessed natural disasters in Haiti, bombings in Gaza and genocides in Cambodia. He went into medicine to help the greater good, which led him to global health where he could help patients on an international level.
As an ethicist and global health pediatrician, Dr. Beyda sees the world differently than most physicians. After more than 50 global health trips that left him feeling an array of emotions, Dr. Beyda began to recognize the risk of these trips, and how sometimes the risks outweigh the impact.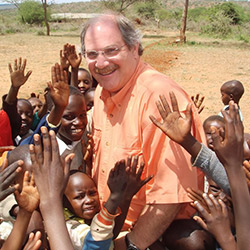 Dr. Beyda, chair and professor of the Department of Bioethics and Medical Humanism at the University of Arizona College of Medicine – Phoenix, was the keynote speaker at the U.S. Department of State, Bureau of Diplomatic Security's Overseas Security Advisory Council Academia Working Group's Travel Safety and Security Seminar organized by UA Global Resiliency. More than 100 people from across the globe attended the April event, which focused on travel resiliency and global security. Attendees were primarily professionals who work with travel safety and international education for universities and travel security at other organizations. In addition to Dr. Beyda's keynote, the agenda included lectures on emergency planning, suicide prevention, mindful travel and technology security.
Dr. Beyda discussed his life experiences, passion for global health and the risks of international travel.
He began his presentation by posing this question to the audience: "Is the risk you're taking by traveling worth it?" Risk is not just emotional and physical harm, but involves virtue, self and family, he said.
According to Dr. Beyda, a virtuous individual is kind, makes sacrifices and comes to the aid of those who need help. Often, physicians go on global health trips under the pretense of virtue only to find out that it backfires. When doctors think of virtue, they think about what they should do. Most doctors believe that if they deny that obligation to their profession, then they are denying their moral obligation to help others.
"We need to be aware when virtue becomes self-serving," he said. "When it has that feel-good effect, that's when we are in trouble. We have to be realistic about the reason we want to go."
Dr. Beyda said it's easy for medical trips to become self-serving when a physician comes home and says, 'Look what I've done, look at who I am.' "This is the time where you need to have your hand slapped and be told 'No, this is not about you.' "
When trips become self-serving, it gives physicians a feel-good rush, but perhaps it shouldn't, he said. "When you are virtuous to those who come to you for help, maybe you're supposed to feel sad. Maybe you need to feel helpless and concerned."
Being self-serving can lead to short-term benefits, he said. Imagine going to a new country, giving 1,000 kids worm medication, vitamins and education about good hygiene practices. After a week, you leave and those kids return to their normal routine with no medication, no vitamins and dirty water. "That's not being virtuous, that's being unrealistic about your impact and the risk that you are taking," he said.
Dr. Beyda shared a few stories from some of the countries he has visited, offering examples of whether the risk was worth it and whether an individual's work truly makes a difference.
Cambodia

When Dr. Beyda was a third-year pediatric resident in 1979, he was invited by the International Rescue Committee to lead a pediatric ward at Khao-I-Dang, a Cambodian refugee camp. This was during the Cambodian genocide that was carried out by the Khmer Rouge regime.
Dr. Beyda arrived at the refugee camp in December. They could only care for 100 children at a time, plus families. By March, there were 160,000 refugees in the camp. The team had minimal supplies, could only do one X-ray per week and had one oxygen tank.
"Trying to resuscitate with what we had didn't work," Dr. Beyda said. "We had nothing. To make matters worse, the Khmer Rouge infiltrated the refugee camp. At night, you could hear the screams and killings, and we couldn't do anything about it, and we knew we were at risk."
Dr. Beyda said he was sharing his stories because he wanted the audience to understand how taking a risk without considering the effect on family and how seeming to be a god-like figure could backfire. "I left angry and wound up being extremely cynical. This was not virtue, this was not self. I destroyed myself from that perspective."
The Gaza Strip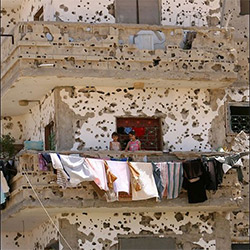 In 2005 at the Gaza Strip, there were bombings that blasted hotels. Dr. Beyda was in Jordan at the time with a friend. Jordan, which is 126 miles from the Gaza Strip, closed its borders after the attacks. There was no way to get in or out of the country, but Dr. Beyda wanted to help. He called his wife to let her know the situation. He didn't discuss with her the effects on his own family if something happened to him; he told her he was going. Dr. Beyda and his friend went through the Erez Crossing and through a tunnel where another friend was waiting. After they saw the destruction of the bombs, they realized there was no way to bring a medical team into Gaza.
"Was it worth the risk? We knew it'd be dangerous," Dr. Beyda said. "We went on the pretense of virtue, but realistically, it wasn't going to happen. So why take the risk? On a personal note, I was a guy in a white coat seeking a humanitarian award. That's the danger that took me a long time to realize."
Haiti
Within 72 hours after the 2010 earthquake in Haiti, Dr. Beyda put together a medical team. When the team arrived, there was nowhere to park the plane. There were so many humanitarian groups coming to Haiti that they parked it on the taxiway.
"What was the virtue behind us? It was the split decision that we had to go," Dr. Beyda said. "We were one of 700 groups that arrived in Haiti. Was it worth the risk? Did it make a difference when we left? To be honest, I don't know. Did we rescue people? Yes, of course we did, but so could the other facilities. I keep coming back to this risk assessment and the three other components that are so important: virtue, self and family."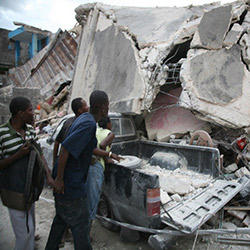 These are the discussions Dr. Beyda has with medical students pursuing the Global Health Certificate of Distinction. Before traveling overseas, they have a comprehensive briefing where he asks students "What do you think you're going to become when you leave? Do you think you're going to be virtuous? Are you leaving family behind and if so, are you going to cause more harm to your family than not?"
Dr. Beyda said he wishes someone discussed these components of risk with him and asked him these questions before entering the global health profession. He hopes students will learn, just as he did, the impact and consequences of these global health trips.
"We left behind an intent to help," Dr. Beyda said. "Every decision we make is going to have a consequence and we have to own it. We have to remember, it's not what we bring, it's what we leave behind."
When asked when it is worth the risk, Dr. Beyda said this could only be answered with humility and self-reflection. "Look at yourself in the mirror and ask, 'What do you see,' " he said. "Then realize that the real question you should ask is 'Who are you? A god in a white coat, or a servant to those who come to you for help.'"
About the College
Founded in 2007, the University of Arizona College of Medicine – Phoenix inspires and trains exemplary physicians, scientists and leaders to optimize health and health care in Arizona and beyond. By cultivating collaborative research locally and globally, the college accelerates discovery in a number of critical areas — including cancer, stroke, traumatic brain injury and cardiovascular disease. Championed as a student-centric campus, the college has graduated 745 physicians, all of whom received exceptional training from nine clinical partners and more than 2,700 diverse faculty members. As the anchor to the Phoenix Bioscience Core, which is projected to have an economic impact of $3.1 billion by 2025, the college prides itself on engaging with the community, fostering education, inclusion, access and advocacy.