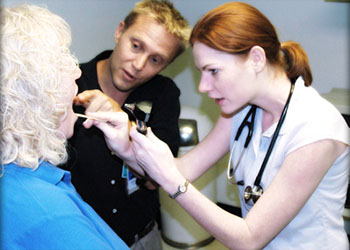 The Community Clinical Experience (CCE) course spans the first two years of the College of Medicine – Phoenix curriculum and is characterized by an ambulatory care preceptor hosting a student in his or her office one afternoon — generally every other week. This schedule alternates with the Doctoring course and, when possible, the curricula are integrated with each other.
Students begin attending clinic with their preceptors in October of their first year and continue until October of their second year. Each month, students are assigned an Individual Learning Module (ILM) on a topic related to clinical medicine and are encouraged to apply this knowledge toward their preceptor sessions. Students also attend a Procedural Skills workshop in October of their first year, where they learn phlebotomy and how to administer various injections.
Throughout CCE, students have many opportunities to further develop interview, physical exam and presentation skills learned in the Doctoring course. Preceptor sessions conclude at the end of September of the second year. After this conclusion, students participate in an Interprofessional Health Care Summit, as well as a formal History and Physical presentation to peers and a physician facilitator. This presentation is based on a case that they participated in during the course.
Student Objectives
Identify financial and structural aspects of the health care system experienced by patients.
Apply the knowledge and skills learned in Year 1 to patient care.
In collaboration with a preceptor, discuss the medical care needed to treat illnesses and maintain optimal health of patients, including preventative health guidelines.
Describe how physicians relate to payers, pharmacies, laboratories, other physicians and members of the health care team.
Describe the importance of documentation and demonstrate the ability to document medical encounters.
Access evidence-based information quickly and apply to patient complaints and illnesses.
Demonstrate professional behavior in clinical, academic and community settings; including teachable attitude, giving and receiving constructive feedback, being present and accountable, prepared and engaged.