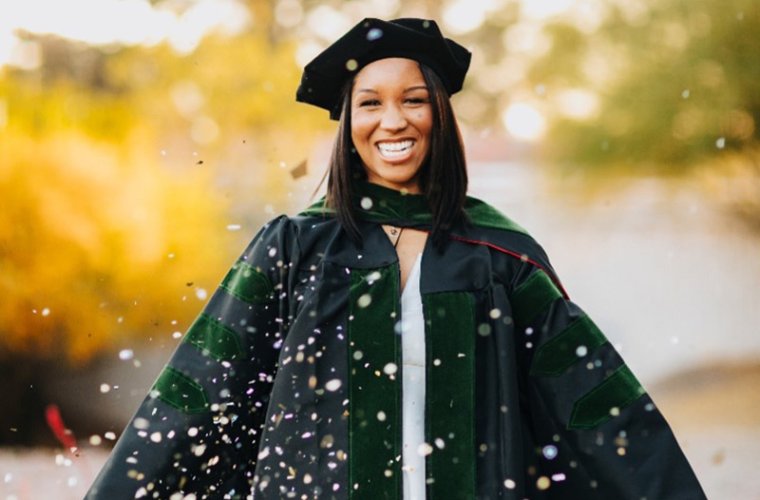 Commencement Profile - Analissa Cox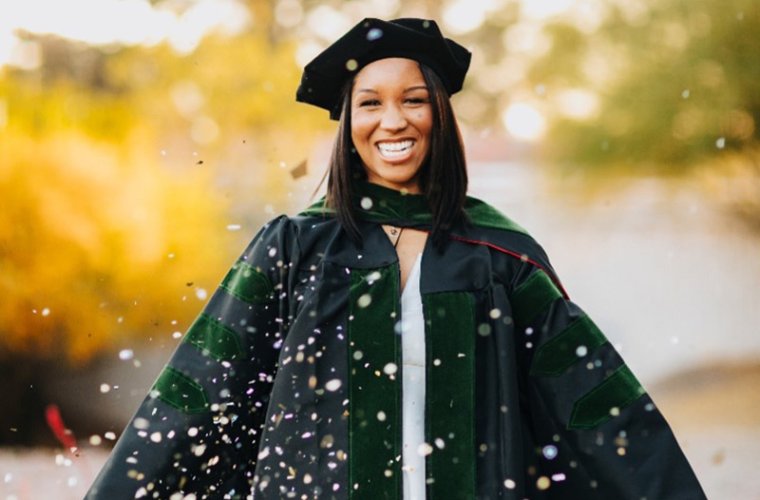 Anticipating a Future of Pediatric and Emergency Medicine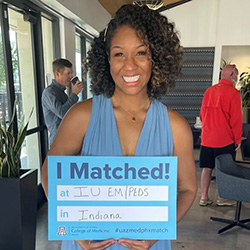 The excitement and steadiness in Analissa Cox's voice convey her confidence in graduating medical school and taking the next step in her medical training. She is one of only eight residents in the United States in the dual specialty of pediatrics and emergency medicine, and one of only two to be accepted into the prestigious residency program at Indiana University School of Medicine. The five-year residency program is unique, combining a traditional residency in emergency medicine with a residency in pediatrics.
"During emergency medicine rotation, I found I really enjoyed it. I mean, I just felt at home," Analissa Cox, a graduating medical student from the University of Arizona College of Medicine – Phoenix, said. "When I did my pediatrics  rotation,  I felt I could be happy pursuing this specialty too.  Never did I know that there was a combined program that I could learn to do both at the same time."
Cox is thrilled with the flexibility the dual residency program offers. She plans to become board-certified in each specialty.
"What that means for me as far as my career is that I can pretty much work in emergency medicine with adults, with kids and with whomever. I can also be a pediatrician and work in the pediatric hospital or a pediatric clinic. I can work in an emergency room dedicated just to kids. Because I like a lot of change, I thought that that would be just perfect for me."
In a few short weeks, she'll experience a change of landscapes with the move from the desert Southwest of Arizona to the rolling Midwest farmland of Indiana. Change is definitely in her future, and it played a great role in her past.
She was doing fine in her life; she had a good job, was earning money and was happy. During her undergraduate courses, she discovered her passion for medicine. Like thousands of medical school applicants each year, she was initially denied. Although she was not accepted to the UArizona College of Medicine – Phoenix, the Office of Admissions and Recruitment introduced her to the Pathway Scholars Program.
"When they emailed my rejection letter, it included a paragraph at the end that said, 'We had a lot of competition this year, but we think you'd be really great for the Pathway Scholars Program.' So, I looked into it, and they provided campus orientations. I remember feeling like I was in the right place at that moment."
The Pathway Scholars Program is designed for Arizona students who desire to pursue a career in medicine. The program helps students who have experienced unique or greater than average challenges preparing for the rigors of medical school. It incorporates a gap year with strong academic support to focus on a curriculum centered on biomedical science and evidence-based instruction.
The strength of the Pathway Scholars Program and its benefits as an admissions pipeline program, led Cox to turn down an offer of admission to another medical school.
"I decided to do the Pathway Program instead of just jumping into medical school, and my reasoning behind that was because I knew what I needed. I knew who I was as a learner, and I thought that doing that extra year getting my feet wet and really understanding what I'm getting myself into was super important for me," Cox said. "It was the extra reassurance and experience for me of being able to learn how to study. When I started medical school, it was definitely a big jump for me. But I think I really needed that extra year, and I think I've benefited from it greatly.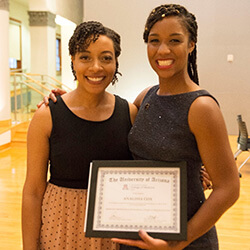 One of the people she credits as a valued mentor was Shavonia Wynn, a former learning specialist, who as her champion, helped keep things in perspective. After a disappointing result on an exam, the advice Wynn provided would shape her medical school career.
"I'm not a perfectionist, but I don't like to disappoint myself.  I went to her office and told her, 'I don't want to be a subpar doctor.' She said, 'This is one test, and we've got lots and lots of tests to go. There is nothing subpar about being in medicine, and an African American female, whose odds were already stacked against them.' I carried that thought with me throughout medical school," Cox said.
The COVID-19 pandemic heightened awareness of health care disparities for African American, Latinx and Native American populations. Cox is acutely aware of what she represents — less than two percent of all physicians are African American females. For the medical students coming behind her who may be from underrepresented communities, she knows from experience they'll encounter similar challenges in their journey.
"It's inevitable that you're going to face patients out there who are just really old school. You'll experience microaggressions and little things that you can either allow to affect your ability to care for patients, or you can focus on where you're going and what you need to do and brush it off. I think one of the coolest things that's happened to me is when I do come across black patients, black medical students or black doctors, it's always kind of like this, 'Whoa. I'm so proud of you, and I'm so glad to see you here.'"
To the medical students coming behind her, she encourages them to not compare themselves to anyone.
"I think you need to compare yourself to the person you were yesterday. Ask yourself, 'Am I getting better every day? Am I getting better every week? Am I getting better every month?' You really just need to focus on what you are doing, what your goals are and where you want to be," Cox said.
About the College
Founded in 2007, the University of Arizona College of Medicine – Phoenix inspires and trains exemplary physicians, scientists and leaders to optimize health and health care in Arizona and beyond. By cultivating collaborative research locally and globally, the college accelerates discovery in a number of critical areas — including cancer, stroke, traumatic brain injury and cardiovascular disease. Championed as a student-centric campus, the college has graduated 669 physicians, all of whom received exceptional training from nine clinical partners and more than 2,600 diverse faculty members. As the anchor to the Phoenix Bioscience Core, which is projected to have an economic impact of $3.1 billion by 2025, the college prides itself on engaging with the community, fostering education, inclusion, access and advocacy.