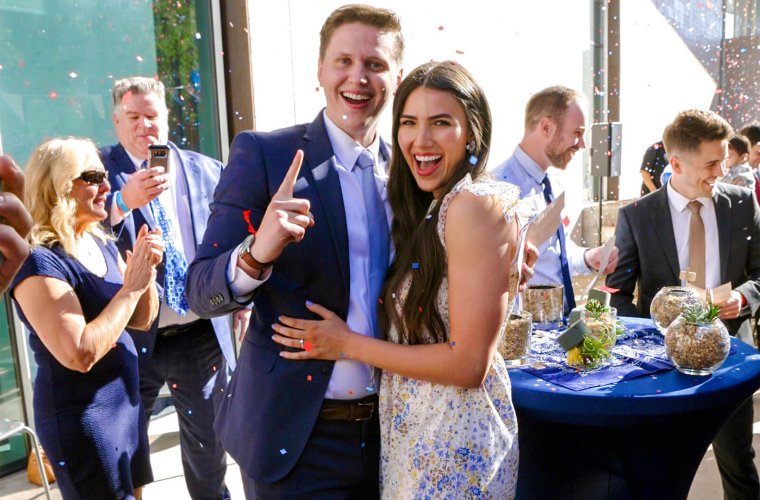 Commencement Profile: Connor Swensen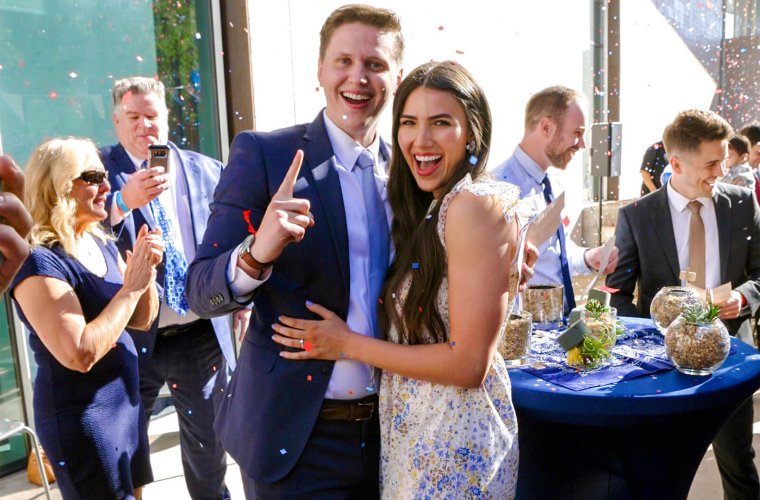 Swensen saw medicine as a chance to apply the scientific principles of his undergrad, while also helping those in need
On Monday, May 9, the University of Arizona College of Medicine – Phoenix will hold its 12th Commencement. Led by a pipe and drum corps, the Class of 2022 will process through downtown Phoenix, finishing at the Phoenix Convention Center for their official ceremony. The day marks the beginning of the next phase in their journey as physicians. The college profiled a series of graduating students to commemorate the milestone.
Meet Connor Swensen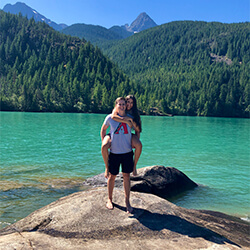 Connor Swensen is an Arizonan — born and raised. Growing up in Phoenix, he migrated to Tucson to study chemical engineering at the University of Arizona. He returned to Phoenix for medical school to be closer to his family.
Though he enjoyed the material and theory of his undergraduate studies, he found the career prospects less fulfilling. This led him to medicine; with it, he saw the "rubber meet the road" in terms of the application of many scientific principles and getting to work directly with people.
For Swensen, his biggest supporter has been his wife, Talia. He credits her sacrifices for making this journey possible. His family — parents, in-laws, sister and brother — also provided needed encouragement along the way.
Path Toward Medicine
What was the spark that led you to become a physician?
I think a big turning point for me fully committing to medicine was having an emergency appendectomy in Mexico while I was living there during my two-year church mission. Having a medical emergency in a rural community, two hours from a hospital, in a language that wasn't my first was quite an unnerving experience. But, thanks to some very kind neighbors who helped me find someone with a car in the middle of the night, it all turned out okay.
Having grown up in a border state my whole life, it really made me want to pay it forward and be there for those going through similar situations on this side of the border. One of my favorite things to do as a medical student was seeing Spanish speaking patients and doing my best to help them feel more at ease. I look forward to working with this community as a practicing physician.
Match Day
On Match Day, what was it like discovering where you were headed for residency?
Match Day was an awesome experience. It was the culmination of four years of work. My wife and I were hoping that my residency would be in Nashville. My brother and sister-in-law live there; we love the area; and it was where I did my away rotation. To find out we would be headed to our top choice was very exciting. I am ecstatic to again see and work with all my colleagues I met while there this past year.
What's Next?
What excites you most about your upcoming residency? Where are you headed?
I think what excites me most about residency is just the amount of learning and growing that I will get to do. In emergency medicine, you never know what's coming through the door, so you must be prepared for anything. Since you can never know everything, it means there is always something new to learn. I will be headed to residency at the University of Tennessee-Nashville. The attendings in the Emergency Department there are fantastic, and all my co-residents seem like great people, who I'm sure will become close friends.
The College of Medicine – Phoenix Culture
Looking back, what's your favorite medical school memory?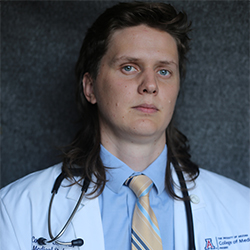 I think my favorite memory of medical school would have to be growing out my hair for the first two years and then getting together with some great friends from medical school and cutting it into a mullet. Having a mullet has been a lifelong goal. It was probably the best month of my life. Sadly, it came to an end as my wife slowly started to refuse to kiss me.
Senior Celebration
How does it feel to be chosen by your classmates as the speaker for Senior Celebration?
Honestly, it feels awesome. My classmates are great, so to have their support means a lot. It makes all those hours I spent making memes for the class Facebook page seem worth it.
What do you hope your classmates take away from your speech?
Our class has been through one of the roughest times to go through medical training in recent memory. My classmates are awesome people who can do a lot of good in this world. However, it is easy to get discouraged and burnt out. COVID-19 was tough, life is tough and residency will be tough; but what I hope they can take away from my speech is that sometimes to keep our sanity, it's good to laugh at ourselves and the absurdity of it all.
#wildcatforlife
About the College
Founded in 2007, the University of Arizona College of Medicine – Phoenix inspires and trains exemplary physicians, scientists and leaders to optimize health and health care in Arizona and beyond. By cultivating collaborative research locally and globally, the college accelerates discovery in a number of critical areas — including cancer, stroke, traumatic brain injury and cardiovascular disease. Championed as a student-centric campus, the college has graduated 745 physicians, all of whom received exceptional training from nine clinical partners and more than 2,700 diverse faculty members. As the anchor to the Phoenix Bioscience Core, which is projected to have an economic impact of $3.1 billion by 2025, the college prides itself on engaging with the community, fostering education, inclusion, access and advocacy.