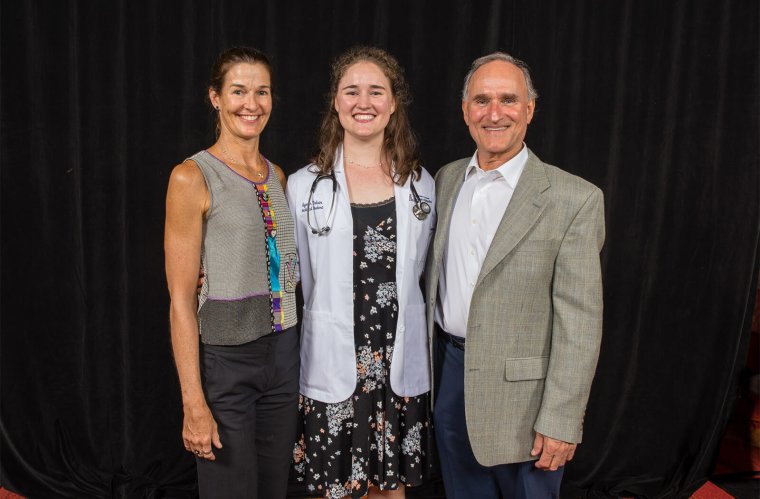 Commencement Profile: Alyson Tukan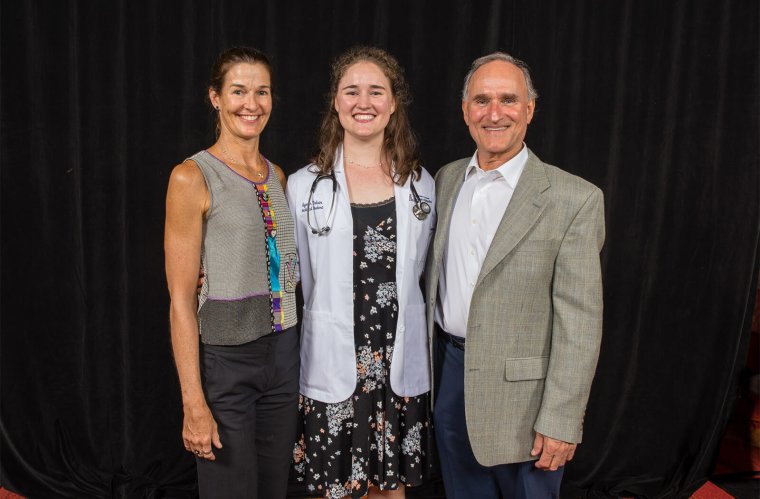 Fascinated by neuroscience and biology, Tukan continues her family's legacy of helping others through medicine
On Monday, May 9, the University of Arizona College of Medicine – Phoenix will hold its 12th Commencement. Led by a pipe and drum corps, the Class of 2022 will process through downtown Phoenix, finishing at the Phoenix Convention Center for their official ceremony. The day marks the beginning of the next phase in their journey as physicians. The college profiled a series of graduating students to commemorate the milestone.
Meet Alyson Tukan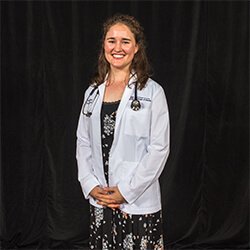 Alyson Tukan was born and raised in Scottsdale, Arizona. She attended a small liberal arts school, Trinity University, in San Antonio, Texas, for her undergraduate degree. While there, she studied neuroscience and Spanish.
Staying in San Antonio to work as an ophthalmology scribe, Tukan applied to medical schools; and she was thrilled when she was accepted to the College of Medicine – Phoenix. For her, it was a homecoming. Having a network of family and friends for support throughout her four years of study was invaluable.
Path Toward Medicine
What was the spark that led you to become a physician?
I am the youngest daughter in a family of doctors, so originally, I wanted to break away from the family tradition and pursue a career other than medicine. However, I was fascinated by my neuroscience and biology classes in undergrad and decided that medicine would be the best way to align my academic interests with my desire to serve others.
My family has been a large source of support through this process, since they have many years of experience! I also have an amazing support system of extended family and friends who have encouraged me. My interest in ophthalmology, specifically, stemmed from my work as an ophthalmology scribe. I developed a unique perspective into the career as a scribe and had the privilege of working for an incredible doctor who became a mentor to me.
Match Day
On Match Day, what was it like discovering where you were headed for residency?
Match Day is a nerve-wracking experience! Ophthalmology matches early, so I found out if and where I matched in February. When I learned I had matched, I was happy and relieved! I got a phone call from the program director that day, and it was a surreal experience. It was also a bittersweet experience, since not everyone received their ideal match outcome.
I was thankful to see the outpouring of support that my classmates offered one another through this process. Since first-year, we have been called the "Most Supportive Class," and the match experience was a great example of how fitting that nickname truly is.
What's Next?
What excites you most about your upcoming residency? Where are you headed?
I matched at Wake Forest in Winston-Salem, North Carolina! I am excited to explore a new city and make close friends through residency. Because interviews were virtual, I have never actually been to North Carolina, but I have heard great things about the city and loved the program. As an intern, I will be one of about 30 residents. Within my ophthalmology class, I will be one of four residents. I am sure we will become lifelong friends through the residency experience.
The College of Medicine – Phoenix Culture
Looking back, what's your favorite medical school memory?
I have loved the opportunity to meet such smart, talented and driven classmates! I have developed so many meaningful and fulfilling friendships through medical school. This ride has been a rollercoaster of emotions, and I am thankful to have had such an amazing group of supportive friends at my side through it all.
About the College
Founded in 2007, the University of Arizona College of Medicine – Phoenix inspires and trains exemplary physicians, scientists and leaders to optimize health and health care in Arizona and beyond. By cultivating collaborative research locally and globally, the college accelerates discovery in a number of critical areas — including cancer, stroke, traumatic brain injury and cardiovascular disease. Championed as a student-centric campus, the college has graduated 669 physicians, all of whom received exceptional training from nine clinical partners and more than 2,600 diverse faculty members. As the anchor to the Phoenix Bioscience Core, which is projected to have an economic impact of $3.1 billion by 2025, the college prides itself on engaging with the community, fostering education, inclusion, access and advocacy.