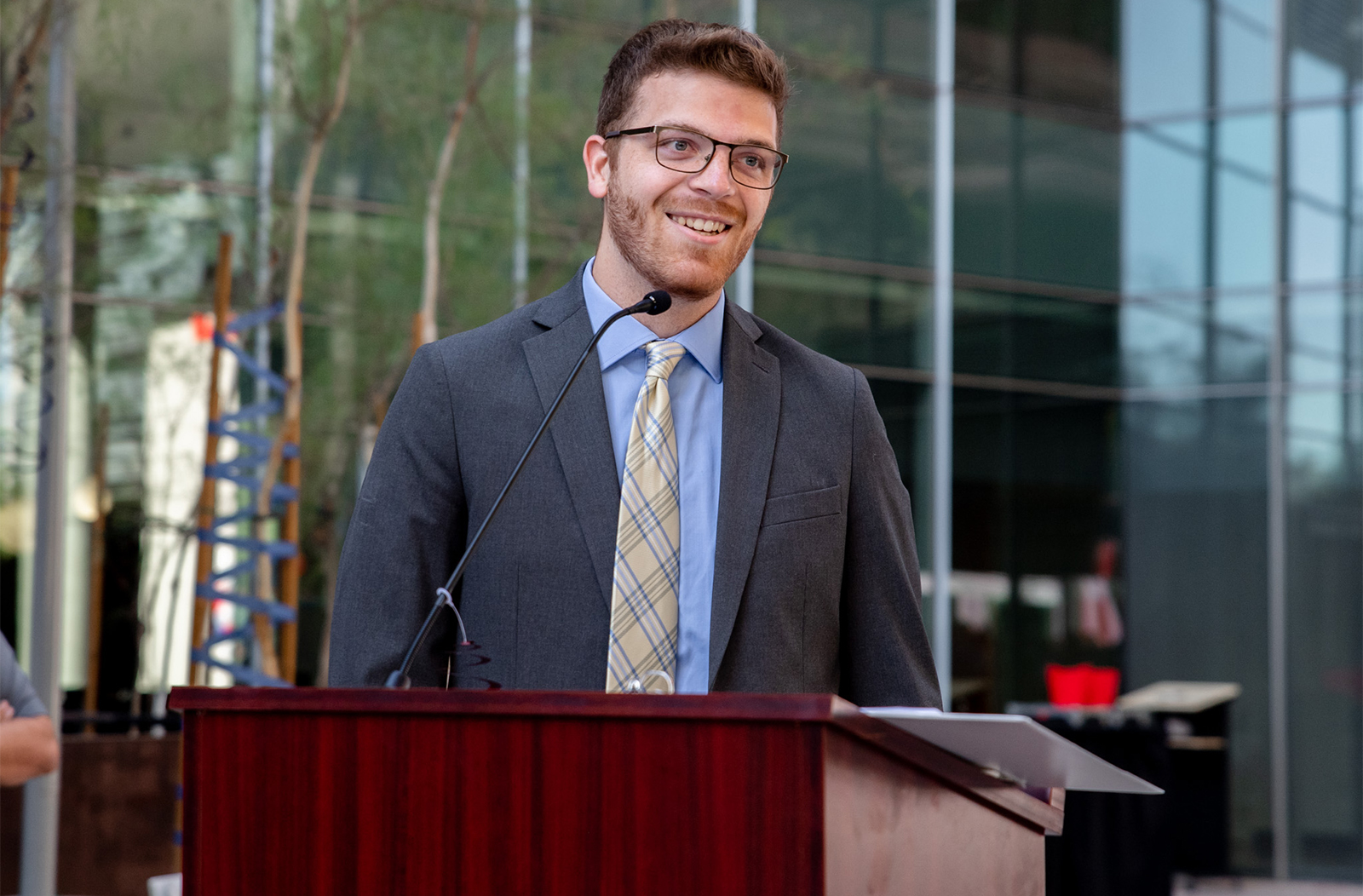 Commencement Profile: Luke Wohlford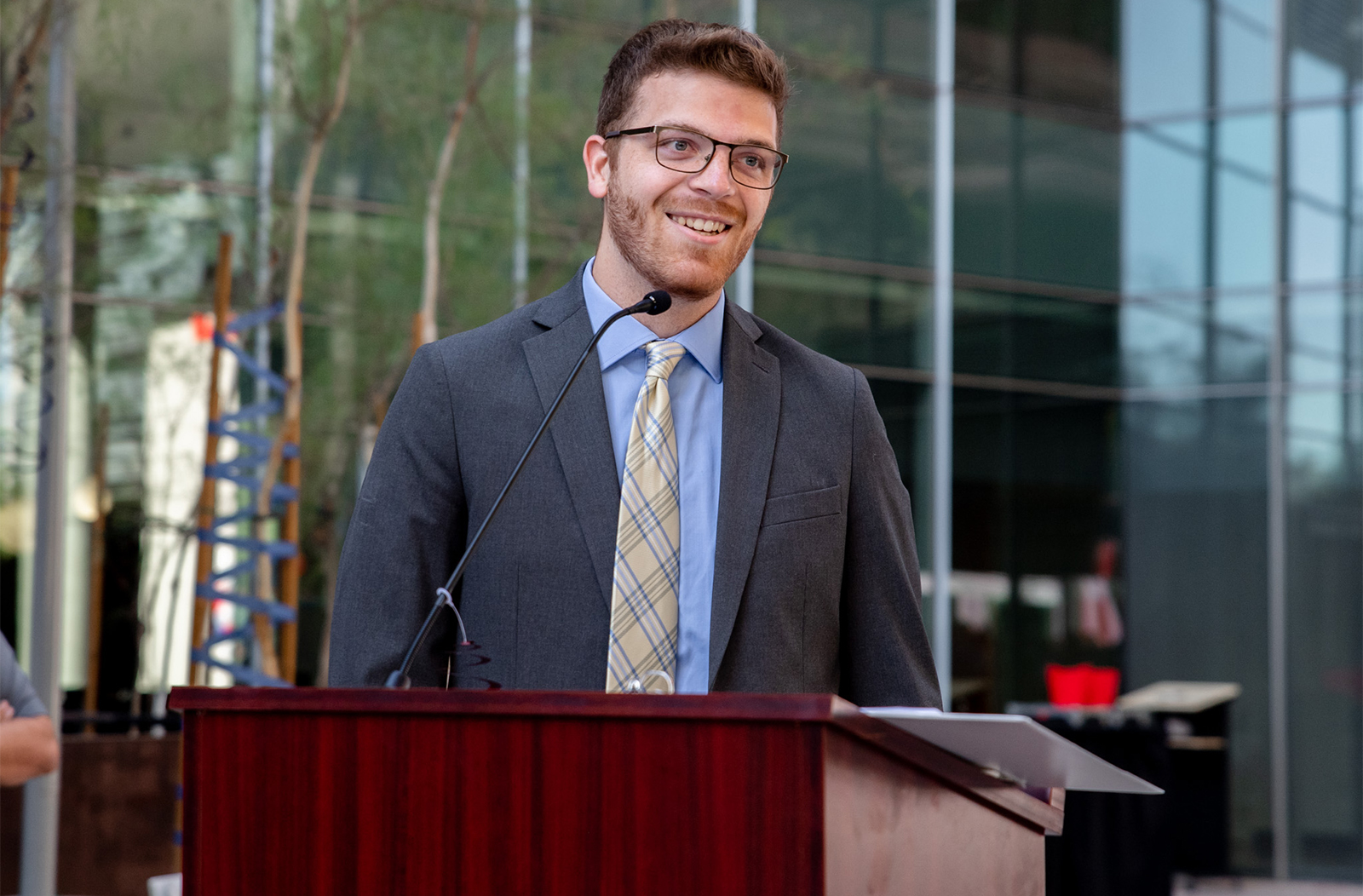 Inspired by his time working with physicians, Wohlford chose to switch paths and will continue to foster his love for emergency medicine
On Monday, May 9, the University of Arizona College of Medicine – Phoenix will hold its 12th Commencement. Led by a pipe and drum corps, the Class of 2022 will process through downtown Phoenix, finishing at the Phoenix Convention Center for their official ceremony. The day marks the beginning of the next phase in their journey as physicians. The college profiled a series of graduating students to commemorate the milestone.
Meet Luke Wohlford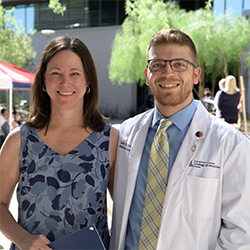 Growing up as the son of an Air Force officer, Luke Wohlford lived all over the United States — and in Germany — before his family settled in Arizona for the last decade. He attended high school and college in Tucson, earning his bachelor's degree in physiology at the University of Arizona.
Originally, he wanted to make a career out of his love for math and planned to major in engineering; but once he was exposed to public health and physiology in college, he pivoted to a career in medicine. His exposure to emergency medicine while working in both collegiate and rural EMS agencies led him to realize the specialty was the right fit for him.
Wohlford's journey through medical school was backed by a huge group of supporters that included his parents, his fiancée and his classmates, whom he was able to call and meet up with whenever he needed help.
Path Toward Medicine
What was the spark that led you to become a physician?
I took the Pima Community College EMT course during a summer break in college, and I was surprised at how much I loved the material. I really started to doubt my original plan to study engineering from the medical lectures alone, but my clinical shifts in the emergency department sealed the deal for me. Seeing how amazing the role of the EM physician was and how many people they can help in a single shift was inspiring. It set me on my current path.
Match Day
On Match Day, what was it like discovering where you were headed for residency?
Match Day was surreal, and I can barely begin to describe it! The culmination of years of work and many months of anticipation throughout the application season was stressful, to say the least. I've never seen so much nervous excitement in one place, but finally getting the results and having at least the next few years of our lives squarely in front of us was such a huge relief. My family and fiancée have been incredibly supportive throughout everything and having them there made Match Day feel perfect.
What's Next?
What excites you most about your upcoming residency? Where are you headed?
I'm heading to Burlington, Vermont, to train at the University of Vermont Emergency Medicine Residency! Everything about this program excites me, and after the amazing interview I had there, I know I'll be working with some fantastic people. Along with training to be a strong EM doctor, I look forward to taking advantage of the relationships they have with many rural and international emergency departments.
The College of Medicine – Phoenix Culture
Looking back, what's your favorite medical school memory?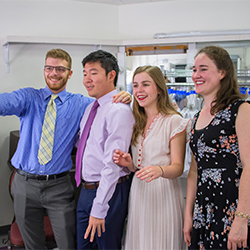 During my year in Payson as part of the Rural Health Longitudinal Integrated Clerkship, we had a ton of snow one day in January, which caused all the roads in-and-out of town to shut down. Clinic was canceled, so I ended up doing extra time in the emergency department to help, because of how busy it got. After the shift, my attending and I went out in the snow on his all-terrain vehicle, and we almost crashed in snowbanks a couple times. 10/10 fantastic experience!
Commencement Speaker Opportunity
How does it feel to be chosen as the Commencement speaker?
Honestly, it's wild that enough of my classmates wanted to hear more from me than they already have over the four years. But, as cheesy as it sounds, I'm honored by the selection; and I'm grateful to have the chance to speak to everyone before we all go our separate ways.
Words with Impact
What do you hope your classmates take away from your Commencement speech?
I hope to do our class justice and remind everyone how special the last four years have been. No spoilers here, though. You'll just have to be there!
About the College
Founded in 2007, the University of Arizona College of Medicine – Phoenix inspires and trains exemplary physicians, scientists and leaders to optimize health and health care in Arizona and beyond. By cultivating collaborative research locally and globally, the college accelerates discovery in a number of critical areas — including cancer, stroke, traumatic brain injury and cardiovascular disease. Championed as a student-centric campus, the college has graduated more than 800 physicians, all of whom received exceptional training from nine clinical partners and more than 2,700 diverse faculty members. As the anchor to the Phoenix Bioscience Core, which is projected to have an economic impact of $3.1 billion by 2025, the college prides itself on engaging with the community, fostering education, inclusion, access and advocacy.