"The Verde Park project is an excellent example of the partnership between the university and the city of Phoenix. It's a great teaching opportunity for our students to learn about community health." — Stuart D. Flynn, MD, former dean of the UA College of Medicine – Phoenix.

A few years ago, the college and the Phoenix Parks and Recreation's FitPHX program got together to figure out ways to bridge the gap between the our campus and Verde Park, which is located only a few blocks away.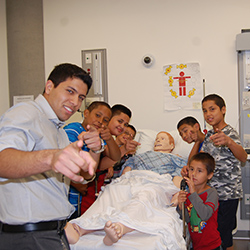 The result? Wildcat Night @ Verde Park, a monthly program that enables UA College of Medicine – Phoenix students to give back to the community by sharing health and wellness lessons with local youth.
Each month, medical students visit the park to teach topics like how the heart works, the importance of good nutrition, chest compression-only CPR and the dangers of smoking. Altogether, thousands of local youth from preschool age up to high school and dozens of medical students have participated in these sessions; and that number only continues to grow.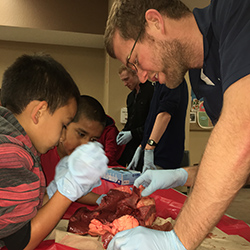 Through these hands-on activities, the medical students are introducing the next generation to their love for science and medicine, while also fostering the local youths' interest in potential future pursuits. It's a partnership that former Phoenix Vice Mayor Daniel Valenzuela, who grew up in the Garfield neighborhood, immediately saw the value in, "Our goals with Wildcat Night @ Verde Park are to open the kids' eyes to the potential of a medical career," Valenzuela said. "We're introducing them to young, bright students who are eager and excited to bring their knowledge to the community. Who knows, there may be a future doctor in this group!"
For more information, contact Ryan Loebe, 602-827-2234.