The Wesley Community and Health Center is part of the Community Health Initiative – Phoenix, a program where the students demonstrate their commitment to serving the greater Phoenix area and bettering overall community health. 
Students from the University of Arizona College of Medicine – Phoenix volunteer at the Wesley Center to help gain valuable experience working in the Phoenix Community. The opportunities presented at Wesley allow the students to provide much needed care to the uninsured and the underserved populations of the area. It also allows them gain a greater understanding of the cultural, financial and social influences on health in Phoenix.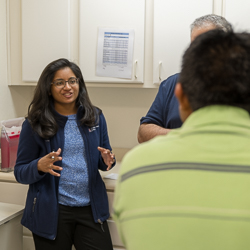 Part of every physician's job is giving back to the community. Through this unique volunteering opportunity, students are able to experience first-hand the manifestation of that responsibility. And it is one they do not take lightly; the Class of 2019, alone, served more than 2,200 hours during their four years of medical school. A statistic that represents their commitment to their overall education and their grasp of the important role they can play in Phoenix's overall health.
"It makes me feel great that, you know, what were doing out there, even as students, is making a difference in the health community."— Rheana Techapinyawat, Class of 2015