Overview
The University of Arizona College of Medicine – Phoenix Family Medicine Residency created Farm Fresh Produce, a weekly, voucher-based fruits and vegetable distribution program to provide fresh, nutritious produce to Medicaid patients to promote nutrient-rich whole foods in the management of chronic illness and to reduce food insecurity in Central Phoenix.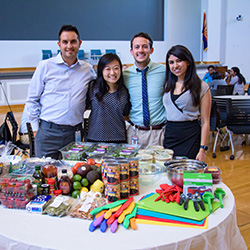 Produce prescription programs are innovative solutions to food insecurity and chronic disease in underserved communities nationwide. Our program partners with a local Arizona farm cooperative, SunProduce, that has extensive experience in local produce distribution. One box of produce from SunProduce contains six fresh ingredients that supplements the diet of a family of four for one week.
As part of this program, the *Culinary Medicine Interest Group (CMIG) student leaders provide three recipe cards featuring the fresh ingredients in the box on a weekly basis. Our medical students also volunteer each week to help in preparing and directly distributing the boxes at the weekly market, which is held on Tuesdays from 4:00 to 6:00 p.m. in the front lobby of the Edwards Medical Plaza Building at 1300 N. 12th Street.
The cost of each box is $12, which is subsidized generously from The Family Medicine Department Foundation Fund. Boxes are available for purchase at our market and available for pre-order.
How to Pre-Order
Scroll down to Farm Fresh at BUMCP.
Select I want this site, and it will take you to a password-protected login page specific to Banner. The password is Banner1300.
Additional instruction can be found under "sign up instructions" on the site above. 
Highlights of Pre-Ordering
Auto-renews weekly, so you're guaranteed to have farm fresh produce weekly. There is an option to place a hold for weeks when you don't want a bag. 
Support our program with the "Buy a bag, give a bag program." You can add on a one-time, or weekly donation of $6 (half a bag), or $12 (a full bag) to support our fund to provide free produce to patients. 
Access to recipes on SunProduce's website.
*The CMIG was founded by Dr. Marvasti and his medical students — Drs. Daniel Salevitz, Sarah Javaherifar and Sara Loh — in 2017 in response to student feedback and interest. It's mission is to improve the understanding and utilization of healthy, nutritious foods among future medical professionals, patients and community members. The CMIG is one of the most active student groups at our medical school with 25 percent of each class participating in it. The current student leaders are Jessica Dong, Catherine Ingbar, Ruoyan Zhu and Sean Youn.