Overview
We are excited to announce a new collaboration between The Joy Bus and the University of Arizona College of Medicine – Phoenix! The Joy Bus is a nonprofit organization whose sole purpose is to relieve the daily struggles of people with cancer by delivering a fresh and healthy meal with a friendly face.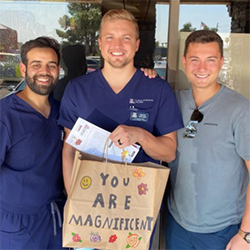 With this collaboration, first- and second-year medical students will deliver meals as part of The Joy Bus experience. During these home visits, students will spend time with cancer patients to learn more about their experiences as a person and share useful health information about nutrition — including recipes and healthy cooking advice.
To enhance the experience, we have partnered with the Program of Art in Medicine to include interactive placemats to share wellness and health information to help patients on their personal health journey. These placemats will provide some interactive exercises and information for you to keep after the visit.  With this collaboration, we are hoping to expand the resources available to The Joy Bus participants and help train medical students to improve their ability to care for patients with cancer as future doctors. With funding support, our long term goals are to expand this program to provide tailored food prescriptions and plans for the cancer patients in collaboration with the patient's oncologist and medical care team.
Interactive Placemats
This program is currently being evaluated with pre- and post-surveys for students to assess empathy score and confidence in counseling cancer patients on nutrition and healthy lifestyle changes.