Dear Colleagues and Friends,
Thank you for visiting our site. Whether you are a current College of Medicine – Phoenix community member or prospective student or employee, here you will find some great information and resources about the Office of Equity, Diversity and Inclusion.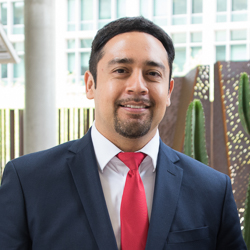 Equity, diversity and inclusion (EDI) are core drivers of the University of Arizona College of Medicine – Phoenix. We are at the forefront of infusing EDI into all aspects of the work we do. Our five-year strategic plan, Inclusive Excellence in Health Care (PDF), outlines the comprehensive approach to EDI — including a focus on outreach and recruitment, education and training, research, and community building and engagement. Additionally, we have articulated our 12 Action Steps Toward Inclusive Excellence to further refine our EDI efforts in the wake of the killings of George Floyd, Breonna Taylor and others. A sampling of our accomplishments to date include:
Matriculating the most diverse class in the college's history (Class of 2025).
Creating a scholarship fund for students underrepresented in medicine.
Ongoing support of the Pathway Scholars Program.
Evolving our medical school longitudinal curricular theme from "Cultural Competency" to "Health Equity."
Establishing three new outreach programs for elementary to high school students: Cardiology Academy, Connect2Mentor and Mobile Medical School.
Cultivating a robust Women in Medicine and Science (WIMS) group.
Establishing a Black African American and Caribbean (BAAC) employee resource group and an LGBTQ+ employee resource group, Spectrum.
Including EDI goals for employee annual reviews.
Advancing EDI is a continuous quality improvement project that requires consistent monitoring and re-tooling. To that end, we have an outstanding group of faculty, students, staff, residents, fellows and postdocs who help us drive our strategic plans forward and provide regular feedback and advice to the Office of Equity, Diversity and Inclusion.
I look forward to working with you at the college and utilizing your talents to continue our efforts as a leader in equity, diversity and inclusion in academic medicine.
Sincerely,
Francisco Lucio, JD
Associate Dean, Equity, Diversity and Inclusion