Dear College of Medicine Community,
The University of Arizona College of Medicine – Phoenix values community and collaboration. In the spirit of these values, we are supporting Vot-ER, a national initiative led by health care providers to register individuals to vote. Our medical students have spearheaded these efforts and we support them!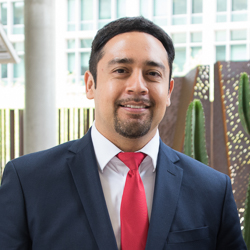 We join colleagues across Arizona — including the UArizona College of Medicine – Tucson, UArizona Mel and Enid Zuckerman College of Public Health and clinical partners such as Banner – University and ValleyWise Medical Center — in this important initiative. In the spirit of friendly competition, our medical students are competing with other medical schools across the country to register the most voters!
As a community, we can be a part of this work to help folks learn how to register to vote, request a mail-in ballot or simply verify their registration status in as little as two minutes. Registration is completed through a non-partisan website, and options are available in English and Spanish. We have a unique link for keeping track of how many we help get registered, and you can find a number of resources to learn how best to go about this.
We highly recommend utilizing the QR code phone background, as this is a quick and convenient way to inform patients on how to get registered to vote at the end of appointments. In addition, the QR code can be displayed in waiting rooms, as well as Zoom backgrounds for telehealth appointments. All resources such as the QR code phone background, digital lanyard badges, FAQ, and scripts for engaging with patients can are available to download.
Civic engagement is best expressed by participating in the most fundamental democratic function — voting.  By assisting to register patients, colleagues and community members to vote, we strengthen our community. This is an inclusive, voluntary, non-partisan initiative to empower our community and the patients we serve. There are only 40 more days until the election and 11 more days until the voter registration deadline in Arizona. Thank you for your consideration and participation in this civic engagement opportunity.
For questions, please contact Miho Carey.
Additional non-partisan sites for voting information include: 
— Francisco Lucio, JD
Associate Dean, Equity, Diversity and Inclusion
P.S. Another simple way to get involved is to include the following in your email signature:

I want to make sure you have a healthy, safe voting experience. Register to vote and request a mail-in ballot to vote from home.