Dear College of Medicine Community,
The tragic deaths of George Floyd, Breonna Taylor, Tony McDade, Ahmaud Arbery, and Dion Johnson have sparked outrage across the country. These tragedies are compounded by a pandemic that is disproportionately killing Black individuals at nearly twice the rate of others in our communities. This health disparity acutely reveals the structural inequities of racism, poverty, poor education, access to healthcare, and others experienced by the Black community.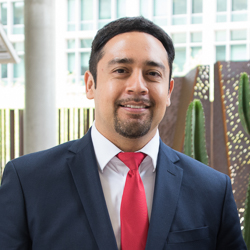 There is a heavy psychological toll and physical harm experienced by the Black community. As healers and an institution dedicated to training physicians to care for all communities, it is particularly disturbing to witness this assault. Recently, the American Medical Association released a statement calling for:
Health organizations to take up the mantle of intolerance for police brutality and racism.
Health institutions and physician organizations to explicitly denounce police violence, particularly in times of COVID-19 and during other public health crises.
Clinics, hospital and healthcare providers to review and reconsider their policies and relationships with law enforcement that may increase harm to patients and patient communities.
The Centers for Disease Control and Prevention (CDC) and the National Academies of Sciences, Engineering and Medicine, as well as other such parties to study the public health effects of physical and verbal violence between law enforcement officers and public citizens, particularly within racially marginalized communities.
We stand united in support of these ideals and other similar measures that aim to prevent acts of violence and dismantle racism.
Our culture of Inclusive Excellence requires engagement of the individual and system in practices that advance diversity in all that we do. Below are some ways that you as a leader, team member, or individual may help engage in learning, action and compassion during this time and beyond.
Resources for addressing racism:
If you are feeling the ill-effects of this time below are some resources:
Counseling services are available if you would like to talk with someone:
Our Offices of Diversity and Inclusion and Student Affairs are here as additional resources for all individuals.
We recognize that these are unusually challenging times, but together we can uplift one another and strive to do our part for positive change
— Francisco Lucio, JD
Associate Dean, Diversity and Inclusion