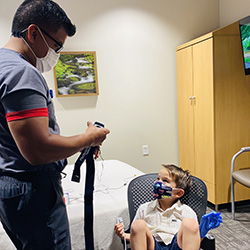 We have a very solid and comprehensive curriculum. The curriculum includes the following:
Seven months of outpatient adult sleep medicine.
One to two months of outpatient pediatric sleep medicine.
Two months of multispecialty elective:

Ear, nose and throat (ENT), dental practice, psychiatry, electroencephalogram (EEG) reading, private practice or rural sleep settings.

One month of a research elective.
Inpatient consultations will be held at Banner – University Medical Center Phoenix.
Given the COVID-19 pandemic, many of our electives will be offered virtually via telemedicine as the safety of the fellow is our number one priority.
We also allow moonlighting up to 30 hours a week and are accommodating with special requests as long as we abide by Accreditation Council for Graduate Medical Education (ACGME) rules and regulations.