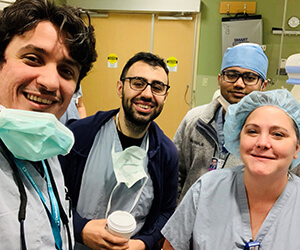 The program is a one year, ACGME-accredited fellowship and admits three fellows each year. The following is the breakdown of curriculum:
Didactics
Weekly catheterization conference – Thursdays, a.m.
Weekly two hour Core Competency Conferences, including biostatistics and competencies in reviewing medical literature – Wednesdays, p.m.
Monthly Board Review – Wednesdays, p.m.
Monthly Journal Club – Wednesdays, p.m.
Monthly citywide Angiography Club – Thursdays, p.m.
Clinical Experience
Catheterization laboratory experience provides each fellow the opportunity to be primary operator on >250 IC procedures within the academic year. Outpatient clinic is mandated for ½ day a week with key faculty within the program.