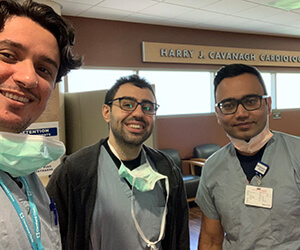 Our three interventional fellows are an excellent group of physicians who all come from diverse backgrounds. A few of them came from our very own cardiology fellowship program. They are all committed to excellent patient care and in making our fellowship program better for future interventional cardiology physicians.
The fellows have the unique opportunity to work in the catheterization laboratory and in clinic with several physicians and faculty members who also come from diverse backgrounds. This provides the fellows a chance to learn from a variety of physicians, who may have different techniques or interests when it comes to interventional procedures.
Our program prioritizes a commitment to excellence and the support of each fellow's personal and professional goals with the desire that our graduating fellows be role models of self-care and wellness as they promote the well-being of the patients they serve.