Match Day Student Profile: Tanner Ellsworth
Every third Friday in March, medical schools across the United States send off their fourth-year medical students on the next chapter in their careers. On Match Day — the day an MS4 opens their coveted envelope to learn where they will spend the next several years as a resident-physician — is a long-awaited and well-deserved day to celebrate. The University of Arizona College of Medicine – Phoenix profiled several students for Match Day 2021.
Meet Tanner Ellsworth
For Tanner Ellsworth, his father's cancer diagnosis was the spark that led him to become a physician.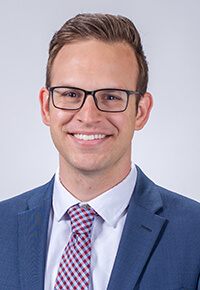 "When I was young, my dad was diagnosed with non-hodgkin's lymphoma. I remember rather than being afraid, he talked about the treatments he was getting and the physicians who treated him like superheroes, in a way, because they were fighting the cancer and fixing something that had gone wrong in his body," he said.
"I remember thinking that was really cool and so that's what first planted the seed for me," he said. His father has been cancer free for more than 10 years.
Now a father himself, Ellsworth is dedicated to helping children have healthy, vibrant lives. He views the role of the pediatrician as a partnership with parents. He matched in pediatrics at the University of Utah.
"My plan is to do three years of pediatrics and then pursue a fellowship after that in neonatology. For me, it was something that I suspected I would choose even as I did my third-year rotations in pediatrics."
"I really enjoy working with kids. It's really easy to want to advocate for them. I really enjoy the disease processes that are specific to pediatrics and the focus on preventive care. For instance, a lot of people talk about having to deal with parents, having hard conversations with parents and the difficulties of seeing sick children. Well, that's something that I can empathize with because I'm a parent myself. I enjoy talking with parents and educating them."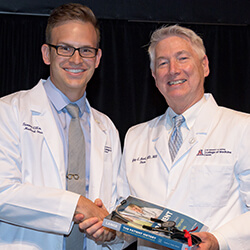 Ellsworth says his family was first and foremost on his mind during medical school, and they are his biggest supporters. He and his wife were already parents to a four-year-old girl, and then his wife delivered triplets right before the COVID-19 lockdown began last March. The babies spent one week in the neonatal intensive care unit (NICU) and are doing fine now.
"The triplets were a big shock, and we obviously weren't expecting that. Every step of the way there was a new curve ball, and there are bound to be risks. I'll never forget the experience I had on my OB/GYN rotation because that was the time when my wife gave birth," he said.
"Seeing them go through the health care system as patients reiterated for me how powerful health care providers can be in providing comfort to patients. This is someone's family, who might feel scared, alone or clueless, and what can I do to make them feel comforted and reassured."
About the College
Founded in 2007, the University of Arizona College of Medicine – Phoenix inspires and trains exemplary physicians, scientists and leaders to optimize health and health care in Arizona and beyond. By cultivating collaborative research locally and globally, the college accelerates discovery in a number of critical areas — including cancer, stroke, traumatic brain injury and cardiovascular disease. Championed as a student-centric campus, the college has graduated more than 800 physicians, all of whom received exceptional training from nine clinical partners and more than 2,700 diverse faculty members. As the anchor to the Phoenix Bioscience Core, which is projected to have an economic impact of $3.1 billion by 2025, the college prides itself on engaging with the community, fostering education, inclusion, access and advocacy.