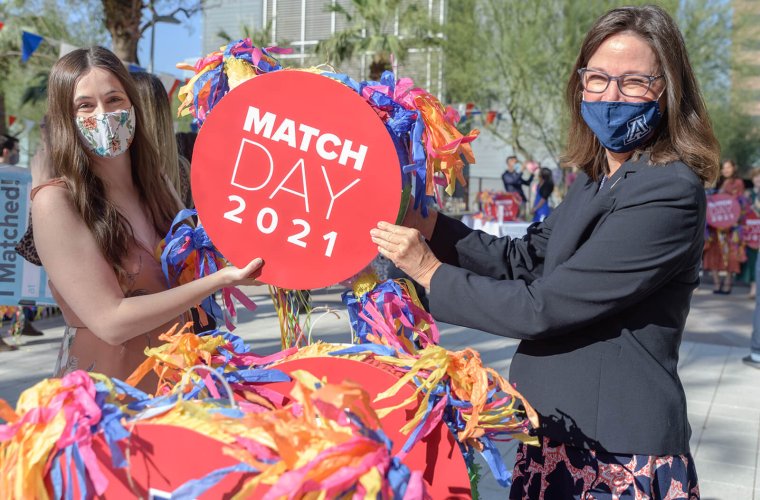 Match Day Student Profile: Jenna Koblinski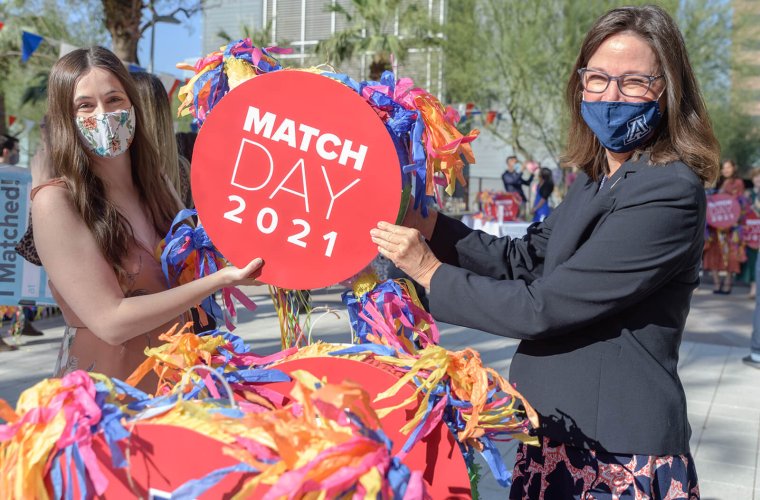 Medical Student's Passion for Helping Others Led to Career in Medicine
Every third Friday in March, medical schools across the United States send off their fourth-year medical students on the next chapter in their careers. On Match Day — the day an MS4 opens their coveted envelope to learn where they will spend the next several years as a resident-physician — is a long-awaited and well-deserved day to celebrate. The University of Arizona College of Medicine – Phoenix is profiling several students for Match Day 2021.
Meet Jenna Koblinski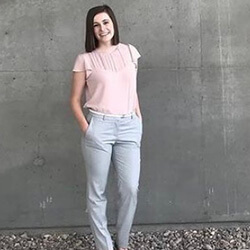 Who are you here for? Who are your biggest supporters?
I am here for my family, especially my parents, and they are definitely my biggest supporters. I know they would have supported me no matter what path I took, but it means so much that they continued to support me when I chose the difficult path of medicine. I have been very blessed with the support of my family, friends and mentors throughout my life and would not be where I am today without them. I am very thankful for all of them.
Path Toward Medicine
What was the initial spark that led you to want to become a physician?
I knew I wanted to be a physician since I was young. I have always been someone who migrates toward caring for others and I'm really in-tune with how other people are feeling. As I got older, the study of medicine became really fascinating to me, and it never lost my attention. Being able to care for people at their most vulnerable is really humbling, but also very rewarding, and I am looking forward to a career of being there for patients. 
Importance of Match Day
Match Day is an important milestone. Have you set any new goals and what are they?
I am very excited for Match Day and cannot believe we are finally here! Match Day was one huge step toward my overall life and career goals. Now that I am nearing the end of medical school, one of my current goals is to try and absorb as much as I can for intern year. I know it will be hard, and I know I probably don't even know the half of it. This will be my first opportunity to really be the person providing direct care to patients, and there is a lot of room for learning and growth. This will also be the year I learn what I need to know if I am ever on a plane and they ask if anyone is a doctor!
Choosing a Specialty
Do you have a specialty? What is it and why did you choose it?
Dermatology. There was a patient with congestive heart failure, as well as a dermatologic disease called "hidradenitis suppurativa;" and he was more concerned with his skin issues than his breathing problems. That was super impactful to me, and I wanted to learn more. I started shadowing the field and realized this was a specialty that combined the parts that I loved about medicine and surgery, while also allowing me to make a large impact on a patient. Plus, I have always been a visual learner and the ability to see the patient's concerns with your own eyes or through a dermatoscope is also really unique!
COVID-19 Pandemic Experience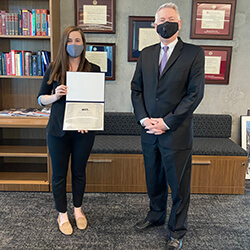 Describe your experiences in the last year during the COVID-19 lockdown.
I have been very fortunate during the COVID-19 pandemic in terms of my loved ones and their health, and any obstacles I did experience during this time pale in comparison to what so many people around the world have gone through. This year taught me a lot about myself and really put things into perspective. I do want to say I am forever thankful for Phoenix Children's Hospital Dermatology, Medical Dermatology Specialists and Mayo Clinic Dermatology for allowing me to rotate with them when away rotations were cancelled. I did not think any dermatology exposure was going to be possible. Without their support, I would not be where I am right now. 
Has COVID-19 changed the way you view health care and the medical profession?
I think being a medical student during COVID-19 offered a really unique perspective. We were not on the frontlines, so we can't understand what it is truly like to be a provider during the height of a pandemic. However, we are still involved in the health care field, and we have the opportunity to intimately talk to those who are going through it. The pandemic has taught me the importance of reflection and remembering why I chose to go into health care. However, I do think it showed that we need better support for all health care professionals. I have seen many experience burnout through the COVID-19 pandemic, and you cannot fully care for others when you hit that stage. I sincerely want to thank all of the health care and essential workers for all they have done during the pandemic. 
Wildcat Wonder #BearDownForLife
Lastly, what does it mean to you to be considered a '*Wildcat Wonder?'
I have never heard that term before! I will always be a Wildcat! It is really neat to think back to eight years ago when I was deciding on where I wanted to go to undergrad. Among many other reasons, I chose University of Arizona because of their strong pre-med track, and now, here I am actually finishing medical school at the College of Medicine – Phoenix! UArizona is where I solidified my passion for medicine and where I found my love for research. I have even been fortunate to still work with my undergraduate research mentor Valentine Nfonsam, MD, MS, on my scholarly project all through medical school. Thank you to UArizona as a whole, for all of the opportunities and for making it possible for me to be matched! Go Cats!
Wildcat Wonder: A student who has attended the University of Arizona throughout their higher education journey, spanning from their bachelor's degree and beyond.
About the College
Founded in 2007, the University of Arizona College of Medicine – Phoenix inspires and trains exemplary physicians, scientists and leaders to optimize health and health care in Arizona and beyond. By cultivating collaborative research locally and globally, the college accelerates discovery in a number of critical areas — including cancer, stroke, traumatic brain injury and cardiovascular disease. Championed as a student-centric campus, the college has graduated 669 physicians, all of whom received exceptional training from nine clinical partners and more than 2,600 diverse faculty members. As the anchor to the Phoenix Bioscience Core, which is projected to have an economic impact of $3.1 billion by 2025, the college prides itself on engaging with the community, fostering education, inclusion, access and advocacy.