Match Day Student Profile: Karen Pho
First Generation Asian-American Credits Family Values for her Residency Match Success
Every third Friday in March, medical schools across the United States send off their fourth-year medical students on the next chapter in their careers. On Match Day — the day an MS4 opens their coveted envelope to learn where they will spend the next several years as a resident-physician — is a long-awaited and well-deserved day to celebrate. The University of Arizona College of Medicine – Phoenix profiled several students for Match Day 2021.
Meet Karen Pho
Who are you here for? Who are your biggest supporters?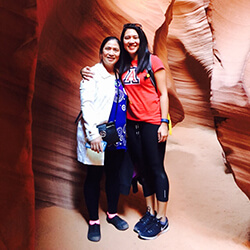 My mom. She has sacrificed so much in order for me to pursue my dreams. As a first generation Asian-American, and the first physician in my family, I cannot be more grateful for her selflessness. However, I cannot forget my brother, and close cousins who have watched me grow up and blossom into the person I am today. When I told my family I Matched, they told me to 'fly little birdie, fly...' I am truly humbled and thankful for all the love and support throughout all the years. 
Path Toward Medicine
What was the initial spark that led you to want to become a physician?
The initial drive to pursue medicine was the hopeless feeling I had when my grandmother passed away. I felt guilty that I wasn't able to help her, and those emotions propelled me to pursue medicine. I hoped to be able to bring some comfort for my patients and family, and give them the support that they deserve during their vulnerable times. I feel that it's a privilege to be a part of someone's life during their times of need, and I hope to be a sliver of a difference.
Importance of Match Day
Match Day is an important milestone. Have you set any new goals and what are they?
As silly as it may sound, I actually created a checklist for myself when I was applying to medical school that I posted on my bedroom wall as a daily reminder to continue the grind. It entails the steps necessary to become an emergency physician. For example: take the MCAT, get accepted into medical school, pass USMLE step 1, etc. I can finally check off the 'Match!' box. As of right now, my goal is to become board-certified in emergency medicine and focus one day at a time knowing that residency will be fast approaching and recognize that it will be challenging. Long term goals may include a fellowship in the future, but that is to be determined!
Choosing a Specialty
Do you have a specialty? What is it and why did you choose it?
My specialty will be emergency medicine. I chose it because I love the idea of being a jack of all trades — the flexibility to pursue a fellowship of interest, the variability in the emergency department and the challenges it may present for me to be quick on my feet with clinical decisions. There is never a dull day in emergency medicine!
COVID-19 Pandemic Experience
Describe your experiences in the last year during the COVID-19 lockdown.
COVID-19 initially gave me a brief hiatus at the end of third-year, which I was thankful for, but eventually I was ready to get back into the swing of things. Unfortunately, it still affected some of the rotations I was really looking forward to. However, I am grateful that I was able to get into the rotations that I needed. Outside of the medicine aspect, I got extra time to enjoy my hobbies, catch up on sleep and Netflix, and spend some time with my family that I otherwise would not have had. 
Has COVID-19 changed the way you view health care and the medical profession?
COVID-19 has really highlighted some of the weaknesses within our health care system, and I hope to be an advocate for change in the future. Not only is it our responsibility as physicians to advocate for our patients, but I believe it is imperative that we voice our concerns or ideas to improve the system to benefit public health as a whole.  
Wildcat Wonder #BearDownForLife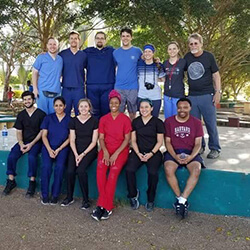 Lastly, what does it mean to you to be considered a '*Wildcat Wonder?'
I take great pride in being a 'Wildcat Wonder.' I really enjoyed my undergraduate years and felt that I grew a lot as an individual during that time, which helped shape me into the person I am today. I was always thankful for the undergraduate education I received and did not think I would have been able to streamline into medical school at UArizona College of Medicine – Phoenix — knowing how competitive it is to simply get into medical school. It was such a surreal moment when I received my white coat from the college. You can say I truly bleed red and blue, #BearDownForLife!
Wildcat Wonder: A student who has attended the University of Arizona throughout their higher education journey, spanning from their bachelor's degree and beyond.
About the College
Founded in 2007, the University of Arizona College of Medicine – Phoenix inspires and trains exemplary physicians, scientists and leaders to optimize health and health care in Arizona and beyond. By cultivating collaborative research locally and globally, the college accelerates discovery in a number of critical areas — including cancer, stroke, traumatic brain injury and cardiovascular disease. Championed as a student-centric campus, the college has graduated 669 physicians, all of whom received exceptional training from nine clinical partners and more than 2,600 diverse faculty members. As the anchor to the Phoenix Bioscience Core, which is projected to have an economic impact of $3.1 billion by 2025, the college prides itself on engaging with the community, fostering education, inclusion, access and advocacy.