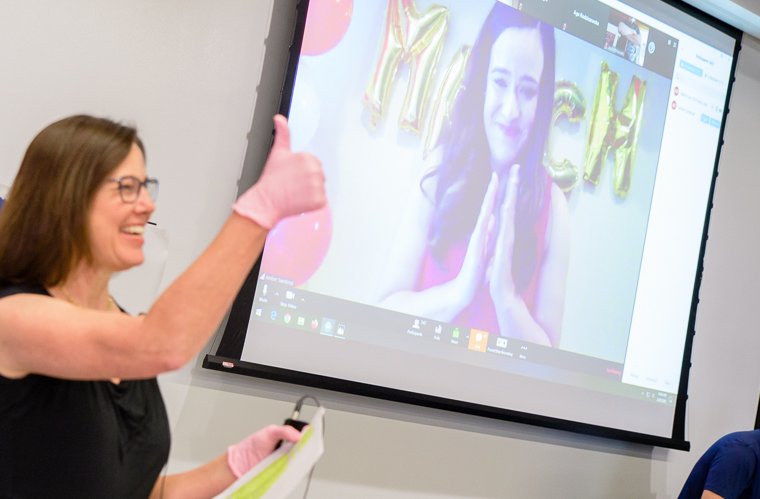 University of Arizona College of Medicine – Phoenix Hosts Virtual Match Day Celebration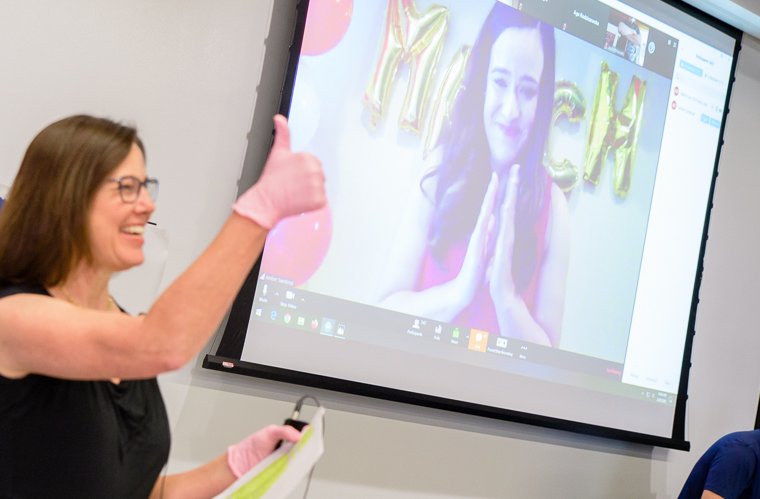 Pandemic Fears Set Aside as Students Celebrate with Family through Unique Zoom Meeting; 42 Percent of Class of 2020 will Continue Training in Arizona
Amidst the coronavirus pandemic, students at the University of Arizona College of Medicine – Phoenix found a way to celebrate residency matches via group chats, FaceTime sessions and a virtual community Zoom meeting.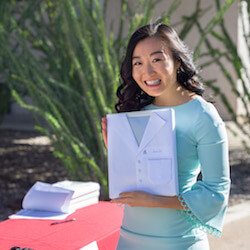 More than 90 students from the medical school in downtown Phoenix found out Friday, March 20, where they will spend the next three to seven years in residency as they take the next step in their journey to practice medicine.
College officials canceled the in-person celebration a week ago to reduce the risk of COVID-19, but they wanted to do something out of the ordinary for the Class of 2020. Match Day is a signature event at the college, where a custom experience is designed to reflect the personality of the class. Traditionally, the medical school celebrates with a flash mob dance, confetti, streamers and fireworks. They also invite friends and family to participate in a countdown before students open their Match Day envelopes. For many students, the day is the highlight of their four-year journey to complete their medical degree.
Students were asked to come to campus to pick up their sealed envelopes, which they couldn't open until precisely 9:00 a.m. Phoenix time, then return home to celebrate with family. An hour later, they tuned into a virtual Match Day celebration hosted on Zoom by Student Affairs staff. One-by-one, students were featured in the meeting and, surrounded by parents, spouses, children and pets — and safely ensconced in their own homes — shared where they matched.
As each student announced their destination, their photo was pinned to a map of the U.S. to showcase collectively where the Class of 2020 will continue their medical training.
In a pre-recorded video message sent to the students, Guy Reed, MD, MS, dean of the College of Medicine – Phoenix, told the Class of 2020 that the 3,000 faculty, staff and students at the medical school were cheering with great joy and wishing them the greatest success.
"You are being called to an extraordinary service to help us through this time of illness," he said. "We know that you will do extraordinary things in service to our community. We are grateful to you as you take up your service during this time."
Susan Kaib, MD, associate dean for Student Affairs, thanked the students for "being willing to forgo the traditional formality of a party and to share their celebration from a distance to protect others."
"The day was a resounding success because students were able to share their excitement not only with us virtually but with their families in person," said Daniel Drane, director of wellness at the college and part of the team that arranged the virtual party.
"I loved Match Day in the virtual setting," fourth-year medical student Melissa Reed said. "It was so fun to have privacy with my family when I opened my letter and see my friends in their home environments with their families to announce their results. While I wish we could have had a big party on campus, this was the best option given the coronavirus outbreak. I'm so grateful to our deans and the technology staff and everyone who had a part in making this a truly memorable and special event, despite the challenges of the pandemic."
Reed matched into family medicine at UCHealth Poudre Valley Hospital in Fort Collins, Colo.
Thirty-three percent of the graduating class matched in primary care fields, such as family medicine, internal medicine and pediatrics. Arizona's physician shortage is one of the worst in the nation, with the state ranking 44th of 50 states in the number of primary care physicians.
More than 40 percent of the class will continue their training in Arizona. Thirty-six students will stay in Arizona for all years of residency and an additional seven will do their preliminary year in Arizona, then go elsewhere for specialty training. Of the 43 students who will train in Arizona, 30 matched at Banner – University Medical Centers in Phoenix and Tucson. In addition, 13 students matched at Phoenix Children's Hospital, Dignity Health St. Joseph's Hospital and Medical Center, Mayo Graduate School of Medicine in Phoenix and Creighton University-affiliated hospitals.
In addition to primary care programs, students matched into anesthesiology, dermatology, plastic surgery, orthopedic surgery, ophthalmology, otolaryngology, radiology, radiation oncology, vascular surgery, urology, as well as obstetrics and gynecology.
Students also matched into prestigious programs across the country including Tulane University, Mayo Clinic, Vanderbilt University Medical Center, Yale New Haven Hospital, Johns Hopkins All Children's Hospital in Florida and the University of Chicago Medical Center.
They were among the 19,326 seniors at U.S. allopathic medical schools who entered the match program, which is organized by the National Resident Matching Program. A record 40,084 applicants submitted program choices for 37,256 positions, which included students from Doctor of Osteopathic Medicine and international programs, as well as MD-granting institutions.
After matches were revealed, Dr.  Kaib congratulated students on their success. She said the class had logged more than 9,000 volunteer hours in the last four years, cared for patients in 21 rural sites in Arizona, and completed more than 50 rural rotations and 75 away rotations throughout the country.
Fourth-year medical student Alexia Tatem, who matched into diagnostic radiology at the University of California, San Francisco, said she is honored to have the opportunity to train at such a respected program.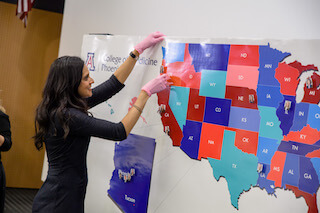 "While this Match Day was a bit unique, I was thankful to be surrounded by the people I love and those who have supported me in this journey," she said.
In February, students submitted their list of choices in order of preference; at the same time, residency program directors submitted their rank-ordered lists of preferred candidates to the National Residency Matching Program headquartered in Washington, D.C. Results are achieved by an algorithm, which applies a two-sided match mechanism comparing the students' ranked choices with the residency programs' ranked choices.
Residency programs vary in length from three years for general medicine/family practice specialties to seven years for the most specialized surgeons.
The UA College of Medicine – Phoenix admits 80 students per class (100 starting July 2020) and has graduated 500 MDs. Last year, it received more than 6,148 applications. The school's mission is to prepare its students for the first day of residency and ensure that they will be compassionate physician scientists.
News, Videos and Photos
About the College
Founded in 2007, the University of Arizona College of Medicine – Phoenix inspires and trains exemplary physicians, scientists and leaders to optimize health and health care in Arizona and beyond. By cultivating collaborative research locally and globally, the college accelerates discovery in a number of critical areas — including cancer, stroke, traumatic brain injury and cardiovascular disease. Championed as a student-centric campus, the college has graduated 593 physicians, all of whom received exceptional training from nine clinical partners and more than 2,400 diverse faculty members. As the anchor to the Phoenix Biomedical Campus, which is projected to have an economic impact of $3.1 billion by 2025, the college prides itself on engaging with the community, fostering education, inclusion, access and advocacy.