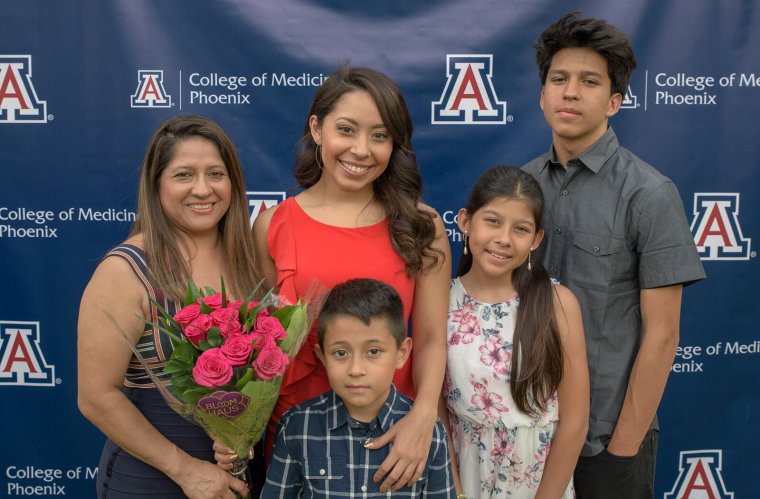 Fourth-Year Student, Who's Focused on Addressing Disparities in Health Care, Awarded ElevateMeD Scholarship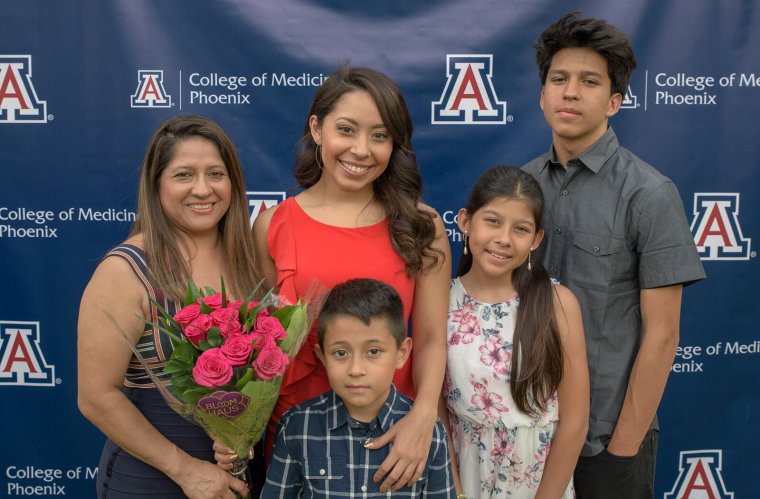 Abigail Solorio, one of two students at the college to be selected, has often used her education and training to care for the underserved
Abigail Solorio, a fourth-year student at the University of Arizona College of Medicine – Phoenix, is one of 20 students in the country selected for the ElevateMeD Scholars Program.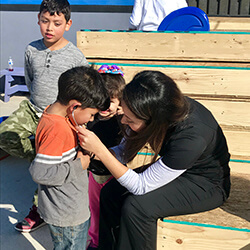 The ElevateMeD Scholars Program was founded in 2019 to provide financial support to medical students who come from racial and ethnic backgrounds traditionally underrepresented in medicine. The selected third- and fourth-year students will receive $10,000 for each remaining year of their medical school training.
Solorio was born and raised in Phoenix and earned a degree in neuroscience at the University of Arizona in Tucson. As a first-generation student and underrepresented minority in medicine, Solorio always felt inspired to pursue medicine from a young age.
"Growing up socioeconomically disadvantaged, I witnessed a variety of health care disparities on a local and international level because I lived through them," Solorio said. "This inspired me to partake in medical service trips, offering care and resources to disadvantaged communities throughout Mexico."
As a young girl, she witnessed her cousin living with a disability struggle to navigate the health care system. Health providers often dismissed her cousin's concerns. This gave Solorio motivation to pursue research and advocacy addressing disparities in health care for marginalized communities.
"I felt that, as a physician, I could bring my personal background to this profession, and with medicine, there would be a responsibility to take on a leadership role in the community," Solorio said. "I am honored to be entering a profession where your service extends beyond improving health outcomes — creating actionable steps to address social inequalities."
After being nominated for the scholarship, Solorio began researching the organization and then applied for the ElevateMeD Scholars Program. In addition to scholarship support, the program grants access to resources for students — such as leadership training, mentoring and debt management education.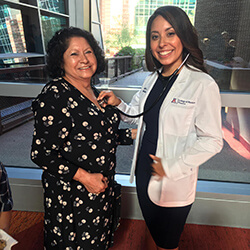 Solorio said she feels grateful and honored to be selected for the prestigious scholarship and that she believes in ElevateMeD's mission and commitment to injecting diversity into the medical field.
"It delivers a message that should be heard loud and clear: When you find yourself with a seat at the table, you use your voice proudly, lift others and advocate for change," Solorio said. "This scholarship inspires hope for future communities and represents the impact we have when we come together."
Among the people in her life, Solorio credits the encouragement and sacrifice from her mother, siblings, aunt and grandma.
"Their unwavering love has been my biggest motivation during this journey, believing in me during the most challenging times," Solorio said. "Above all, there has been no greater gift than serving the community that raised me."
Solorio will pursue primary care, specializing in family medicine, and hopes to become a physician who empowers patients and advocates for change.
"I want to continue addressing social inequalities in medicine and creating actionable steps to address racial disparities in medicine because health care is not exempt from this," Solorio said. "I hope to continue advocating for cultural representation and connecting with the youth through mentorship and outreach."
About the College
Founded in 2007, the University of Arizona College of Medicine – Phoenix inspires and trains exemplary physicians, scientists and leaders to optimize health and health care in Arizona and beyond. By cultivating collaborative research locally and globally, the college accelerates discovery in a number of critical areas — including cancer, stroke, traumatic brain injury and cardiovascular disease. Championed as a student-centric campus, the college has graduated 669 physicians, all of whom received exceptional training from nine clinical partners and more than 2,600 diverse faculty members. As the anchor to the Phoenix Bioscience Core, which is projected to have an economic impact of $3.1 billion by 2025, the college prides itself on engaging with the community, fostering education, inclusion, access and advocacy.