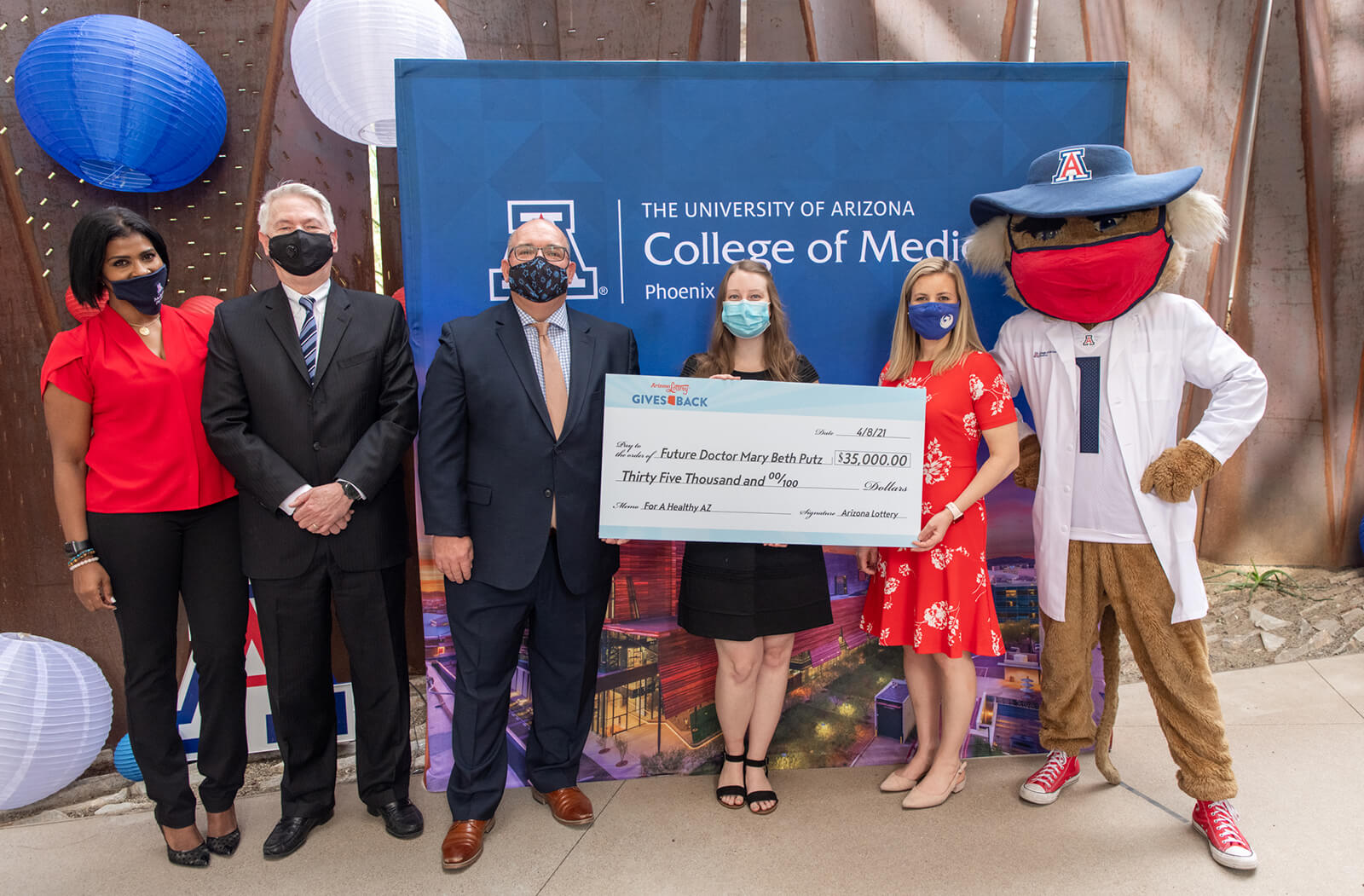 Arizona Lottery Awards $35,000 Scholarship to Third-Year Medical Student and Future Pediatrician Mary Beth Putz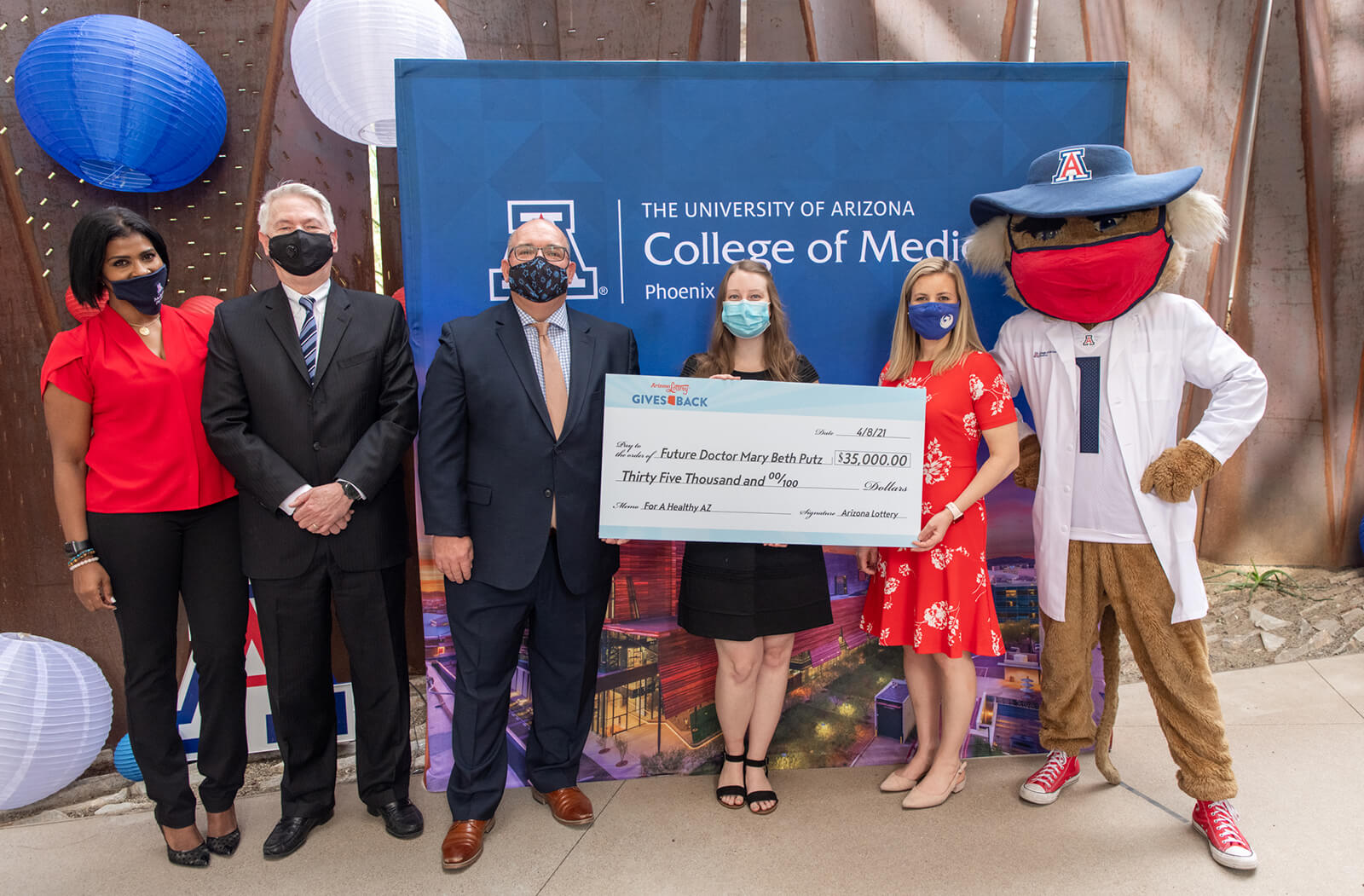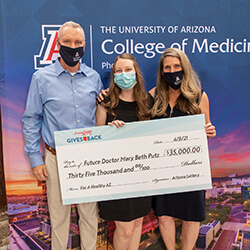 Mary Beth Putz, a third-year medical student at the University of Arizona College of Medicine – Phoenix, was surprised with a scholarship check for $35,000 from the Arizona Lottery.
Putz was escorted by UArizona mascot, Wilbur T. Wildcat, to an outdoor award ceremony, where Gregg Edgar, executive director of the Arizona Lottery, forever changed the life of the future pediatrician when he presented her with the check. CBS 5 Anchor Yetta Gibson emceed the event, joined by Phoenix Mayor Kate Gallego and Guy L. Reed, MD, MS, dean of the University of Arizona College of Medicine – Phoenix to acknowledge the tremendous contributions Putz has already made to patients and communities who need more doctors.
"This will pay for an entire year of medical school. This is such an honor. I am really just so humbled by this and thank you so much for this," Mary Beth Putz, 2021 Arizona Lottery scholarship recipient, said. Putz, who's studying to become a pediatrician, is currently completing a rotation at Phoenix Children's Hospital.
The Arizona Lottery Scholarship contribution supports the education of future physicians who are committed to specialize in pediatrics and to practice in underserved communities. Training physicians is expensive, and the cost of earning a medical degree has more than tripled in the past 10 years.
The scholarship is especially important as the average student loan debt for a medical school graduate in the U.S. is $180,000, which can take up to 50 years to repay.
"Arizona Lottery is built on the concept of giving back to the community. Being able to stand here at this amazing organization in the crown jewel of central Phoenix and being able to recognize students who will go and serve in underprivileged communities is huge for us," Gregg Edgar, executive director of the Arizona Lottery, said.
Mary Beth Putz was born and raised in Arizona. She worked closely with migrants and rural communities throughout the border cities and plans to return to Arizona to practice as a pediatrician upon completing residency. As a public health advocate, she is the founder of the Harm Reduction Alliance chapter in New Mexico, a public health strategy that focuses on mitigating harm related to high-risk behaviors, including intravenous drug use.
"This will allow me to go do the work that I want to do. It allows me to pay for my loans faster. Pediatrics is where I find my passion and heart and soul. To be able to go into those communities and not have to worry about student debt means the world to me," Putz said.
Putz always knew she wanted to integrate public health and a social justice philosophy into her practice. One reason she applied for admission to the University of Arizona College of Medicine – Phoenix is because it offers a dual MD/MPH (medicine/public health) degree. Her goal is to learn and develop her public health skills alongside her clinical knowledge.
The Arizona Lottery scholarship provides more access for students and helps address Arizona's physician shortage. For some of the best and brightest future doctors, the ability to pay for medical school is an overwhelming challenge.
This is the second year the Arizona Lottery has partnered with UA College of Medicine – Phoenix to award a scholarship to a deserving medical student. The first scholarship, in the amount of $25,000, was awarded to Dario Alvarez in 2019. 
The COVID-19 pandemic highlighted how much we rely on doctors and the medical field to keep our communities healthy. The UArizona College of Medicine - Phoenix innovated its curriculum to continue the quality of medical education necessary to train future physicians. The medical school expanded the size of its incoming class to train 50 percent more doctors each year to address the critical shortage of physicians in Arizona.
"We are so grateful to the Arizona Lottery. Educating medical students is an expensive proposition and when scholarship dollars are eliminated, students graduate with the kind of debt that our students have. It's hard for them to go into areas where they serve communities and help the poor. Thank you so much," Guy L. Reed, MD, MS, dean of the University of Arizona College of Medicine – Phoenix, said.
Kate Gallego, mayor of the City of Phoenix commented, "I think a lot about health care access, but this year more than ever. Unfortunately, we rank 44th out of 50 states for the number of primary care physicians. We know we can do better."
She continued, "Scholarships act as a gateway and provide access to students especially for those who want to dedicate their lives to the underserved. People who had better access to health care had better health outcomes. Mary Beth, today we celebrate you and all the work we know you will achieve. You will make a tremendous impact on our community and we want to say thank you."
Video, Photos and News
Learn more about contributing to medical student scholarships.
About the College
Founded in 2007, the University of Arizona College of Medicine – Phoenix inspires and trains exemplary physicians, scientists and leaders to optimize health and health care in Arizona and beyond. By cultivating collaborative research locally and globally, the college accelerates discovery in a number of critical areas — including cancer, stroke, traumatic brain injury and cardiovascular disease. Championed as a student-centric campus, the college has graduated more than 800 physicians, all of whom received exceptional training from nine clinical partners and more than 2,700 diverse faculty members. As the anchor to the Phoenix Bioscience Core, which is projected to have an economic impact of $3.1 billion by 2025, the college prides itself on engaging with the community, fostering education, inclusion, access and advocacy.