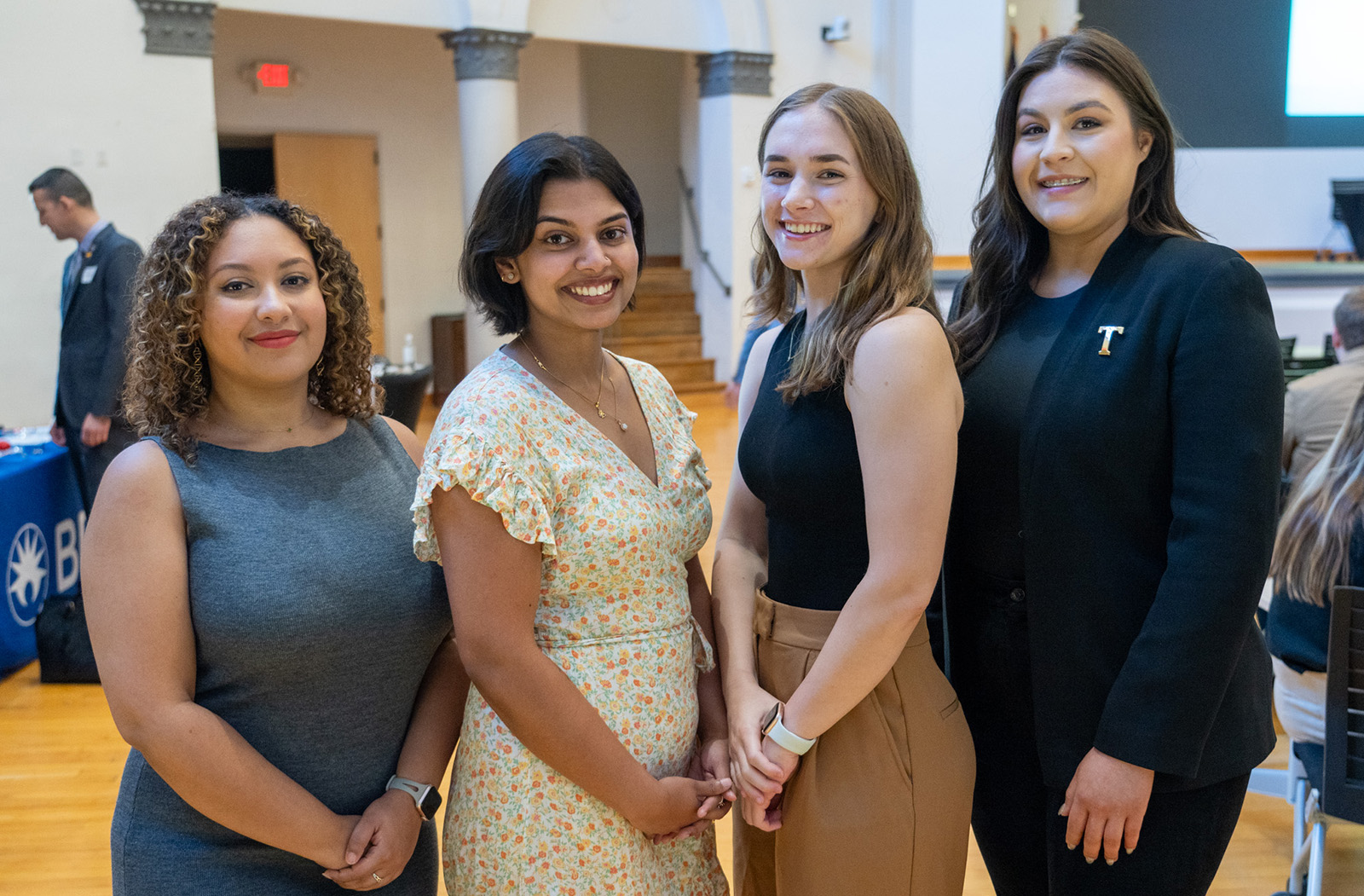 Voice of the Patient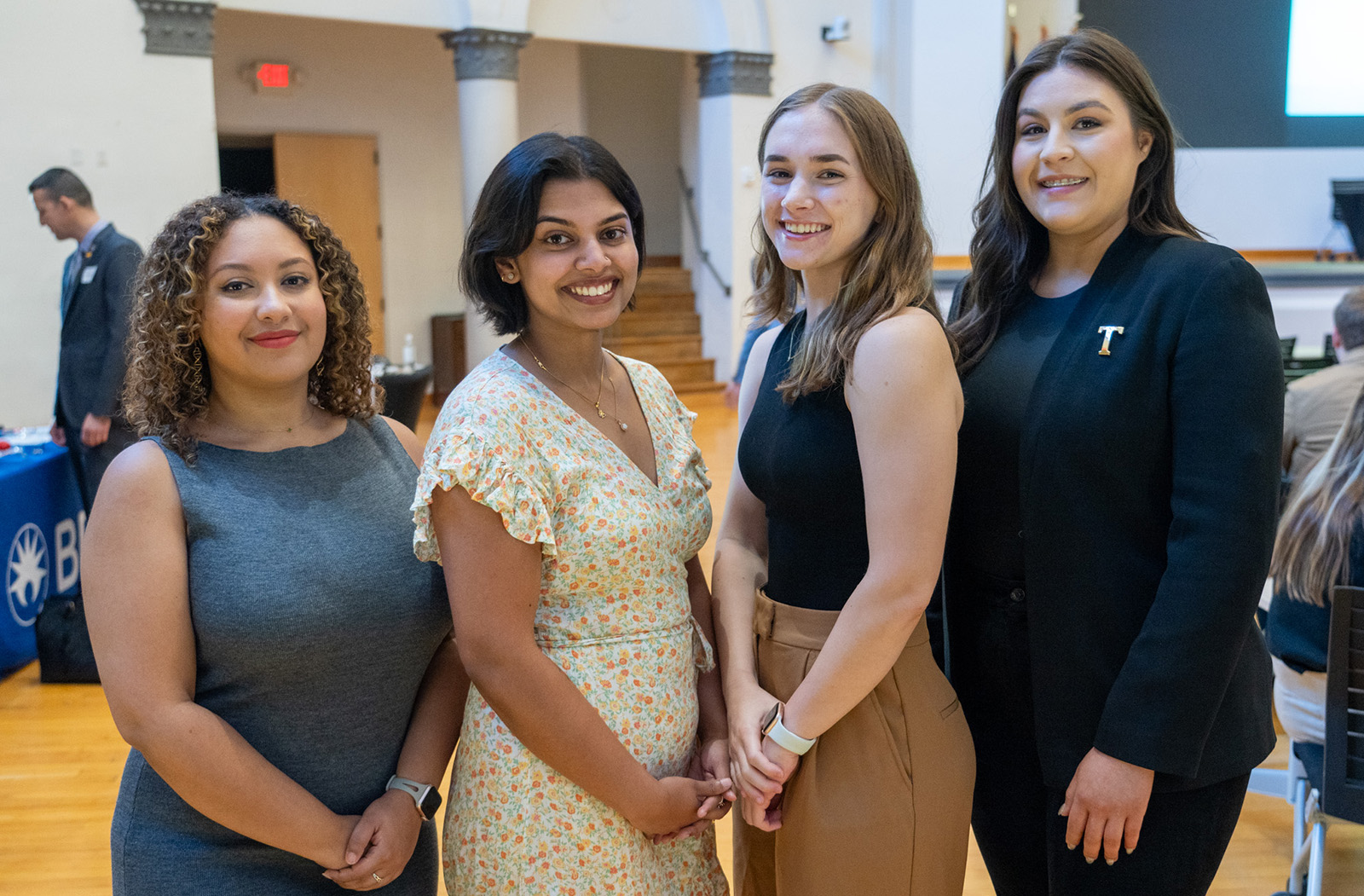 Medical students and community members share personal stories of how their health struggles have inspired them to create change
"At some point, we all become a patient."
This powerful statement came from Alex Tessmer, associate director of Ideation at BD, a medical device company. They were emblematic of the Voice of the Patient event hosted on the University of Arizona College of Medicine – Phoenix's campus as part of AZBio's annual Arizona Biosciences Week.
Tessmer participated in a panel titled Patients as Advocates, where he and other patients shared how important it is to be one's own best advocate. They discussed how engaged physicians can positively impact the lives of their patients, seeking better answers when treatment does not seem to be solving the problem. This last point was further reflected in the narratives of four College of Medicine – Phoenix medical students who shared more about their personal health challenges after the event.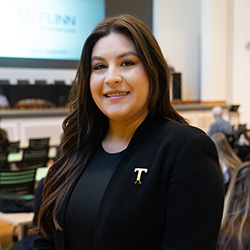 Taylor Hoffman, Class of 2026, moderated the student panel, Patients to Physicians, with Arianna Tuomey, a current Pathway Scholar, Kelly Walter and Nina Cherian, Class of 2027. Each have encountered unique health struggles on their journey to medical school. Their health issues have guided and inspired them not only to pursue medicine as a career, but to become the kind of physician that treats the patient, rather than the disease.
Hoffman was diagnosed with type 1 diabetes when she was just 18-months old and has subsequently been diagnosed with both Hashimoto's disease, a chronic autoimmune disorder that affects the thyroid gland, and rheumatoid arthritis. Her lifelong health struggles have been both humbling and informative.
"Diabetes is a disease that does not behave the same way two days in a row, even when doing the same things every day and sticking to a routine. It fluctuates like the wind, and despite having a forecast, like my continuous glucose monitor, it can be hard to predict," Hoffman explained. "It has been my greatest teacher while being my biggest adversary. Education and advocacy have become a full-time job in both my personal and professional lives, as I am sure is true for many others."
Hoffman has come to see diabetes as a way for her to advise people dealing with similar circumstances, and her experiences with doctors — both good and bad — have furthered her desire to become a compassionate, caring physician. She was invited to speak at the event for the second time, having also participated last year.
"When I become a doctor, it will not be my responsibility to pass judgment and make assumptions about my patients. Instead, my job will be to treat my patients and their families as teammates striving toward the same goals, and I will support them in any way I can, all the while adapting to where they are on their journey," she said.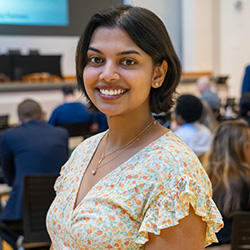 And she knows, for some, that road can be a long one filled with twists and turns. She trusts her history can help motivate others. "Ultimately, I hope my perspective shows people that anything is possible with discipline, and that just because you have a disease does not mean you are destined to become a stereotype or statistic," she said.
At a young age, Cherian was diagnosed with an uncommon eye disorder called chronic intermediate uveitis, causing her to temporarily lose her vision. Her frequent visits to the eye clinic served as a strong motivator for her future educational and research work.
"The most important takeaway I got from my physicians was to remember first and foremost that who they see in clinic are people first — not just patients. They have unique wants, needs, concerns and lives; the disease they may suffer from is only part of the equation," Cherian said. "Each person deserves thoughtful, personalized care. I always want to remember to see my future patients as multifaceted people."
In addition, Cherian noted that as a physician, it is important to understand the mental and emotional effects of dealing with chronic disease. Not understanding why something is happening or how and when it may get better can take a toll. "I hope that practicing kindness and empathy continue to be increasingly emphasized in medical education," she said.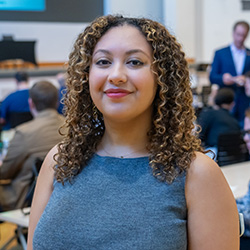 Tuomey's experiences as a patient within the health care system have come more recently. She was diagnosed with type 1 diabetes during her sophomore year of college. Since then, she has made it her mission, "to connect with others living with diabetes, particularly those who are less fortunate than me."
She spent time volunteering with the non-profit American Youth Understanding Diabetes Abroad (AYUDA), where she eventually became the director of operations — a position she has held for seven years. Through that organization, she has traveled to the Dominican Republic (DR) on multiple occasions, partnering with a local diabetes foundation to help empower children and adults with diabetes through sustainable diabetes education.
"The inequity in access to medical supplies, treatment and education in the DR was shocking to me at first, but it later became a driving force. I had the same condition as some of these patients, but the health care and education I received were so vastly different that my prognosis and quality of life were significantly better," Tuomey explained. "I found an aspiration to empower people with illnesses by helping them better understand their conditions and provide the necessary medical education and support to do so."
Her advocacy work ultimately led her to pursue medicine. Medical school was an avenue to not just educate those with less resources about their condition, but to impact their treatment and care. "As a doctor, I plan to provide my future patients with better knowledge and understanding of their own health to further assist in their wellness, so they can see themselves as more than a diagnosis," she said.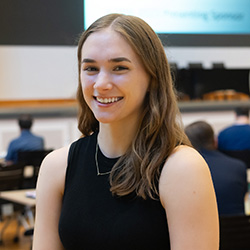 Like Tuomey, Walter's health struggles did not present until college. In her sophomore year, she was diagnosed with ulcerative colitis. Prior to the diagnosis, she had already envisioned a future in medicine. Thus, the diagnosis did not impact her goal, but it did influence the why.
"After I was diagnosed, I realized how many non-medical factors were barriers to health care, such as insurance, transportation and time," Walter said. "I became interested in medicine because I am fascinated with human pathophysiology, but I am now interested in addressing these structural and institutional barriers that affect health more than we are able to quantify."
Walter also expressed gratitude to her doctors for placing her health in high priority. "I was diagnosed in May 2020, right in the height of the early pandemic, and my doctor managed to get me into her office to get bloodwork, despite my fever. I credit her with saving my life because she went the extra mile for me, even though we had just met," she said.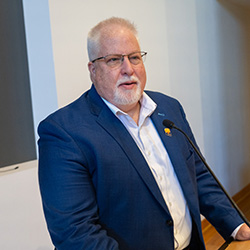 Walter's current gastroenterologist further displayed to her how crucial it is to be there for patients and to never stop learning. "He is always actively working on publications regarding the best practices for treatment of inflammatory bowel disease (IBD), as well as publishing outcomes data, analyzing if the newest treatments are showing effect," she said. "In every appointment, I feel like he is giving me the best evidence-based guidance on what I should do, supported by the research that he is actively doing."
The dogged determination to stay on top of best practices and his willingness to go above and beyond to get her the medications she needs helped Walter to understand the type of physician she wants to be.
Each participant's story was a testament to how important it is for a patient to feel heard and for a physician to truly listen — a sentiment Kevin Lohenry, PhD, PA-C, interim dean of the College of Health Sciences at the University of Arizona, stressed in his opening remarks. "Collectively, we can make the world a better place. You can be better advocates; we can educate patients and the community about bioscience and truly engage with patients and their family in their health and wellness."
About the College
Founded in 2007, the University of Arizona College of Medicine – Phoenix inspires and trains exemplary physicians, scientists and leaders to optimize health and health care in Arizona and beyond. By cultivating collaborative research locally and globally, the college accelerates discovery in a number of critical areas — including cancer, stroke, traumatic brain injury and cardiovascular disease. Championed as a student-centric campus, the college has graduated more than 800 physicians, all of whom received exceptional training from nine clinical partners and more than 2,700 diverse faculty members. As the anchor to the Phoenix Bioscience Core, which is projected to have an economic impact of $3.1 billion by 2025, the college prides itself on engaging with the community, fostering education, inclusion, access and advocacy.