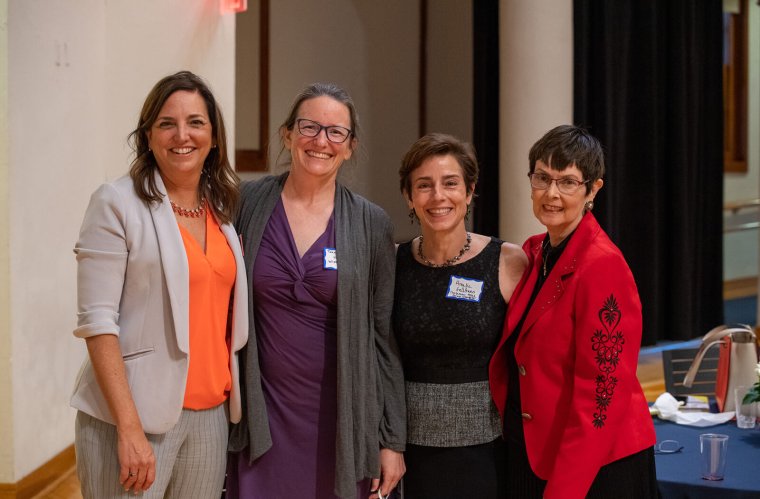 Where We Have Been, Where We Are Now and Where We Are Going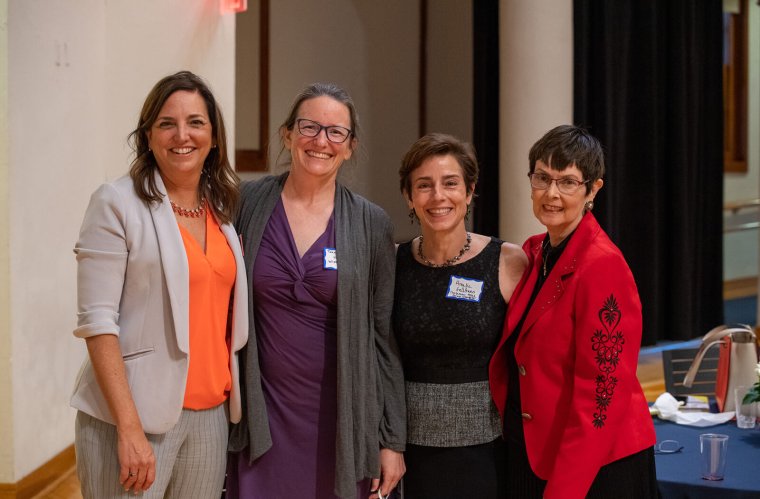 Women in Medicine and Science hosts 5th annual spring dinner to discuss progress made in the industry
The Women in Medicine and Science (WIMS) hosted their 5th annual spring dinner, the first in-person spring gathering in two years, to celebrate and highlight the achievements women faculty and researchers have made.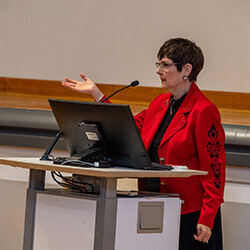 Karen Nichols, DO, served as the keynote speaker. Dr. Nichols is an internationally recognized expert on physician leadership and women leaders in medicine. Dr. Nichols' remarks titled, "Women in Medicine and Science: Past, President and Future," assessed the progress of women in health care and research.
"Being the first woman or being the only woman is exactly the same as any minority — you're seen as the representative of that minority," Dr. Nichols said. "After all those years in practice, I was back at a reunion and one of the [male] doctors there said, 'I didn't think you'd last long at all.'"
Despite being the first woman in several positions, Dr. Nichols expressed the challenges she faced. Some of her peers were not sure she would succeed due to how male-dominated the medical field was at the time.
Among her accomplishments, Dr. Nichols was named the first female president of the American Osteopathic Association, the American College of Osteopathic Internists and the Arizona Osteopathic Medical Association.
She was recently elected chair of the Accreditation Council for Graduate Medical Education and formerly served as dean of the Midwestern University/Chicago College of Osteopathic Medicine.
There has been a great deal of progress, yet disparities between men and women in medicine and science still prevail, including income equality.
Dr. Nichols also took time to show appreciation for the men who attended the meeting for using their positions and influence to help women get advancement opportunities and equitable treatment in the medical and science fields.
"We appreciate you; we appreciate what you're doing to broaden the landscape for men and women based on qualifications," Dr. Nichols said. "I assure you, we have HeForShe proponents in this room, no question."
WIMS is a campus organization that advocates for women's advancement and leadership in medically related fields and the sciences to ensure the successful participation of women in current and future roles within those fields.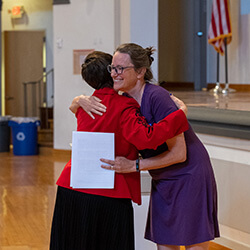 Taben Hale, PhD, associate professor in the Department of Basic Medical Sciences and the director of WIMS, opened the ceremony with introductory remarks and thanked Amelia Gallitano, MD, PhD, for her leadership in building the foundation for WIMS. Dr. Gallitano served as the inaugural director of WIMS and recently concluded her term.
"Dr. Gallitano led us through the establishment of this group, the development of our mission statement and funding a robust women's executive committee," Dr. Hale said. "Amelia has been an outstanding leader."
Everyone who attended received a USB drive with research and statistics from the Association of American Medical Colleges (AAMC) regarding the state of women in medicine.
One of the attendees, Raeven Maxwell, works as a clinical research coordinator at the college. "It's the first time that I've been to a conference like this," Maxwell said. "For myself, wanting to pursue a career in a health-related profession, it feels like it sparks inspiration and motivation to keep going."
About the College
Founded in 2007, the University of Arizona College of Medicine – Phoenix inspires and trains exemplary physicians, scientists and leaders to optimize health and health care in Arizona and beyond. By cultivating collaborative research locally and globally, the college accelerates discovery in a number of critical areas — including cancer, stroke, traumatic brain injury and cardiovascular disease. Championed as a student-centric campus, the college has graduated 669 physicians, all of whom received exceptional training from nine clinical partners and more than 2,600 diverse faculty members. As the anchor to the Phoenix Bioscience Core, which is projected to have an economic impact of $3.1 billion by 2025, the college prides itself on engaging with the community, fostering education, inclusion, access and advocacy.