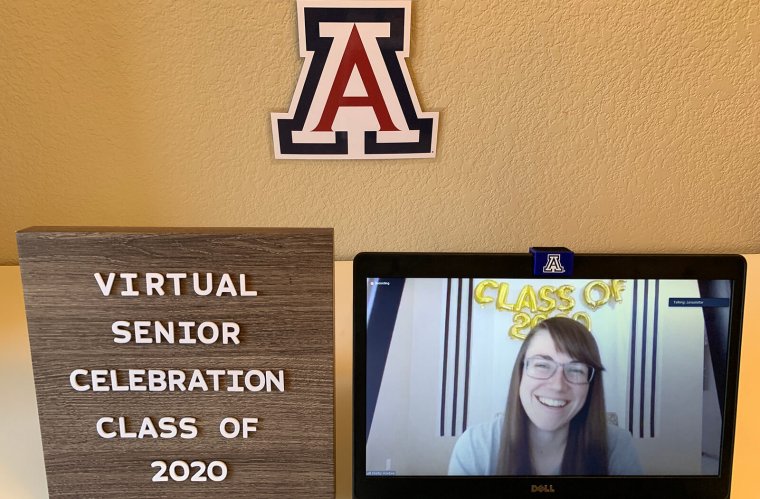 Accomplishments of Class of 2020 Recognized at Awards Ceremony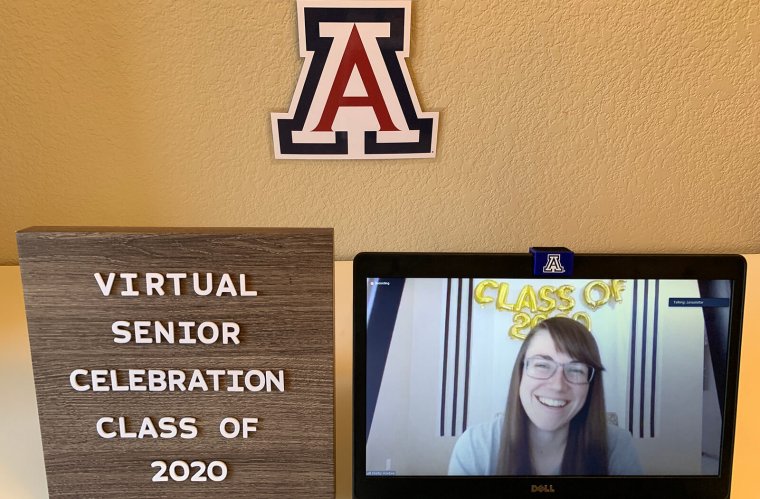 Annual Awards Ceremony Highlights Graduating Students and Their Outstanding Achievements
On May 11, the University of Arizona College of Medicine – Phoenix hosted its annual Senior Celebration Awards Ceremony to recognize the outstanding achievements of the Class of 2020. On the morning of commencement, 93 graduating students virtually gathered with faculty members and department chairs to celebrate these accomplishments and recognize the students who consistently met the highest level of personal and professional performance.
"I'm delighted to be here with you all on this very special day. Certainly, we'd rather be meeting in-person so we could be present to enjoy the celebration and joy that you all experience on this day," Steven Lieberman, MD, senior associate dean of Academic Affairs said. "At least we get to be together in this fashion to recognize some of the extraordinary accomplishments of members of the Class of 2020."
The virtual ceremony began with a presentation by graduating student Christopher Bean, MD, who reflected on the last four years of medical school and shared a few of their experiences and memories as a class. He discussed the achievements of his class members who have discovered their passion for different specialties, made the decision to continue their training in Arizona or have gone off to match at great institutions all across the U.S.
Dr. Bean said that he is proud of everyone's achievements and proud to be a member of the Class of 2020. He ended his reflection with one final message to his classmates, "When you're going through stressful and uncertain times, I hope that you remember the cheerleaders you have in the corner with your friends and family, prior classmates, future co-residents and faculty of this school."
Department Awards
Department awards were chosen by faculty to recognize one student from each of the required third-year clerkship departments.
Family, Community and Preventive Medicine – Jaimei Zhang, MD
Presented by Shahrzad Saririan, MD,  Director of the Family, Community and Preventive Medicine Clerkship
Dr. Zhang showed tremendous leadership skills in family medicine and primary care. Dr. Saririan described her as a committed, knowledgeable and great leader.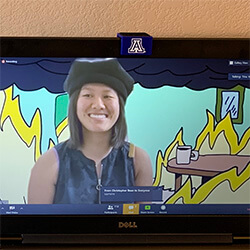 "This student performed exceptionally well in her Family, Community and Preventive Medicine Clerkship at Hidalgo Medical Systems in Silver City, New Mexico, earning honors throughout," Dr. Saririan said. "Her site preceptors described her as organized with excellent presentation skills and good formulated assessments and plans for each patient. They all thought it was a true pleasure to have her as part of their clinical team and saw a bright future in medicine for her."
Internal Medicine – Jaimei Zhang, MD
Presented by Tina Younger, MD, Director of the Internal Medicine Clerkship
"The student chosen for your year, embodies so many things: kindness, humanism, advanced clinical skills, academic excellence and was an all-around exemplary example of one of our finest UA students," Dr. Younger said.
Dr. Zhang was described as hardworking and compassionate with an excellent bedside manner. "Her patients said that they wanted her to be their primary care doctor. To me, that says it all. This student is simply exemplary," Dr. Younger said.
Obstetrics and Gynecology (OB/GYN) – Veronica So, MD
Presented by Laura Mercer, MD, Director of the Obstetrics and Gynecology Clerkship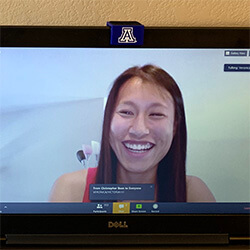 "Dr. So is a hardworking and brilliant student who is always eager to learn," Dr. Mercer said. "She is intelligent, yet humble. She demonstrates compassion and humanism in every encounter. I am so excited to see all she will accomplish."
Pediatrics – Shelby Hoebee, MD
Presented by Jorge Masuello, Director of the Pediatric Clerkship
"This student was an enthusiastic, self-directed learner whose presentation, organization and content was well above their level of training," Dr. Masuello said. "This student exhibited excellent medical knowledge and independently sought and responded well to feedback given."
Not only did Dr. Hoebee demonstrate excellence in bedside manners, but several families even commented on how well she did with their children.
Psychiatry – Nicknaz Janajreh, MD
Presented by James McLoone, MD, Chair of the Department of Psychiatry
"Dr. Janajreh performed superbly in all aspects of the clerkship," Dr. McLoone said. "Her professionalism and work ethic were all outstanding. In addition to this individual's outstanding academic accomplishments, she has a very impressive record of community service, scholarship and leadership."
Surgery – z
Presented by Natasha Keric, MD, Assistant Professor of Surgery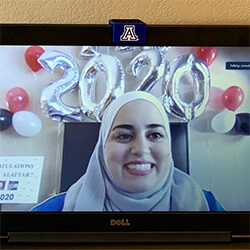 "This particular student has redefined what we describe as excellence," Dr. Keric said. "Not only did this student have the highest clinical and shelf scores among her class, but she truly went above and beyond and made such an impression on everybody that has worked with her."
Dr. Keric said she cannot be more excited and proud to continue to train Dr. Alattar as she continues her medical journey.
Pillar Awards
Pillar Awards recognize students who have demonstrated exemplary performance in the areas that are considered pillars at the UArizona College of Medicine – Phoenix. These awards are chosen by the Senior Celebration Honors and Awards Committee.
Community Award – George Nguyen, MD
Presented by Stephanie Briney, DO, Director of Service Learning in Academic Affairs
"This year's award recipient showed his devotion to the community in many ways," Dr. Briney said. "He certainly demonstrated his service through his involvement in CHIP where he may have volunteered at least once with every program."
Dr. Nguyen eagerly pursued opportunities to give back to others. The Class of 2020 logged more than 9,000 hours of volunteer work. Alone, Dr. Nguyen volunteered more than 200 hours.
"I know this award recipient will continue to demonstrate his commitment as he has done from the moment he made the decision to become a doctor," Dr. Briney said. "We are extremely fortunate he will remain nearby, and I know he will be a wonderful role model to the students and residents he will work with."
Humanism Award – Christopher Bean, MD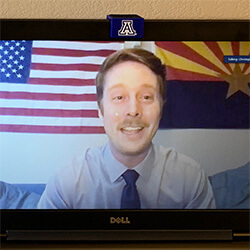 Presented by Susan Kaib, MD, Associate Dean of Student Affairs
"This award is presented to the student who best demonstrates the ideals of outstanding compassion in the delivery of care, respect for patients and families, as well as their colleagues, and demonstrates clinical excellence."
Dr. Bean was described as hardworking, very kind, always professional and truly, a person who will make an amazing physician.
Leadership Award – Zana Alattar
Presented by Guy Reed, MD, MS, Dean
"Zana has been a leader since the moment she arrived on campus," Dean Reed said. "She represented her class with dedication, perseverance and advocacy."
Dr. Alattar has logged more than 230 volunteer hours. She was elected as a class representative for four years. She was also selected by her class and peers as a member of the Gold Humanism Honor Society.
"Zana has had a profound impact as both a medical student and community leader," Dean Reed said. "She leads with honesty, integrity and inspires confidence in others."
Scholarship Award – Madeline Hogan, MD
Presented by Steven Lieberman, MD, Senior Associate Dean of Academic Affairs
"The pillar of scholarship award is given to a student who has demonstrated outstanding academic performance during his or her medical school career," Dr. Lieberman said. "This recipient is not only recognized for their outstanding performance in classes, clinical training and on boards, but also their involvement in other academic activities such as research accomplishments."
Dr. Hogan was one of only three seniors to receive the scholastic achievement award given by the Mutual Insurance Company of Arizona. She is on track to receive a certificate of distinction in service and community. She truly thrived in a research environment. She published five papers and has one publication online, as well.
"Madeline, we are so impressed by your remarkable record of achievement," Dr. Lieberman said.
Certificates of Distinction and Dual Degrees
Certificate of Distinction in Global Health
Presented by David Beyda, MD, Director of the Global Health Program
The Certificate of Distinction in Global Health centers around a robust four-year program that includes more than 200 hours of online learning and webinars, trips to the Dominican Republic and a trip to an underdeveloped country during their third or fourth year.
"This certificate of distinction really exemplifies a passion for all nine of you who are receiving this certificate," Dr. Beyda said. "A passion for serving those in underprivileged countries and a sincere understanding that is not what you bring, but it is what you leave behind."
Recipients Included:
Zoha Ahmed, MD.
Zana Alattar, MD.
Jenna Callaway, MD.
Monica Gomez Lopez, MD.
Justin Hamman, MD.
Amy Kristensen, MD.
Elise Molnar, MD.
Sara Pousti, MD.
Melissa Reed, MD.
Certificate of Distinction in Rural Health
Presented by Jonathan Cartsonis, MD, Director of the Rural Health Professions Program
"These students not only met the requirements, but far exceeded expectations for this honor," Dr. Cartsonis said.
All three students participated in the required number of rural seminars; they completed rural scholarly projects; and they completed extensive clinical training in rural regions of the Southwest. These individuals supported the continued development of the Rural Health Professions Program. They advised and mentored other students in classes behind them. They also engaged in all kinds of rural and community projects.
Recipients Included:
Dario Alvarez, MD.
Elzada Hasecic, MD.
Nancy Lopez, MD.
Certificate of Distinction in Service and Community Health
Presented by Stephanie Briney, DO, Director of Service Learning in Academic Affairs
"I'd like to thank these five recipients for their hard work, commitment to leadership and their inspiration," Dr. Briney said. "Working with you has been a joy. Your devotion to your community and your peers has been constant. I'm truly grateful for the opportunity to work with each of you."
Recipients Included:
Ashley Assadi, MD.
Tyler Hoelscher, MD.
Jessie Koljonen, MD.
Carrie Lin, MD.
George Nguyen, MD.
Doctor of Medicine and Master of Public Health (MD/MPH)
Presented by Marvin Moe Bell, MD, MPH, Director of the MD/MPH Program
"In their four years of rigorous medical school education, they squeezed in nine extra graduate level courses and completed an MPH internship project," Dr. Bell said. "These students love both medicine and public health. They are well positioned to address public health crises, like the COVID-19 pandemic. I'm humbled by their altruism and commitment."
Recipients Included:
Jocelyn Di Nolfi, MD.
Bibinaz Eghtedari, MD.
Agnes Ewongwo, MD.
Maryam Hockley, MD.
Shanan Immel, MD.
Sarah Javaherifar, MD.
Megan Kelly, MD.
Shivani Misra, MD.
Patrick O'Connor, MD.
Fawsia Osman, MD.
Sarah Patel, MD.
Bridget Ralston, MD.
Dylan Sabb, MD.
Alexia Tatem, MD.
Emily Wolfenden, MD.
Jaimei Zhang, MD.
The 2020 Senior Celebration Awards Ceremony was sponsored by District Medical Group.
About the College
Founded in 2007, the University of Arizona College of Medicine – Phoenix inspires and trains exemplary physicians, scientists and leaders to optimize health and health care in Arizona and beyond. By cultivating collaborative research locally and globally, the college accelerates discovery in a number of critical areas — including cancer, stroke, traumatic brain injury and cardiovascular disease. Championed as a student-centric campus, the college has graduated 745 physicians, all of whom received exceptional training from nine clinical partners and more than 2,700 diverse faculty members. As the anchor to the Phoenix Bioscience Core, which is projected to have an economic impact of $3.1 billion by 2025, the college prides itself on engaging with the community, fostering education, inclusion, access and advocacy.