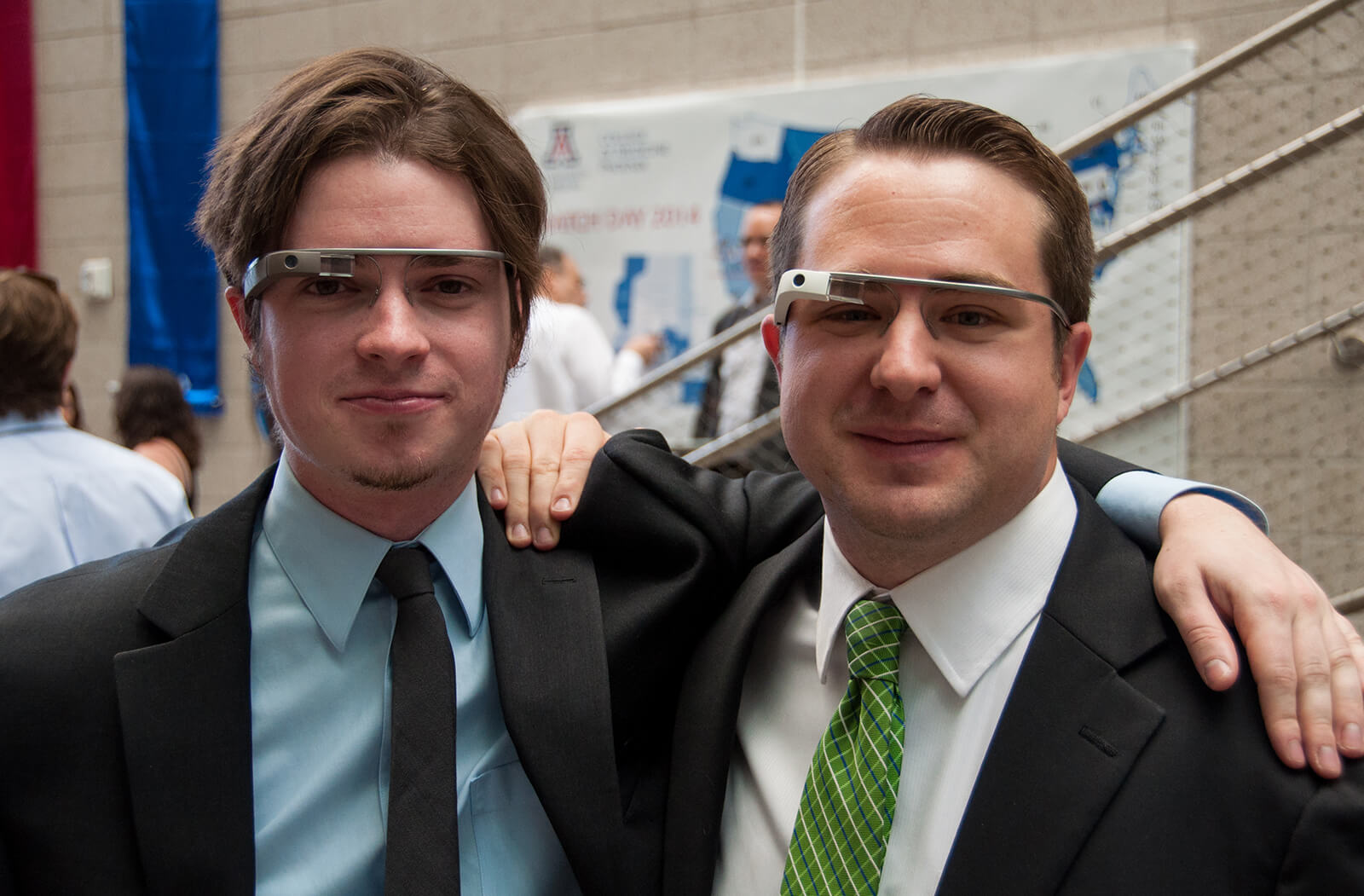 Alumni Profiles: Christian Dameff, MD, and Jeff Tully, MD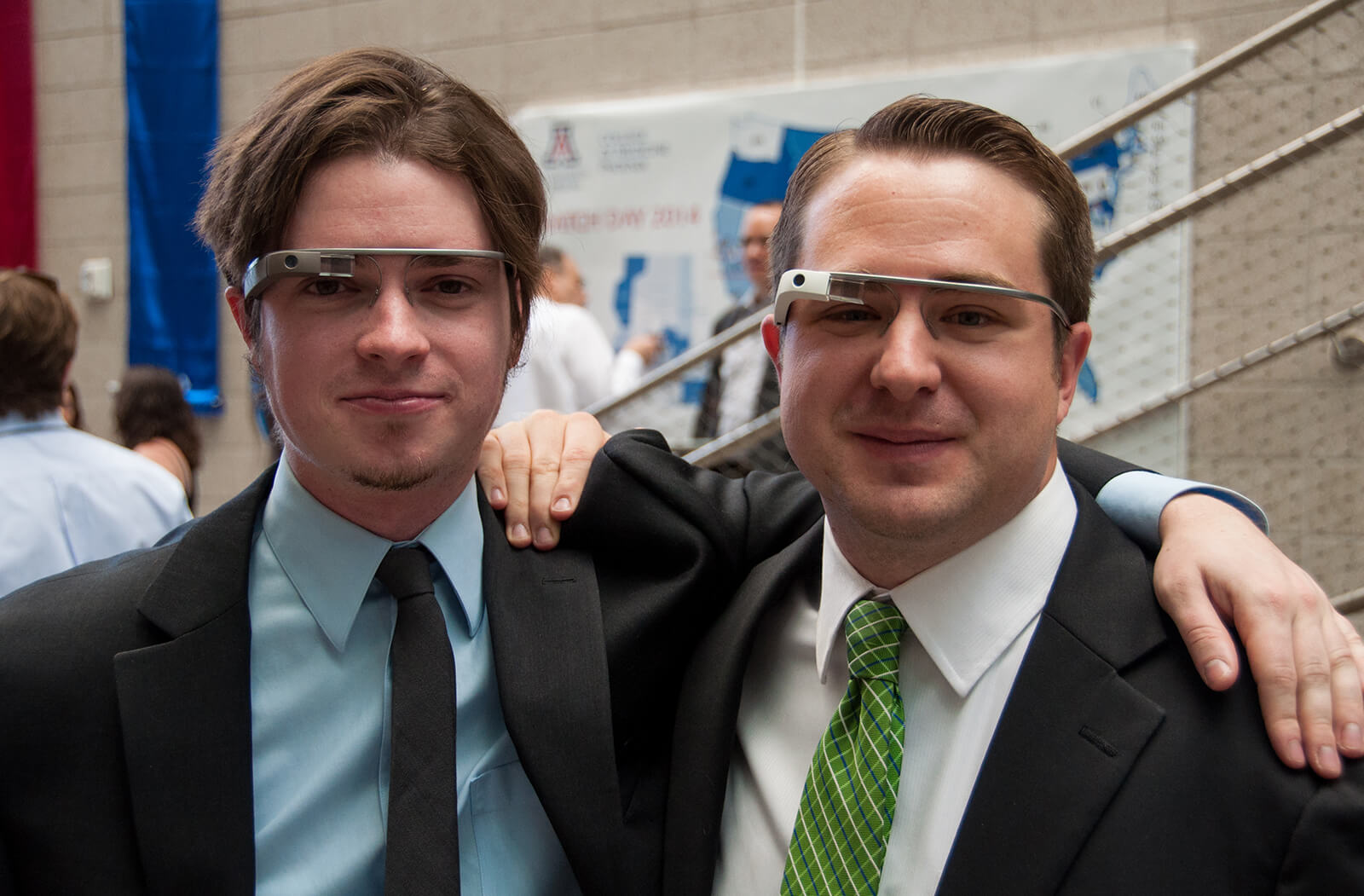 Best friends in medical school continue their journey as physicians together in San Diego
Catching Up with Drs. Dameff and Tully
It is said the people you meet in medical school become lifelong friends — a second family. That sentiment is true for Christian Dameff, MD, and Jeff Tully, MD.
Alumni of the Class of 2014, Drs. Dameff and Tully have remained close since graduating from the University of Arizona College of Medicine – Phoenix. Very close. In fact, they live just a few houses apart in San Diego, CA.
That proximity is a trend that started in their residencies. They completed them just miles from each other in Phoenix. Dr. Dameff matched into emergency medicine at Maricopa Medical Center, now Valleywise Health, and Dr. Tully pursued pediatrics at Phoenix Children's.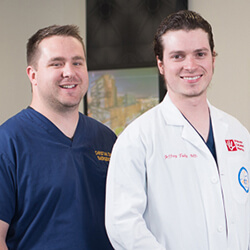 Post-residency, their parallel paths continued. Dr. Dameff finished a fellowship in clinical informatics at the University of California (UC) San Diego, where he is an assistant professor of Emergency Medicine. He was hired as the nation's first medical director of cybersecurity at UC San Diego Health. He also works at El Centro Regional Medical Center.
Dr. Tully undertook anesthesiology at UC Davis. He would later become an assistant professor there — being recognized with the Outstanding Teaching Award in general anesthesiology — before moving on to UC San Diego Health.
Studying and working close to one another has allowed their bond to strengthen over the years. Dr. Dameff's children have even come to refer to Dr. Tully and his wife Gwynn as their "uncle" and "aunt."
Drs. Dameff and Tully have transformed their shared interest in computer hacking into expertise in medical cybersecurity, co-founding the CyberMed Summit.
The CyberMed Summit is a novel multidisciplinary conference with an emphasis on medical device and infrastructure cybersecurity. And it boasts true to life, complex cybersecurity scenarios, as well as tabletop exercises to assess hospital preparedness in the case of a cyberattack.
It is the only clinically oriented health care cybersecurity conference. This November, it will be hosted at UC San Diego. It was held twice on the Phoenix Bioscience Core.
Addressing the digital threat hospitals face is more than just a casual pursuit. In July 2021, Dr. Dameff presented the subject before the U.S. House of Representatives, "Stopping Digital Thieves: The Growing Threat of Ransomware."
Shedding light on this important topic is just one of the ways the pair give back. Since graduating, they have graciously mentored medical students at the College of Medicine – Phoenix.
Life as an MD
What lessons have you learned in your career? And is there any advice you can give to our current medical students?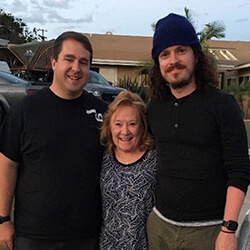 Medicine is a vast field, and it is impossible to master everything — even within one's own field, despite how hyperspecialized some clinicians have become. You will always have something to learn — from colleagues, from allied health professionals (make friends with nurses) and especially from trainees. Remain humble and curious and above all else, work hard to keep the patient at the center of everything you do. Depersonalization is a dangerous consequence of burnout and fatigue. Always remember to re-center and focus on why you chose this path when you find yourself forgetting to see patients as people.
What are some things you learned in medical school that have benefitted you the most in your career as a physician?
Time management is an incredibly important skill that will pay continuing dividends as residents and subsequently as attendings. Wellness is often a cliché when applied to our profession with the long shifts and nights and weekends but trying to establish simple habits like making sure to have half an hour a day of exercise and to try to get seven to eight hours of sleep will serve you really well — though, it's not always possible.
What do you miss the most about the College of Medicine – Phoenix?
Hugs from Kelly Lynch!
Topics
About the College
Founded in 2007, the University of Arizona College of Medicine – Phoenix inspires and trains exemplary physicians, scientists and leaders to optimize health and health care in Arizona and beyond. By cultivating collaborative research locally and globally, the college accelerates discovery in a number of critical areas — including cancer, stroke, traumatic brain injury and cardiovascular disease. Championed as a student-centric campus, the college has graduated more than 800 physicians, all of whom received exceptional training from nine clinical partners and more than 2,700 diverse faculty members. As the anchor to the Phoenix Bioscience Core, which is projected to have an economic impact of $3.1 billion by 2025, the college prides itself on engaging with the community, fostering education, inclusion, access and advocacy.