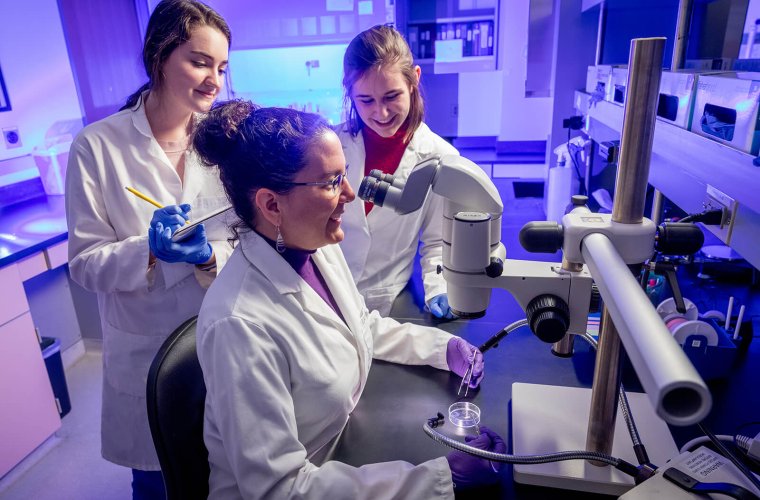 Anatomy Trailblazer - Rebecca Fisher, PhD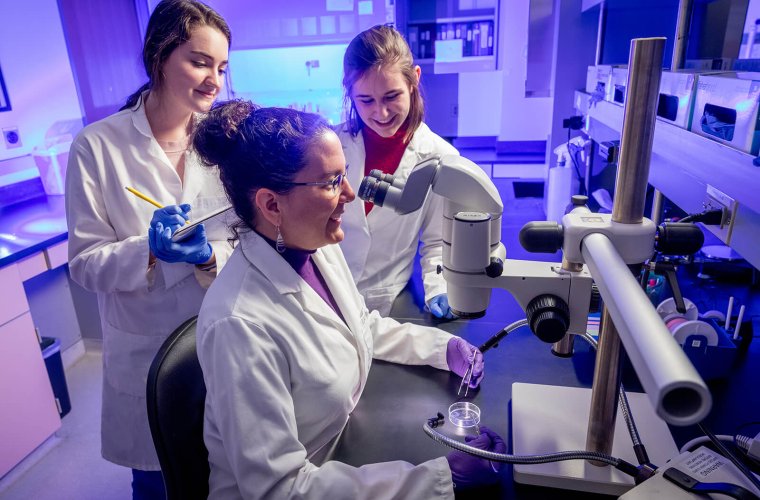 Dr. Fisher was recently named a Fellow of the American Association for Anatomy
An exuberance for learning and teaching are the qualities you immediately glean a few minutes into a conversation with Rebecca Fisher, PhD, a gifted educator, scientist and faculty member at the University of Arizona College of Medicine – Phoenix.
Dr. Fisher was recently named a Fellow of the American Association for Anatomy (FAAA). She joins an esteemed cohort of 100 scientists who have earned the rank of fellow in the association's 133-year history. The distinction honors members who have demonstrated excellence in science and in their overall contributions to the anatomical sciences. Dr. Fisher is one of only five fellows admitted in 2021 and the first Latina to receive this honor.
Dr. Fisher is proud to be considered a trailblazer, saying it has special meaning to her having grown up at the end of the Oregon Trail. She's come full circle since her days as a graduate student in anthropology at Yale University, when her mentors, William Stewart, PhD, and Larry Rizzolo, PhD, advised her to join the American Association for Anatomy to learn more about the profession and to network with peers.
This would prove to be sage advice for her. Reflecting on her 26-year career, she points to the exposure and experiences she had as a graduate student, and then later as an academic professional, saying the association enabled these achievements.
"It makes me feel very thankful for having found such as welcoming professional home," Dr. Fisher said. "I wouldn't be where I am today without the American Association for Anatomy. I found so many amazing mentors and friends through the association. It's really made my career possible and has helped me to thrive."
Training Future Leaders
The Fisher Lab, established in 2006, provides undergraduates, graduate students and postdoctoral fellows the opportunity to investigate the functional anatomy of vertebrates and cephalopods. Dr. Fisher also serves as the interim co-chair of the Department of Basic Medical Sciences and director of the Gross Anatomy Laboratory.
Mentoring students is truly Dr. Fisher's passion. She works closely with her students — helping, guiding and encouraging them to test the boundaries of the known while simultaneously pursuing pathways to new knowledge. For Dr. Fisher, it's the synthesis of research and discovery that helps prepare students to lead the medical and scientific discoveries of tomorrow.
"Scientific discovery and teaching go hand-in-hand," Dr. Fisher said. "In the research lab, you're supervising your students and training them in the art and science of what we do. You're an investigator, but also have the real privilege of teaching at the same time," Dr. Fisher said.
Her research on the octopus, the cephalopod subject of an Office of Naval Research study that will conclude in December 2021, is inspiring the design of soft robotics for a variety of medical and industrial applications.
"Octopuses can sense chemicals, light, mechanical stimulation and water displacement through their arms and suckers. These sensations are processed locally in the arms, which then creates a motor response to that stimulus that doesn't require input from the octopus' brain," Dr. Fisher said.
"This is a really interesting feature which means that a soft robot patterned after the octopus could be deployed and able to make autonomous decisions without input from a human controller."
She is committed to continuing her research on biological organisms like the octopus and leveraging that knowledge to help industries innovate designs for human use.
Shifting after COVID-19
When she looks ahead to new goals and challenges in the next few years, she acknowledges that 2020 caused her and everyone to review a whole new landscape, especially on what's important.
"The future is tenuous, and it has always been, but I think the pandemic has given us a new sense of that," Dr. Fisher said. "I'm proud of having been a part of training physicians and other health care professionals in the Gross Anatomy Lab. These professionals are saving lives and keeping our society and our world going during a very difficult time," Dr. Fisher said.
"I'm also proud of being able to provide students with a home to conduct research and work on experiments that further their undergraduate or graduate career goals," she said.
About the College
Founded in 2007, the University of Arizona College of Medicine – Phoenix inspires and trains exemplary physicians, scientists and leaders to optimize health and health care in Arizona and beyond. By cultivating collaborative research locally and globally, the college accelerates discovery in a number of critical areas — including cancer, stroke, traumatic brain injury and cardiovascular disease. Championed as a student-centric campus, the college has graduated 593 physicians, all of whom received exceptional training from nine clinical partners and more than 2,400 diverse faculty members. As the anchor to the Phoenix Biomedical Campus, which is projected to have an economic impact of $3.1 billion by 2025, the college prides itself on engaging with the community, fostering education, inclusion, access and advocacy.