Art and Humanities Bring Community Together During Pandemic
Campus Uses Art to Help Relieve Stress and Create Joy During Coronavirus Outbreak
To bring the community together during the novel coronavirus pandemic, faculty at the University of Arizona College of Medicine – Phoenix are engaging colleagues and the public through art and humanities.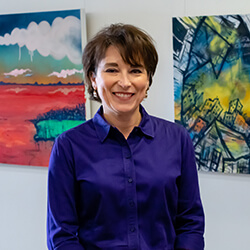 Cynthia Standley, PhD, director of the Program of Art in Medicine, and Jennifer Hartmark-Hill, MD, director of the Program for Narrative Medicine and Health Humanities, have created resources and activities that vary from art challenges to a platform for individuals to share their COVID-19 experiences through 55-word stories.
"I am directly trying to respond to the stress that people are feeling, as well as the feelings of being displaced from their workplace or school and groups of friends or colleagues during the coronavirus pandemic," Dr. Standley said. "I hope that by posting various prompts for people to respond to, it will help them recover a sense of joy."
Led by Dr. Standley, the Art in Medicine program created an art forum that features a new theme or art challenge each week.
A few activities they've presented include painted rocks with inspirational words to use for yourself or to leave for others to find, photos of signs of hope and a toilet paper roll mashup where participants were challenged to make something out of an empty roll of toilet paper.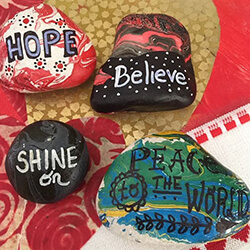 "I like to promote activities that anyone can do," Dr. Standley said. "I'm trying to get away from the idea that art has to be a certain way or you need a specific talent to do 'art.' It's really more about unleashing your creativity. If it brings you joy, that's really all that matters. Did you have fun doing it? Then it's a win. It's also a great way for us to keep our community engaged with one another, and perhaps learn a little more about each other." 
Dr. Standley said her online posts are meant to appeal to a variety of interests.
"I am trying to post things that brighten our day, while also sharing information about art exhibits at the Phoenix Art Museum that will be fantastic to see in person once it opens again," she said.
The Art in Medicine website has had an average of at least 100 new visitors to the site each week, and more than 500 new visits. Participation has come from all facets of campus, including students from UA and Northern Arizona University, staff and faculty. Additionally, Dr. Standley was recently the featured speaker for a Wellness Wednesday session organized by UArizona Health Sciences, where she discussed the shift to optimistic thinking though art and how art plays an important role in staying positive during stressful times.
The Narrative Medicine and Health Humanities program, led by Dr. Hartmark-Hill, has created a shared community and connectedness through stories of lived experiences. Their website showcases these stories and many wellness resources for self-care during the pandemic.
"Medicine and science tell us how to fight illness," Dr. Hartmark-Hill said. "The humanities remind us why we do what we do to take care of one another and work to create a better world."   
The platform gives medical professionals, students, faculty and the community the ability to have a shared virtual space to provide unique perspectives and insight.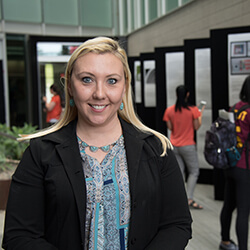 "In this time, we need the support of the community more than ever," Dr. Hartmark-Hill said. "We are all going through this together, yet the impact is unique and personal. This is a monumental moment and will be undoubtedly written in the history books. In the future, we will reflect, process the aftermath and heal. Yet in this present time, it is so important to give ourselves the space to process in real time, so that we can be there for our family, friends and patients. If we can listen and understand one another, we can better understand ourselves and the events taking place."
As part of the wellness resource, Dr. Hartmark-Hill shared information for reflection and resilience. "While many of our established routines and schedules have been disrupted, now is the time to be intentional to create adaptive practices that will move us into the future with meaning and purpose," she said.
Dr. Hartmark-Hill provided ideas to meet workday wellness needs like mindfulness Mondays, motivational Tuesdays, wellness Wednesdays, gratitude Thursdays and fun Fridays. She also advised individuals to take a little time and write about an experience you would like to further reflect upon.
"Whole person health depends on staying connected, meaning making and having a sense of purpose," Dr. Hartmark-Hill said. "Sharing our stories during this time and supporting one another is essential to staying resilient."
So far, Dr. Hartmark-Hill has received notes of gratitude from students and many positive reactions via social media. She is reaching out to colleagues at other medical schools nationally to share ideas for collaboration, and hopes many more people will participate and stay connected.
About the College
Founded in 2007, the University of Arizona College of Medicine – Phoenix inspires and trains exemplary physicians, scientists and leaders to optimize health and health care in Arizona and beyond. By cultivating collaborative research locally and globally, the college accelerates discovery in a number of critical areas — including cancer, stroke, traumatic brain injury and cardiovascular disease. Championed as a student-centric campus, the college has graduated 745 physicians, all of whom received exceptional training from nine clinical partners and more than 2,600 diverse faculty members. As the anchor to the Phoenix Bioscience Core, which is projected to have an economic impact of $3.1 billion by 2025, the college prides itself on engaging with the community, fostering education, inclusion, access and advocacy.