Biomedical Sciences Partnership Building Opening Doors to Discovery
Research will Focus on Cancer Drug Therapies, Molecular Medicine, Pediatric Vaccines and Building Platforms for DNA and Biomarker Testing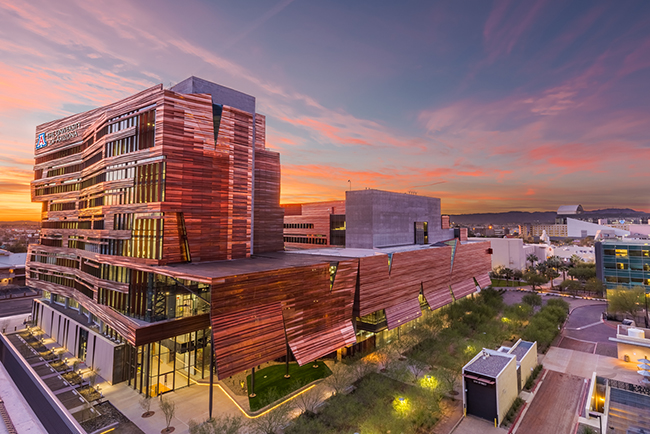 After nearly two years of construction, the sparkling copper Biomedical Sciences Partnership Building — whose grand opening Feb. 23 was part of an anniversary celebration for the UA Health Sciences — now brings scientists and researchers together to discover innovative solutions to today's most pressing health issues.
The 10-story, 245,000-square-foot building is the latest addition to the growing downtown Phoenix Biomedical Campus. Part of the University of Arizona College of Medicine – Phoenix, it is adjacent to the college's award-winning Health Sciences Education Building and connected through a walkway labeled the "Grand Canyon."
Nearly 500 visitors attended Thursday's grand opening festivities, toured the copper-clad structure and listened to remarks by UA President Ann Weaver Hart, PhD; Leah Neumayer, MD, MS, interim senior vice president of health sciences; Kenneth S. Ramos, MD, MBA, former interim dean of the UA College of Medicine – Phoenix; Phoenix Mayor Greg Stanton and Vice Mayor Kate Gallego.
President Hart reminisced that when she arrived on the Phoenix campus five years ago, there was a parking lot where the research building now stands.
"There was a master plan that said there would be a building here," she said. "But no one had approved what would be in it or how to pay for it. The progress that we've made in thinking about the development of the College of Medicine – Phoenix and our partnerships here, the ability across the university to impose on ourselves the kind of fiscal discipline that is necessary to develop the integrated, academic and financial strategic plan, and then to have the cooperation of so many partners, to five years later opening this building, it's just really tremendous."
Mayor Stanton said this "magnificent building is a major milestone for our biomedical campus."
"We knew more than a decade ago that an investment in biosciences would pay off handsomely in downtown for the citizens of Phoenix, the citizens of Maricopa County, the state of Arizona, and because of the medical advances, people all over the world," he said. "It would help advance an innovation-based economy that we are working so hard to build in our community."
With the opening of the Biomedical Sciences Partnership Building, "we and the University of Arizona are one step further to creating a truly world class, cutting-edge bioscience hub in the heart of our downtown," Mayor Stanton said.
When we say 'Never Settle' and talk about the academic aspirations of the University of Arizona, this is what we mean, said President Hart.
"We expect this state-of-the-art facility to catapult our research into a new dimension," Dean Ramos said. "We are so proud of this new, beautiful building and look forward with great anticipation the medical breakthroughs that will come from research conducted here."
The first tenants in the $136 million structure are:
The Center for Applied NanoBioscience and Medicine, where researchers create platforms for molecular analysis in diagnosing and treating diseases. Among its completed projects are developing the first platform technology for rapid DNA testing, providing optical biometrics technology for security systems and developing a simulated gut-on-a-chip for performing research linking the human microbiome to health, nutrition and medication. Its director is Frederic Zenhausern, PhD, MBA.
The Flow Cytometry Core Laboratory offers core translational research services to investigators. Scientists analyze the physical and chemical characteristics of particles such as blood cells as they pass through a laser. Its work includes immunophenotyping, which studies the protein expressed by cells. The lab can analyze thousands of particles per second. Flow cytometry is routinely used in the diagnosis of health disorders, especially blood cancers, but has many other applications in basic science research. Its director is Mrinalini Kala, PhD.
The research lab of Dr. William Cance, deputy director of the University of Arizona Cancer Center. A renowned oncology surgeon and physician-scientist, Dr. Cance will develop disease-focused clinical groups on the Phoenix campus in conjunction with the University of Arizona Cancer Center at Dignity Health St. Joseph's Hospital and Medical Center. Dr. Cance's research is focused on a critically important protein for cancer survival and progression. In 1993, Dr. Cance was the first researcher to clone the human focal adhesion kinase protein (FAK) and demonstrate its overexpression in invasive and metastic cancers. Subsequently, his research has focused on defining the role of FAK in cancer and developing therapeutics that target the protein.
The Institute of Molecular Medicine, which is in the college's Department of Child Health, is a partnership with Phoenix Children's Hospital to focus on understanding the mechanisms underlying diseases in children, such as pediatric cancer. By using a patient's specific genetic information, researchers try to identify what makes them susceptible to a disease and how they will respond to a particular drug treatment. Scientists use this information to match a patient with their own personalized therapy. The lab's co-directors are David Azorsa, PhD, and Eiman Aleem, PhD, MSc.
The Pediatric Infectious Disease Research Laboratory, another UA College of Medicine – Phoenix and Phoenix Children's Hospital partnership in the college's Department of Child Health, is a recent addition to the research repertoire. The laboratory focuses on a molecular genetics approach to development of bacterial vaccines using a methodology called reverse vaccinology. The sequence of the bacterial genome serves as the starting point for analysis of candidate vaccines. Investigators in the laboratory include Terrence Stull, MD, Paul Whitby, PhD, and Daniel Morton, PhD.
The UA has invested nearly $450 million in building projects on the downtown Phoenix Biomedical Campus and has built close to one million square feet of capital projects. In addition to the College of Medicine, the campus offers classes in the UA Colleges of Nursing, Pharmacy, Public Health and Eller College of Management.
The building is the latest development in the steady expansion of the downtown campus and expanding academic medical center. In 2012, the Health Sciences Education Building opened, housing health education for UA and Northern Arizona University. The University of Arizona Cancer Center at Dignity Health St. Joseph's, a 220,000-square-foot outpatient and research facility, opened in 2015.
Funding for the building was approved by the Arizona Board of Regents in 2014 using a Stimulus Plan for Economic and Educational Development bonds that were approved by the Arizona Legislature in 2008.
DPR Construction • Sundt Construction, Inc., a joint venture, managed construction of the new building. Architects for the project are CO Architects of Los Angeles and Ayres Saint Gross of Phoenix.
The medical school in Phoenix has graduated 273 physicians and has 332 students in training in its continuing mission to address the physician shortage in Arizona.
About the College
Founded in 2007, the University of Arizona College of Medicine – Phoenix inspires and trains exemplary physicians, scientists and leaders to optimize health and health care in Arizona and beyond. By cultivating collaborative research locally and globally, the college accelerates discovery in a number of critical areas — including cancer, stroke, traumatic brain injury and cardiovascular disease. Championed as a student-centric campus, the college has graduated 665 physicians, all of whom received exceptional training from nine clinical partners and more than 2,600 diverse faculty members. As the anchor to the Phoenix Bioscience Core, which is projected to have an economic impact of $3.1 billion by 2025, the college prides itself on engaging with the community, fostering education, inclusion, access and advocacy.