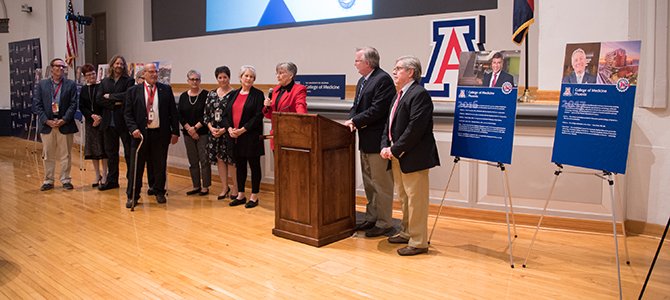 College Hosts Reception to Honor Founders of Medical School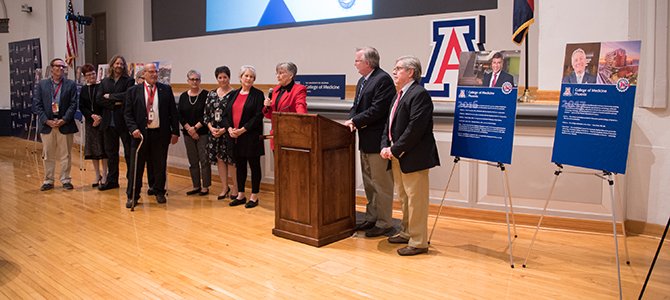 Key Leaders Recognized for Contributions in Founding College of Medicine – Phoenix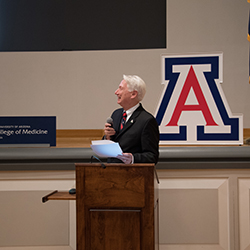 A reception honoring founders of the University of Arizona College of Medicine – Phoenix brought about 200 guests to the Virginia G. Piper Auditorium Dec. 5, who reminisced about the medical school's beginnings and rekindled old friendships.
Dean Guy Reed, MD, MS, thanked the founders for "paving the road for us with vision, tenacity and purpose."
"We must continue to grow and establish our College of Medicine in areas of research and outstanding clinical care," he said. "These are the necessary pillars to support outstanding education and training, as well as bring the maximum value of an academic medical center to Phoenix and to Arizona."
Jacqueline A. Chadwick, MD, former vice dean and the first university official in Phoenix for the college, said it's unusual for people to go back and think about the founders of an organization.
"This is very special," said Dr. Chadwick, who was named Esteemed Professor of the College in 2016.
She said there were actually two founding episodes of the College of Medicine – Phoenix: in 1992 and in 2007.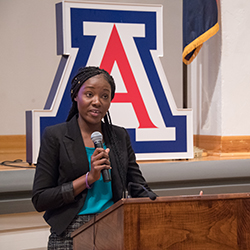 "Two parts of our DNA have been present in both," she said. "That was community and creativity. Creativity to a curriculum that we thought was innovative, using teaching and learning methodologies that were new. We wanted to have the feeling that we weren't afraid to try something different. The second part of it was community, the community at large and the community of physicians and hospitals who were supportive from the very beginning. And most importantly, the community of faculty and staff that were here to support our students. It was always about the students."
Dr. Chadwick said she hopes the creativity and community elements of the college's DNA never go away.
"It's been an honor and a pleasure to be a part of it," she said.
Agnes Ewongwo, a second-year medical student, shared her story about how a scholarship changed her life after her sister passed away.
"It gave me the freedom to fearlessly chase my dream of becoming a physician while pursuing a masters degree in public health with the hopes that one day I could give back, both financially and through service," she said.
Leigh Neumayer, MD, MS, interim senior vice president, UA Health Sciences, acknowledged former interim dean Kenneth S. Ramos, MD, PhD, who she said led the college through the long journey to full accreditation.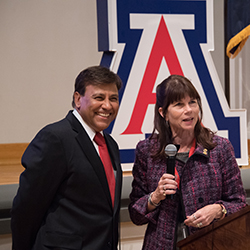 "We are thankful for his deft leadership and guidance," she said. "This campus has a true collaborative spirit, where the perspectives of passionate faculty, staff, students and the community are part of a shared goal of improving health for all Arizonans."
Dean Reed pledged that the college will continue to honor its founders and preserve the institutional culture they created.
The college has graduated more than 354 physicians and is training 328 students to become physicians.
Media Contact:
Marian Frank
Phone: 602-827-2022
About the College
Founded in 2007, the University of Arizona College of Medicine – Phoenix inspires and trains exemplary physicians, scientists and leaders to optimize health and health care in Arizona and beyond. By cultivating collaborative research locally and globally, the college accelerates discovery in a number of critical areas — including cancer, stroke, traumatic brain injury and cardiovascular disease. Championed as a student-centric campus, the college has graduated 593 physicians, all of whom received exceptional training from nine clinical partners and more than 2,400 diverse faculty members. As the anchor to the Phoenix Biomedical Campus, which is projected to have an economic impact of $3.1 billion by 2025, the college prides itself on engaging with the community, fostering education, inclusion, access and advocacy.